Did someone say Vegan Chocolate Pudding Pie? Is this a real thing? Can it be true? Yes, Yes, and Yes! Thanks to Beauty Bar Chocolate, vegan chocolate pudding pie never tasted so dang good! It's easy to be vegan and sinfully delicious, but light on the sugar. side note; the crust is vegan and gluten free too.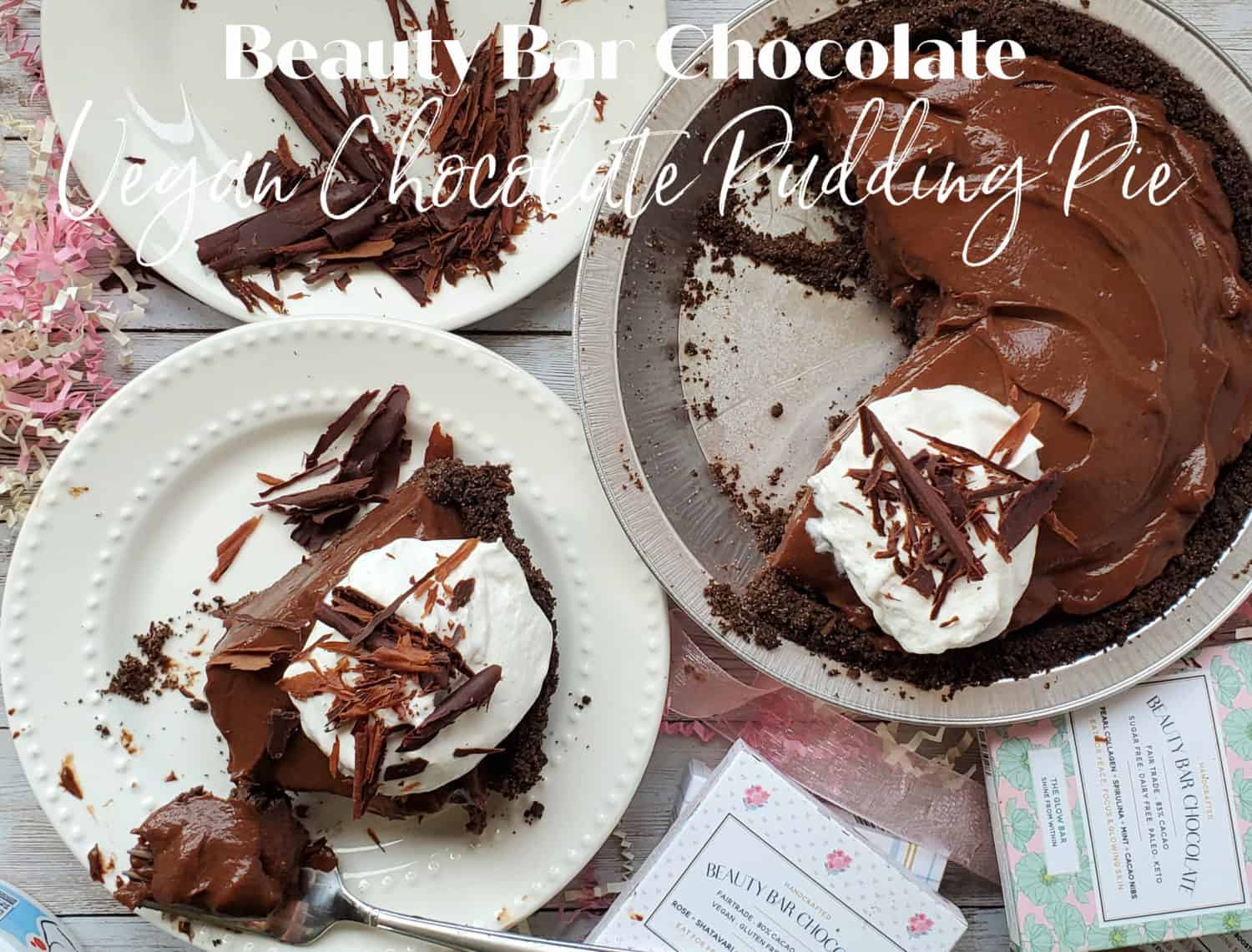 There are a few key brand ingredients that bring this entire vegan chocolate experience full circle. Earth Balance "butter" is a staple at my house, cashew or Milkademia milk for their creamy qualities, vegan half & half, and So Delicious Cocowhip. However, Beauty Bar Chocolate steals the show. But don't take my word for it, head over to their very cool website and check them out.
Vegan Chocolate Filling:
As I mentioned above, I would highly recommend using cashew or Milkadamia milk, both are very creamy. You need to prep the chocolate for melting. Break 6 of the squares apart and then use a large sharp knife to rough cut them further. (Save the last 3 squares for chocolate shavings.)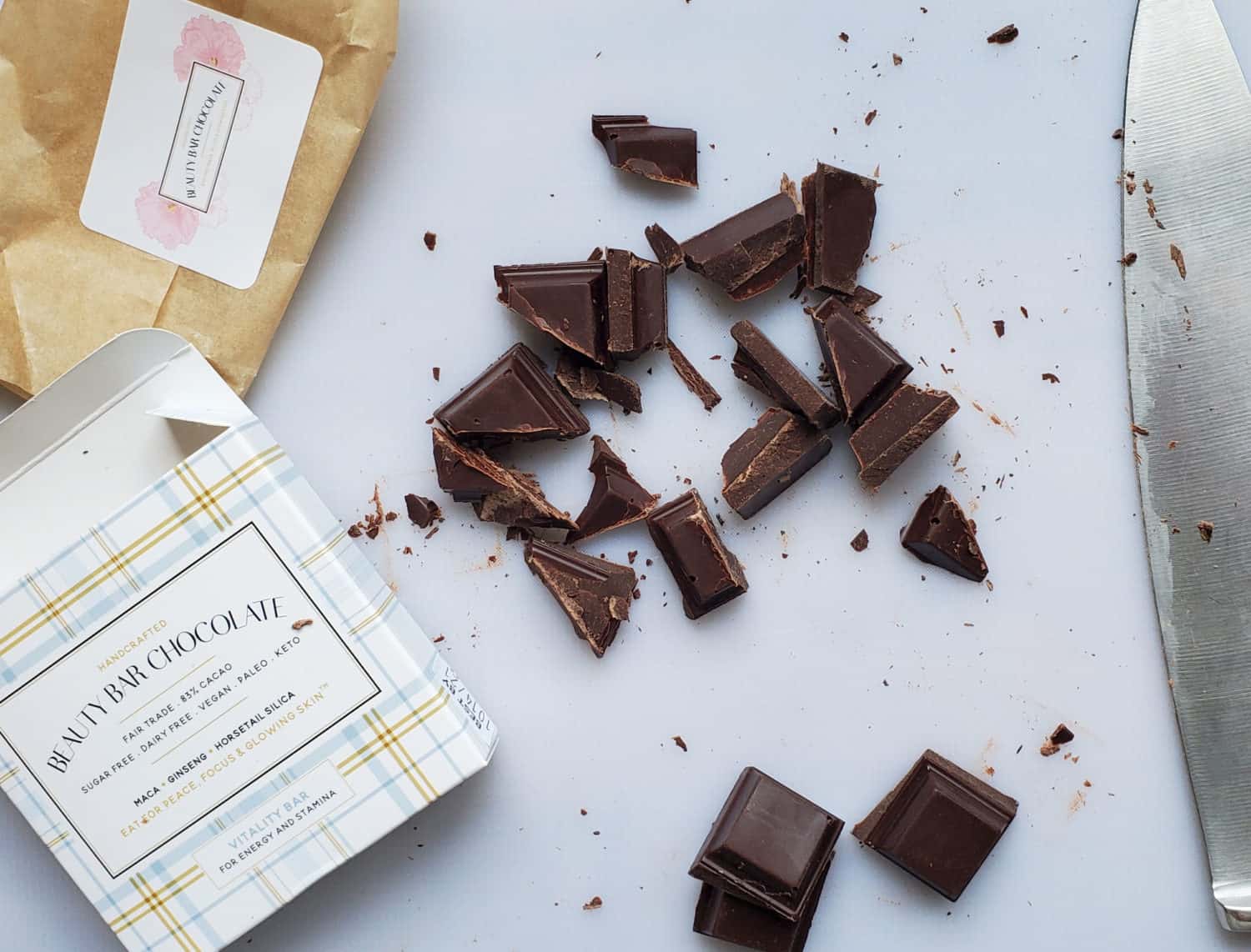 The milk of choice, vegan half & half, a little monkfruit sugar (or pure cane), and unsweetened dutch chocolate is cooked on the stove top. Using a flat bottom whisk, cook and stir over medium heat until thickened, and then add in the chopped up Beauty Bar chocolate, vanilla and vegan butter. Pour into a bowl, press plastic wrap onto the surface to prevent that icky skin from forming, and refrigerate about 2-3 hours.
If you don't need/want vegan, but really want the very best chocolate pudding pie made with dairy, here you go: Chocolate Pudding Pie.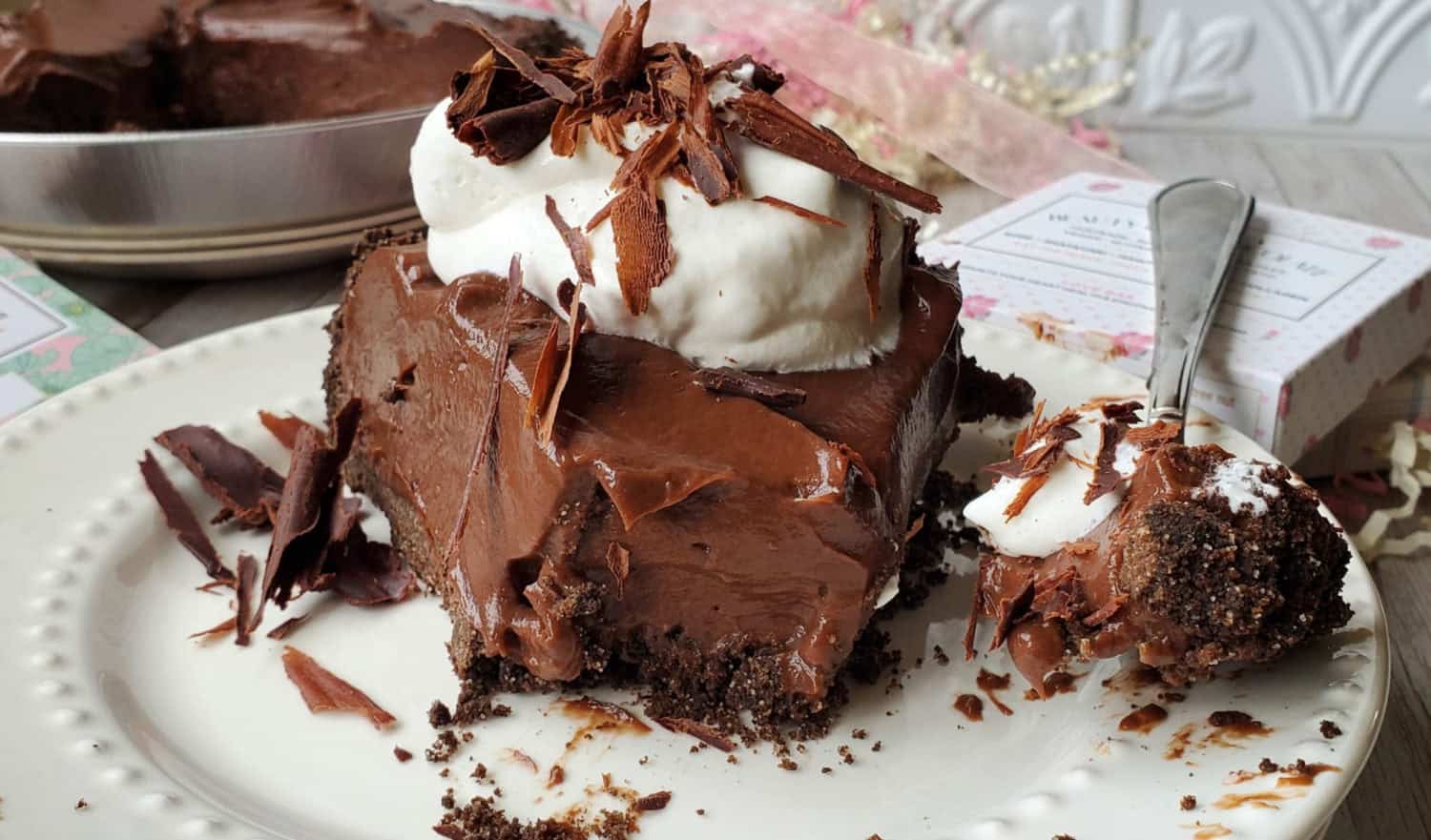 Chocolate Curls & Shavings – You Can Do It!
It is SO fun to make chocolate shavings. There's a little finesse with the state of cooling of the chocolate, hence why the shavings are like snowflakes; not one is the same. The more you practice making chocolate curls & shavings, you will surely find your groove; and then the shavings will come.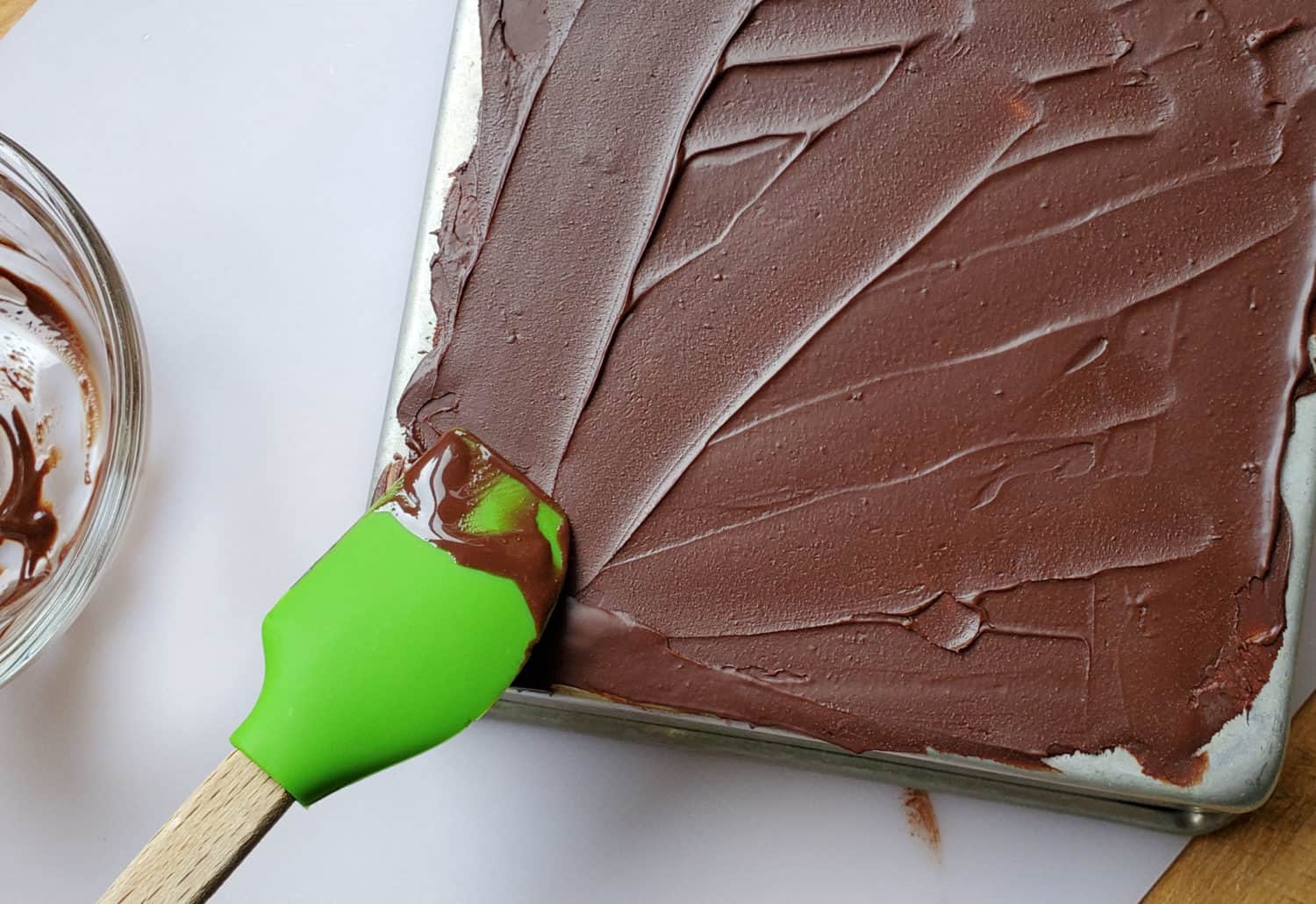 Place a metal 8 x 8 baking pan in the freezer for about 5 minutes. While the pan is in the freezer, melt the chocolate in a microwave proof dish, stirring every 10 to 15 seconds. Remove the pan from the freezer and spread the melted chocolate on the cold baking pan. It will harden as it cools and turn opaque. Place back in freezer for about 2 minutes.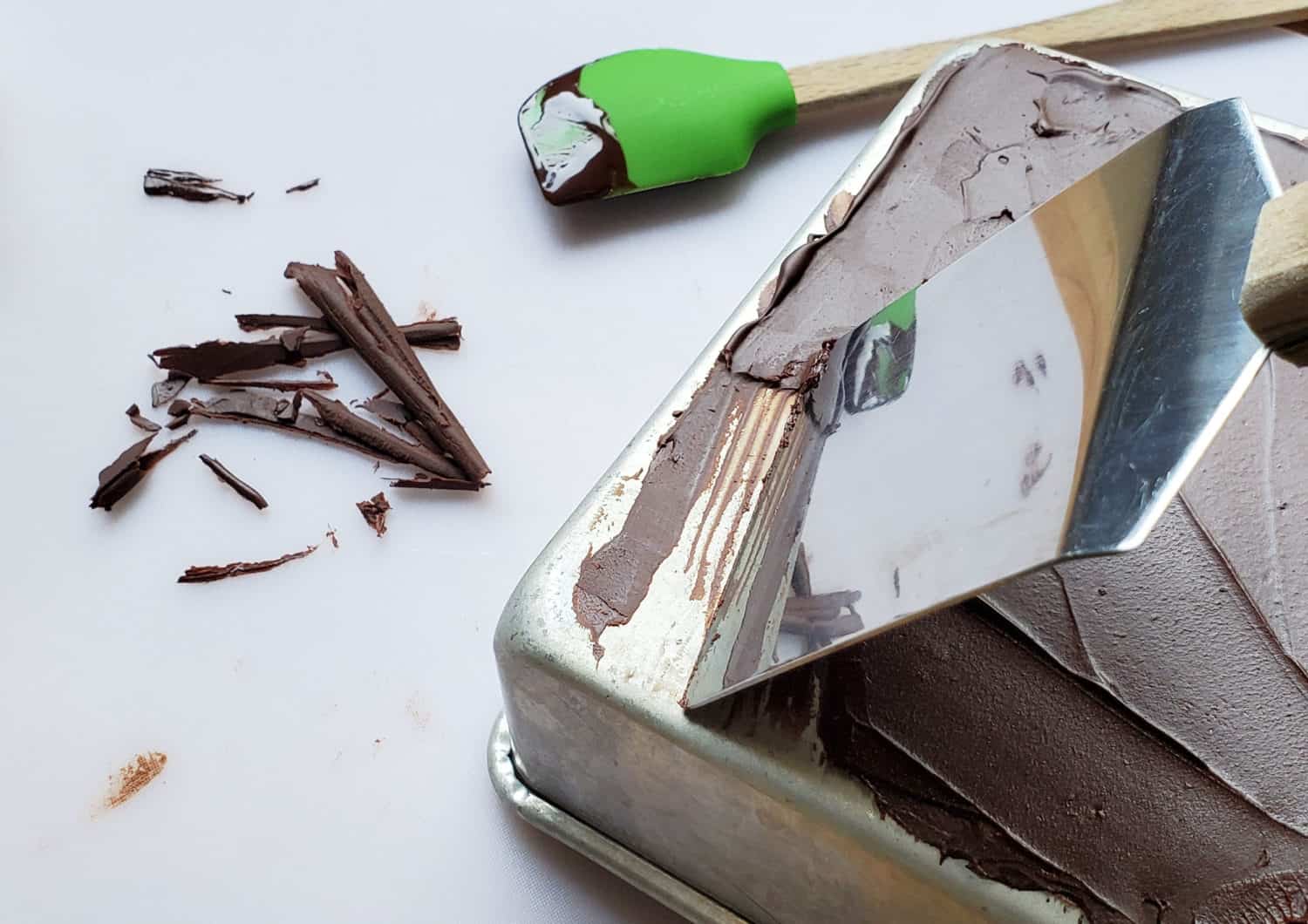 Use a metal spatula at an angle and push scraping chocolate to make the curls. Practice makes perfect. Some will be perfect curls, some half curls and the rest will be shavings and flakes (see below). Store the shavings and curls in the fridge until you are ready to garnish your pie. Chocolate shavings dress up a pie like none other – so exquisitely delicious. This method for chocolate curls & shavings is the same with using any kind of chocolate.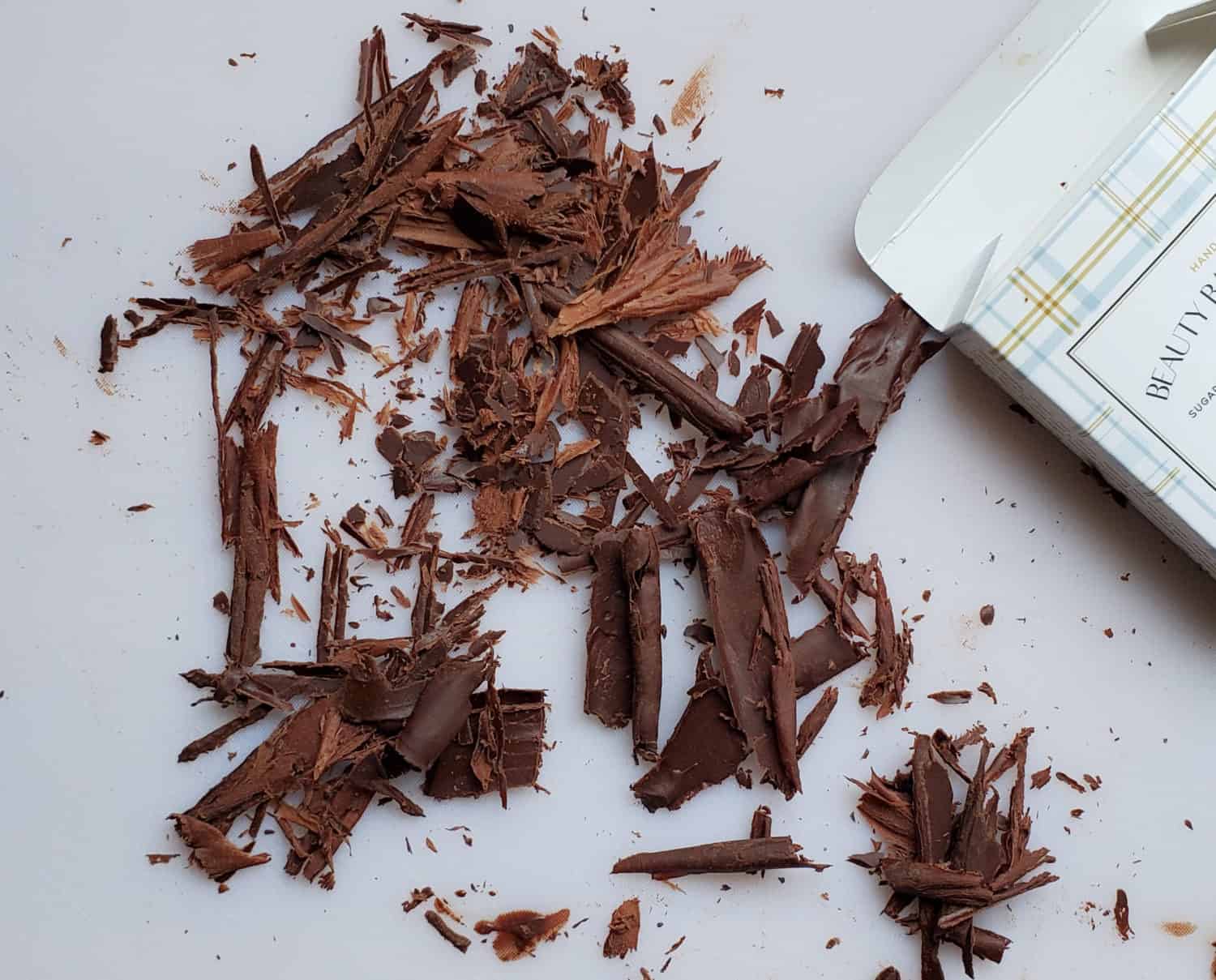 To assemble your vegan chocolate pudding pie, spread the cooled pudding into your favorite chocolate crust (vegan of course), add a dollop of So Delicious co-co whip and top off with your beautiful handmade chocolate shavings.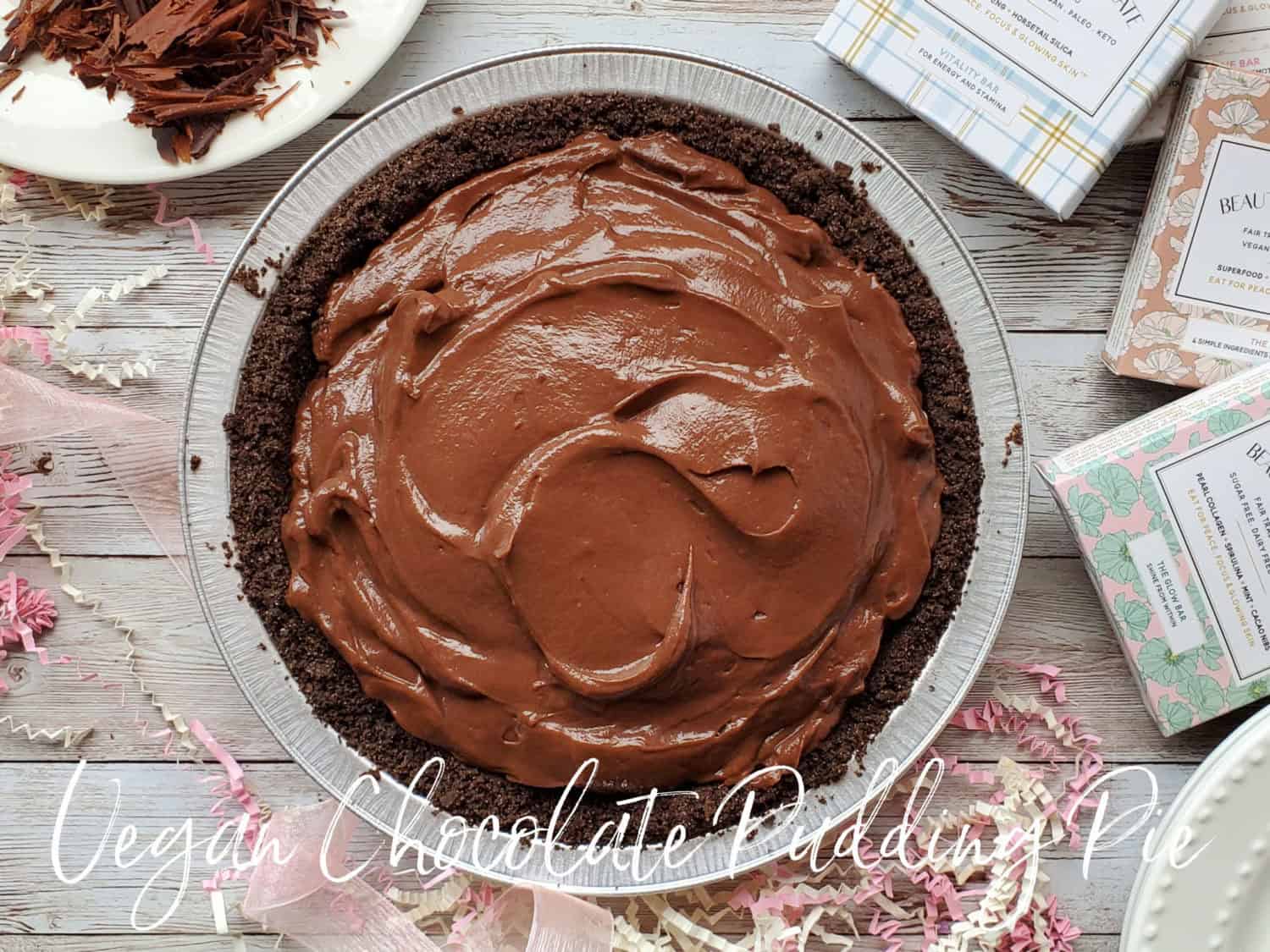 Now that's what I am talking about, creamy chocolatey goodness, veganized so all can enjoy a velvety slice of heaven!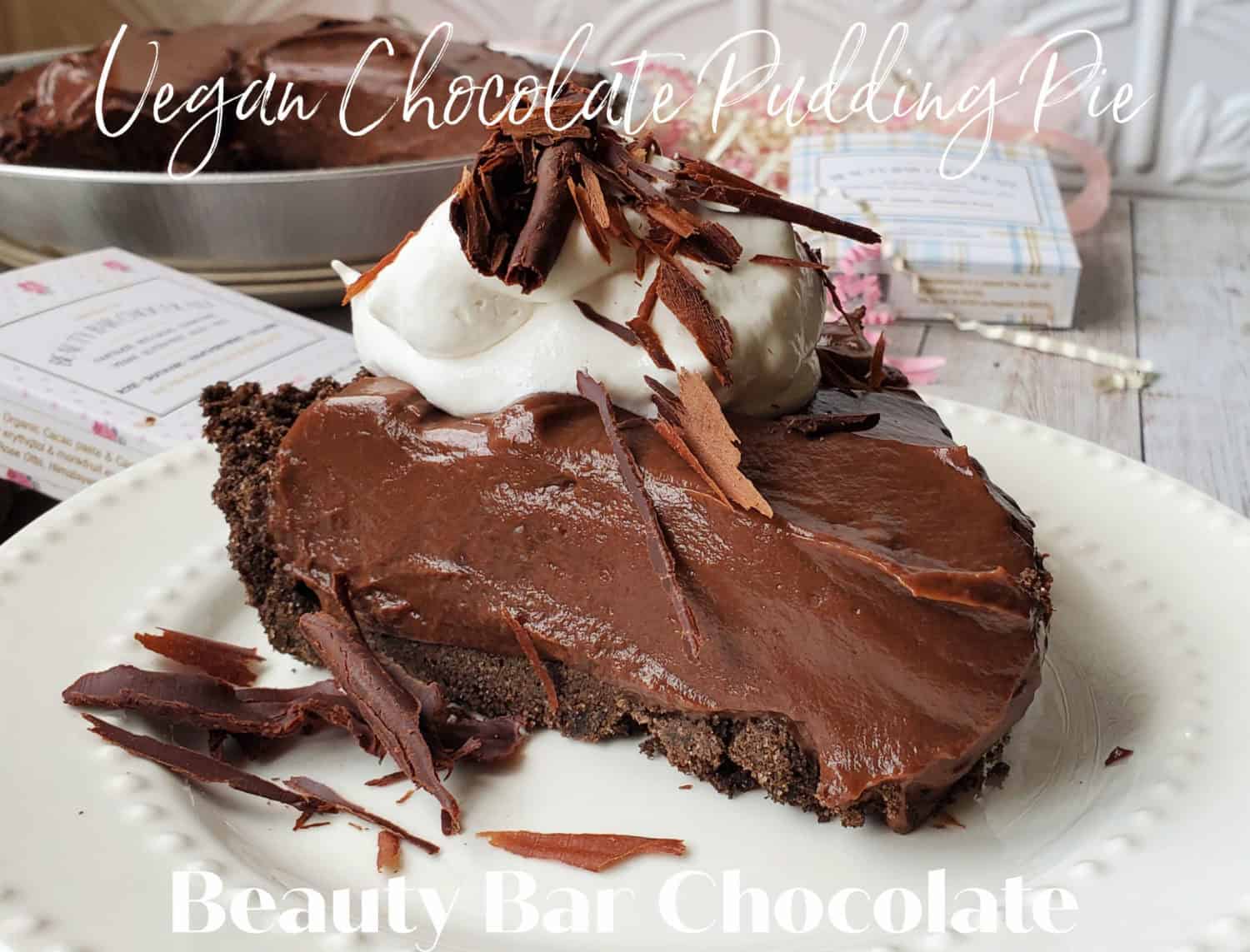 Enjoy your delicious Vegan Chocolate Pudding Pie with abandon; and save that last scrumptious slice for yourself, you've earned it pie peeps!
Vegan Chocolate Pudding Pie
Vegan Chocolate Pudding Pie with Beauty Bar Chocolate is super creamy, just the right amount of sweet, with homemade chocolate shavings.
Servings: 12
Author: Portlandia Pie Lady
Vegan Chocolate Pudding Pie
1/4

cup

unsweetened dutch cocoa powder

1/2

cup

pure cane sugar or monkfruit blend sugar

1/3

cup

cornstarch

1-1/2

cups

unsweetened cashew milk or Milkadamia

1-1/2

cups

almond or almond/coconut blend milk creamer

2

spoons

pure vanilla

2

s tablespoon

Earth Balance vegan butter

1

box

Beauty Bar Chocolate (6 squares for filling, 3 squares for chocolate shavings)

(roughly chop the 6 squares for easier melting in pudding)

One

9-inch

vegan chocolate cookie crust

1

container

So Delicious cocowhip whipped cream (for topping)
In a medium sauce pan, mix cocoa, sugar, cornstarch and whisk well. Gradually add cashew/Milkadamia milk and almond milk creamer to the dry ingredients in saucepan. Whisk until smooth and well blended. Cook over medium heat stirring with flat bottomed whisk scraping the bottom and sides of pan constantly.

Bring mixture to a boil and boil for 1 minute, remove from heat.

Add Earth Balance butter, vanilla, and chopped Beauty Bar Chocolate . Whisk until chocolate and butter are melted, pour into bowl and place plastic wrap pressed onto surface to prevent skin from forming; refrigerate for 2 to 3 hours.

Once cooled spread into prepared crust and top with So Delicious cocowhip whipped topping. Top with homemade chocolate shavings (directions in blog above).