On those mornings you wake up hankering for a savory breakfast, let me entice you with Savory Breakfast Poptarts! You won't find these in a box on the shelf of your favorite grocery store. These make-ahead tart wonders are packed full of scrambled eggs & country sausage gravy. Yes, country sausage gravy. (A dairy-free/gluten-free post is coming soon! Sorry I have not veganized this yet.)
Savory Breakfast Poptarts are so tasty straight from the oven, after a minute or two of cooling. (Please don't scorch your tongue one first bite like I have done!) If you are enjoying them on day 2, provided there are any left, a couple minutes in the toaster oven and they're perfect. You can zap in the microwave for about 15 to 30 seconds, but they may be just a tad crumbly. The flavor is divine regardless how or when you show down.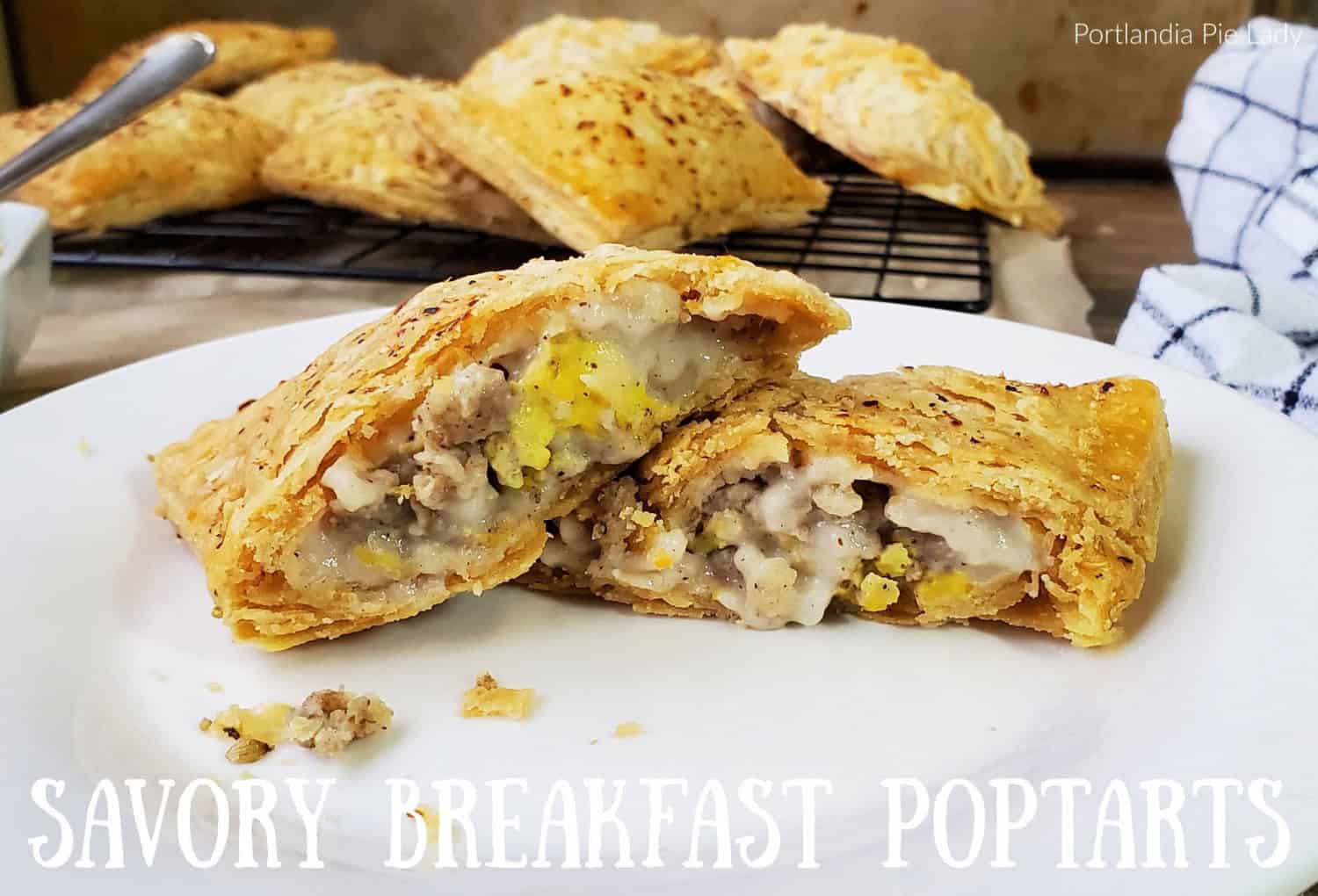 The Filling:
For the filling, the country sausage gravy is heavy-handed on the black pepper. I am true believer that all country sausage gravy should be peppery. Trust me on this one. Therefore, when I scrambled the eggs I used dash or two of salt and that was it. I let the gravy do all the work for the filling flavor. Feel free to add in shredded cheese to the filling if you like. Cheese is not mandatory and I normally do not eat cheese if I am enjoy biscuits and sausage gravy.
The Dough:
Next is making the dough. It is the same English Wig dough I use for Chicken Pot Pies, Tangy Pulled Pork Pot Pies, and Aussie (Beef) Pot Pies. I used butter and shortening for a better flavor and the egg and vinegar creates a very flaky and tasty crust. The dough makes all the different and is as important as the filling. The combination is sinfully delicious. YOU WILL LOVE IT!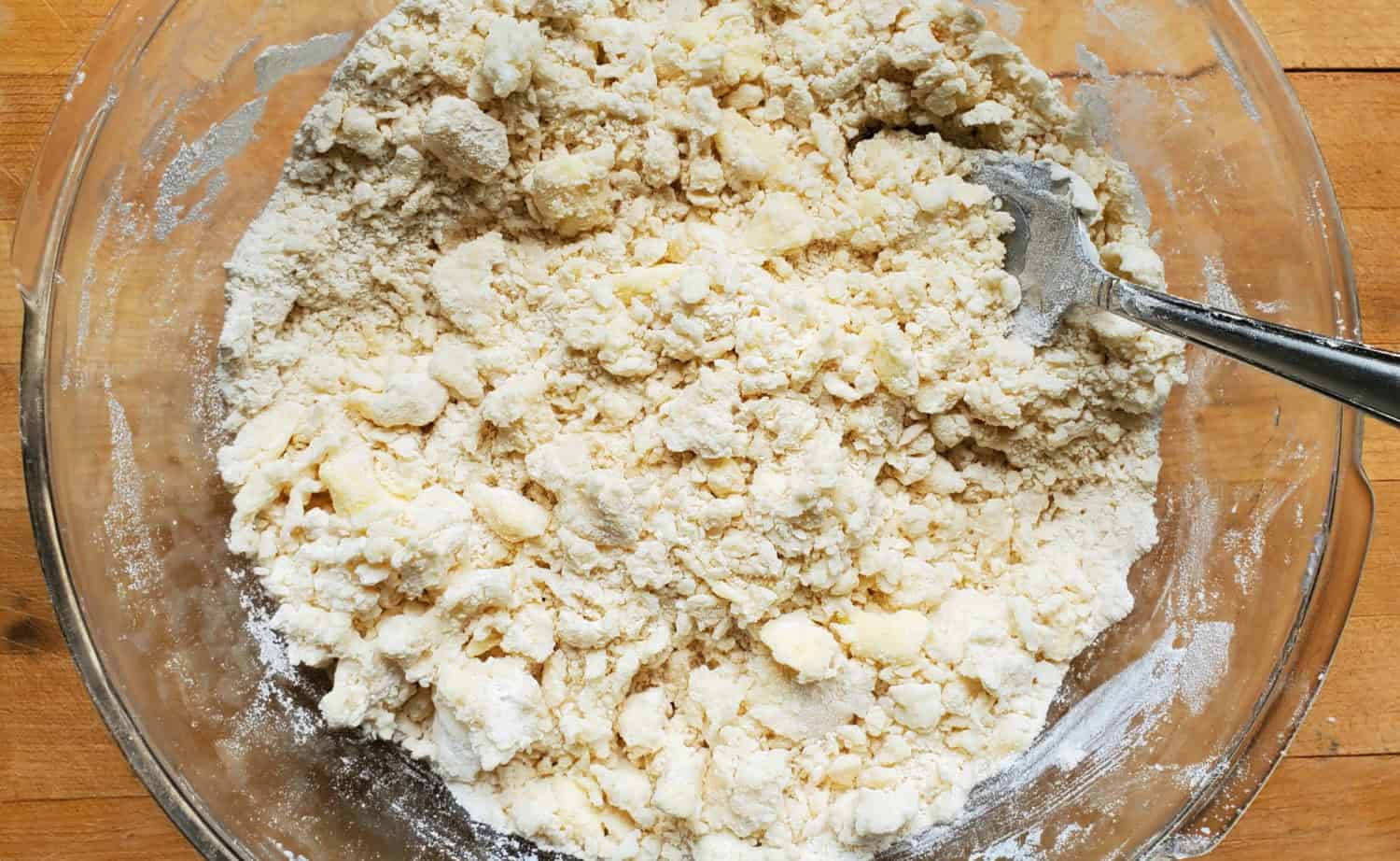 Above is what I call "pea-sized" crumbles, which is a subjective term. Just get the butter and shortening crumbly into the flour and you're golden. In a separate small bowl whisk the egg, vinegar and water together and pour in all at once. A few quick stirs and your ready to roll.
Roll out the dough to about 1/8-inch thick and cut into 3 x 4-inch rectangles.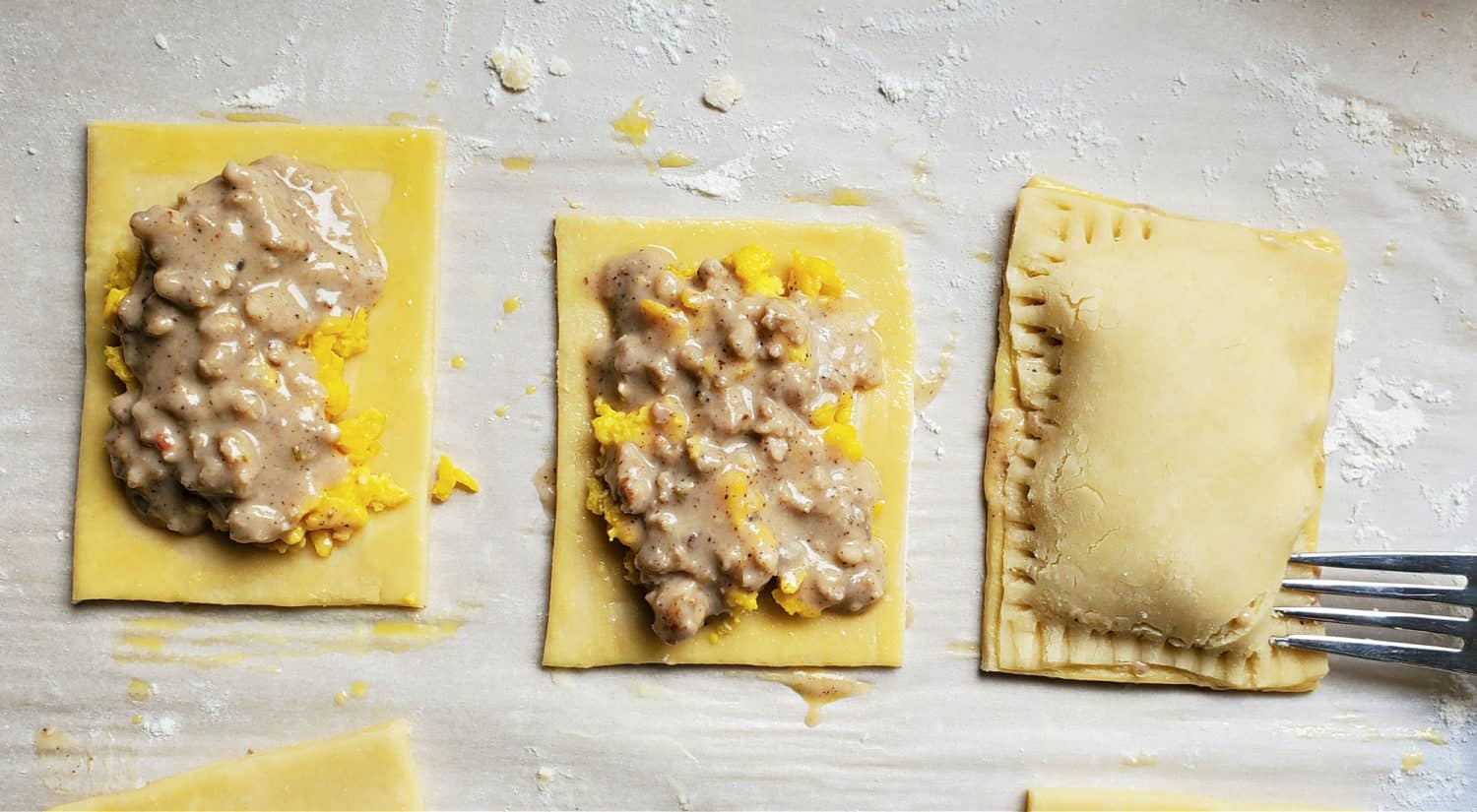 Working on about 3 poptarts at a time, wet the edges with egg wash. Spoon on the scrambled eggs, country sausage gravy, and then use a fork to seal on top crust.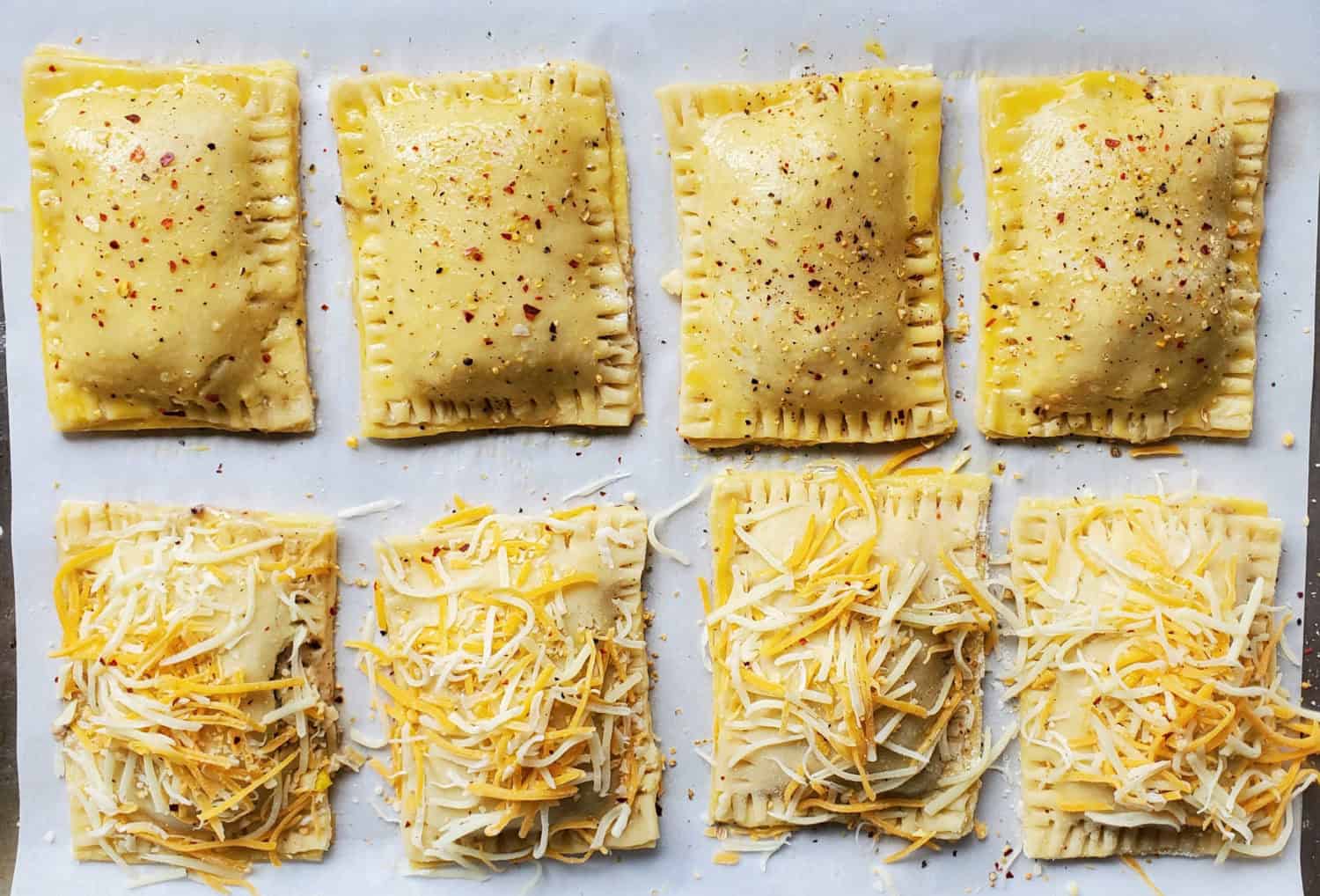 Brush the unbaked tarts with egg wash and top with Everyday Seasoning (Trader Joe's) and/or cheese. Bake these bad boys for about 25 minutes @ 375 F.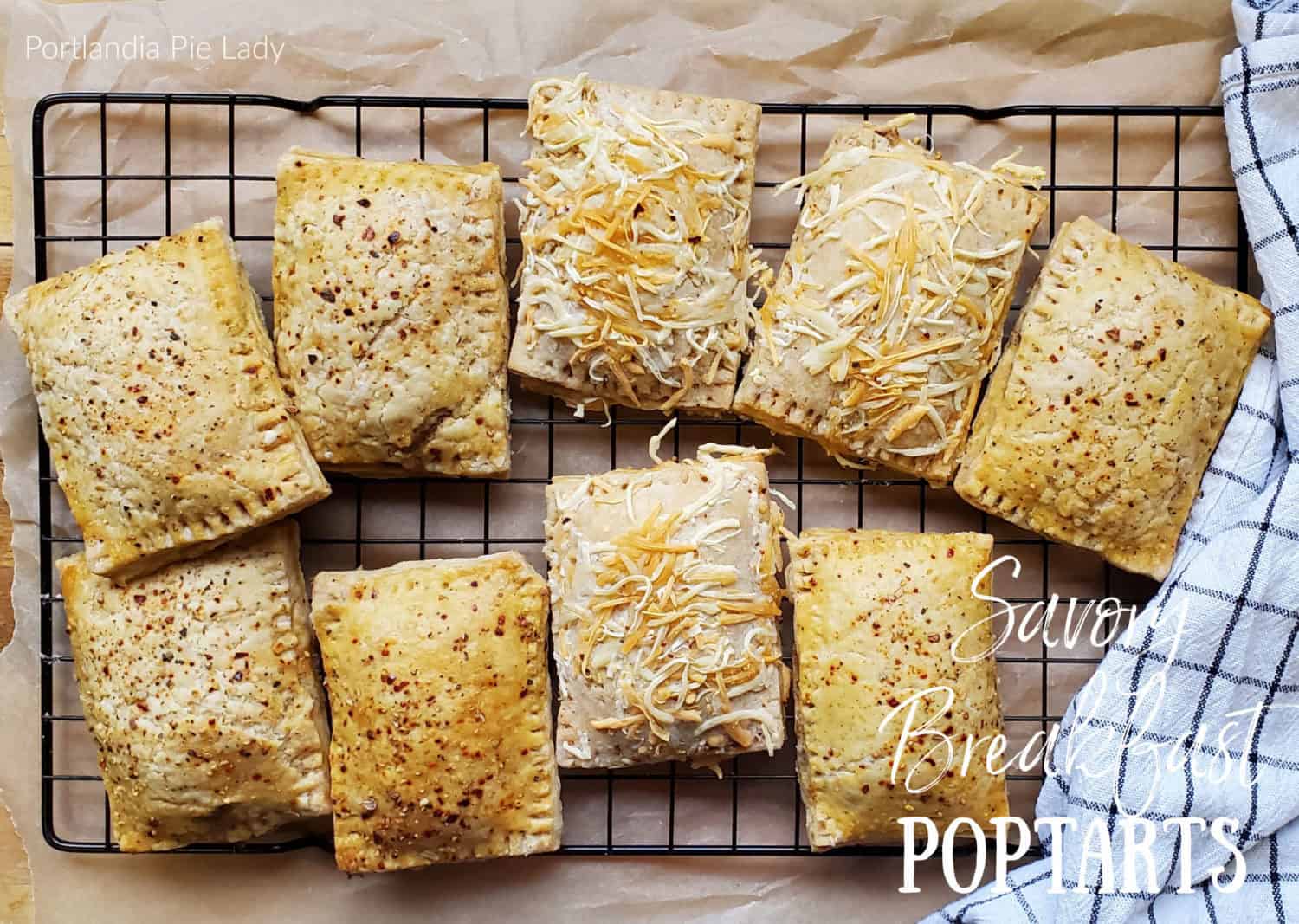 FYI; the lower fat content of the cheese, the less "melty" it will be, as you can see, I used a low-fat cheese. Regardless if you choose to use cheese or not, your Savory Breakfast Poptarts will taste divine Seriously, I could eat these all day.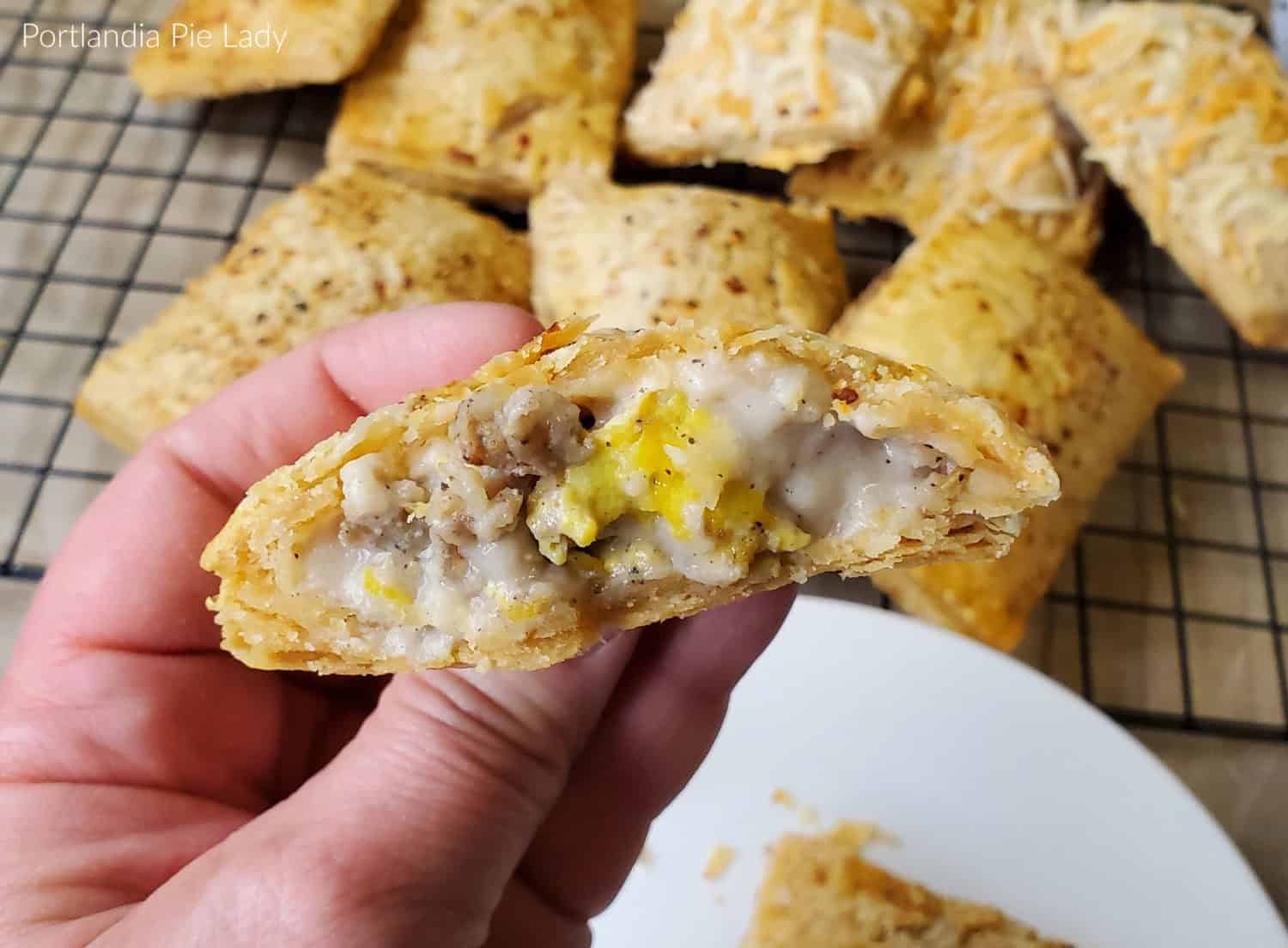 Now, another note on the country sausage gravy: If you want extra for dipping, you will need to make a double batch. My recipe below is just the right amount to fill 10 tarts. And, who doesn't love extra country sausage gravy? Have a pie-tabulous week pie peeps!
Savory Breakfast Poptarts
Savory Breakfast Poptarts packed full of peppery sausage country gravy & scrambled eggs baked in a flakey buttery crust!
Servings: 10
Author: Portlandia Pie Lady
Filling
1/4

pound

breakfast sausage

2

s tablespoon

all-purpose flour

1-1/4

cup

milk

1/4

test

season salt

1/2

test

black pepper

1/2

test

minced rosemary (optional)

1

pinch

sage (optional)

5

eggs

scrambled (cooked separately from sausage gravy ingredients above)

1

cup

shredded cheddar or jack cheese (optional for topping)

Everyday

Seasoning

from Trader Joe's or other seasoning of choice.
Poptart English Wig Dough
3

cups

all-purpose flour

1

test

salt

1

cup

vegetable shortening

1/2

cup

butter

1

large

egg

1

.

white vinegar

5

s tablespoon

cold water

1

extra

egg, plus 2 tablespoons water for egg wash
Country Sausage Gravy & Filling
Heat a large skillet over medium-high heat. Cook sausage in skillet, breaking it apart as it cooks. Cook the sausage until it's browned and small crispy bits appear. (About 5-7minutes.)

Without draining fat off of sausage, stir the flour into the skillet with sausage until fully absorbed and simmer 2 to 3 minutes which eliminates that "raw" flour taste.

Using flat bottomed whisk, carefully stir in the milk. Reduce heat to medium low and stir with whisk as the gravy thickens, about 4 to 5 minutes.

Remove from heat and stir in seasoned salt, pepper, and optional rosemary, sage. Set aside.

In separate skillet scramble and cook the 5 eggs as to your liking. Set aside.
Poptart Dough & Assembly
Pre-heat oven to 375 F.

In a large bowl, stir the flour and salt together.

With a large fork, cut in the shortening and butter until crumbly and "pea-sized" crumbs.

In a separate bowl whisk 1 egg, vinegar and water together. Pour all at once into the flour mixture and stir a few times just until it forms a dough ball.

Roll out dough on floured surface to 1/8-inch thick (work with half of dough at one time for easier rolling/cutting).

Cut two rectangles for each tart, 3 x 4-inches.

Working with 3 at a time, place the bottom crust onto a parchment lined baking sheet.

Wet the edges (before adding filling) with egg wash. Spoon on scrambled egg, sausage gravy. Gently stretch the top crust just a tad and use a fork to crimp and seal edges.

The poptarts will not expand so they can be placed fairly close to each other on baking sheet.

Brush tops with egg wash, add seasoning and/or cheese. Bake for 25 minutes @ 375 F.

Cool 5 minutes before eating.