A savory apple, caramelized onions & white cheddar galette (think tart vs. deconstructed pie = galette) with herbs and sharp white cheddar cheese. The depth of flavor matches its beautiful presentation right out of the oven: this will complete you.
The crust is adapted from a friend's recipe who grew up in Israel making this in her home kitchen; and with butter. The "liquid" for the crust dough is sour cream (Tillamook is my favorite) with Tillamook Sharp White Cheddar mixed in. They don't have cheddar cheese in Israel, my gal pal there wishes they did. Regardless, it is the most tender buttery savory crust that tops the charts in my favorites category.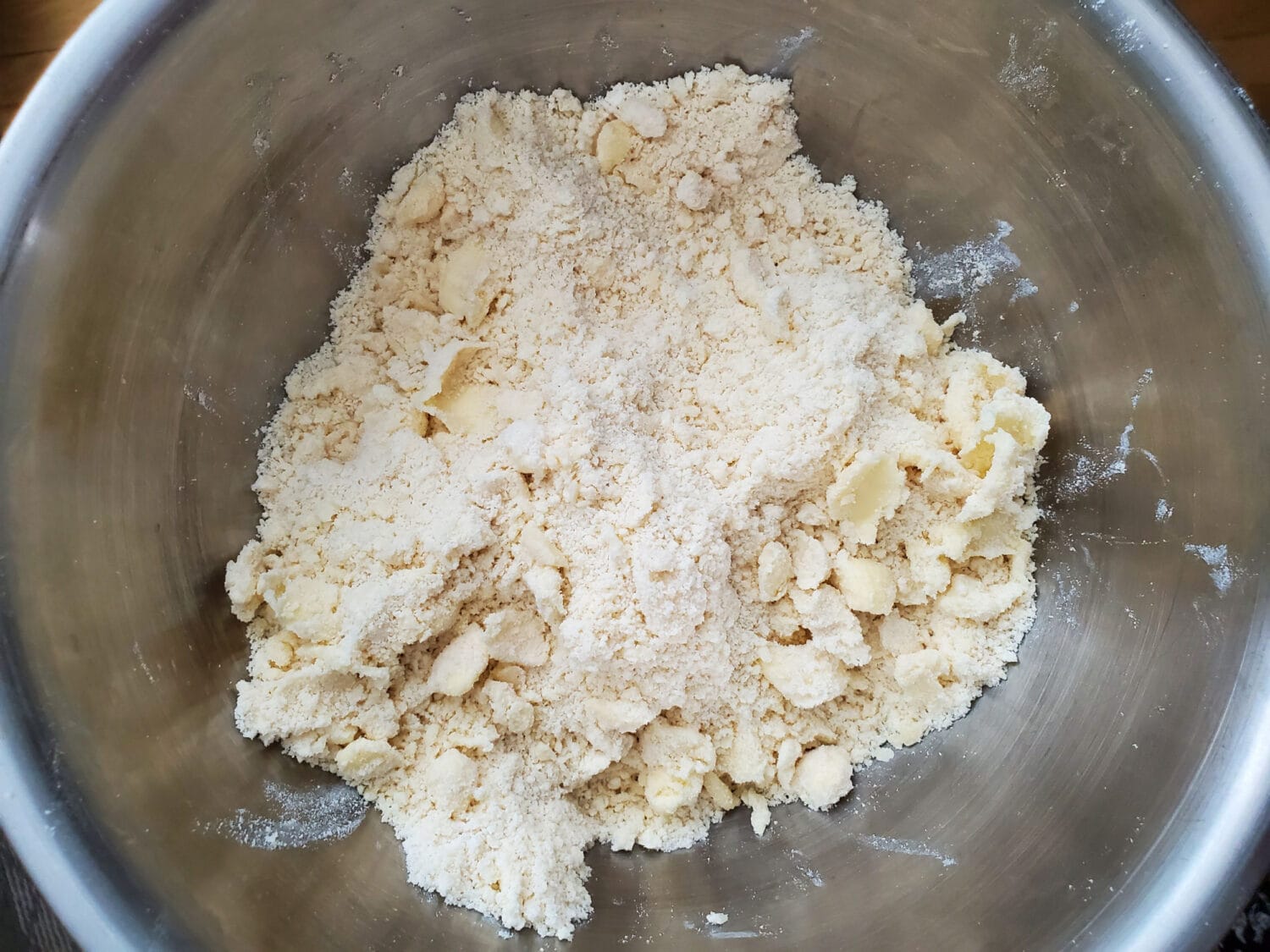 Like making a regular pie crust, the dry ingredients are combined, the butter is cut in until crumbly. Tillamook Sharp White Cheddar (with a little sharp yellow cheddar for color) is mixed in with the dry butter crumbled mixture.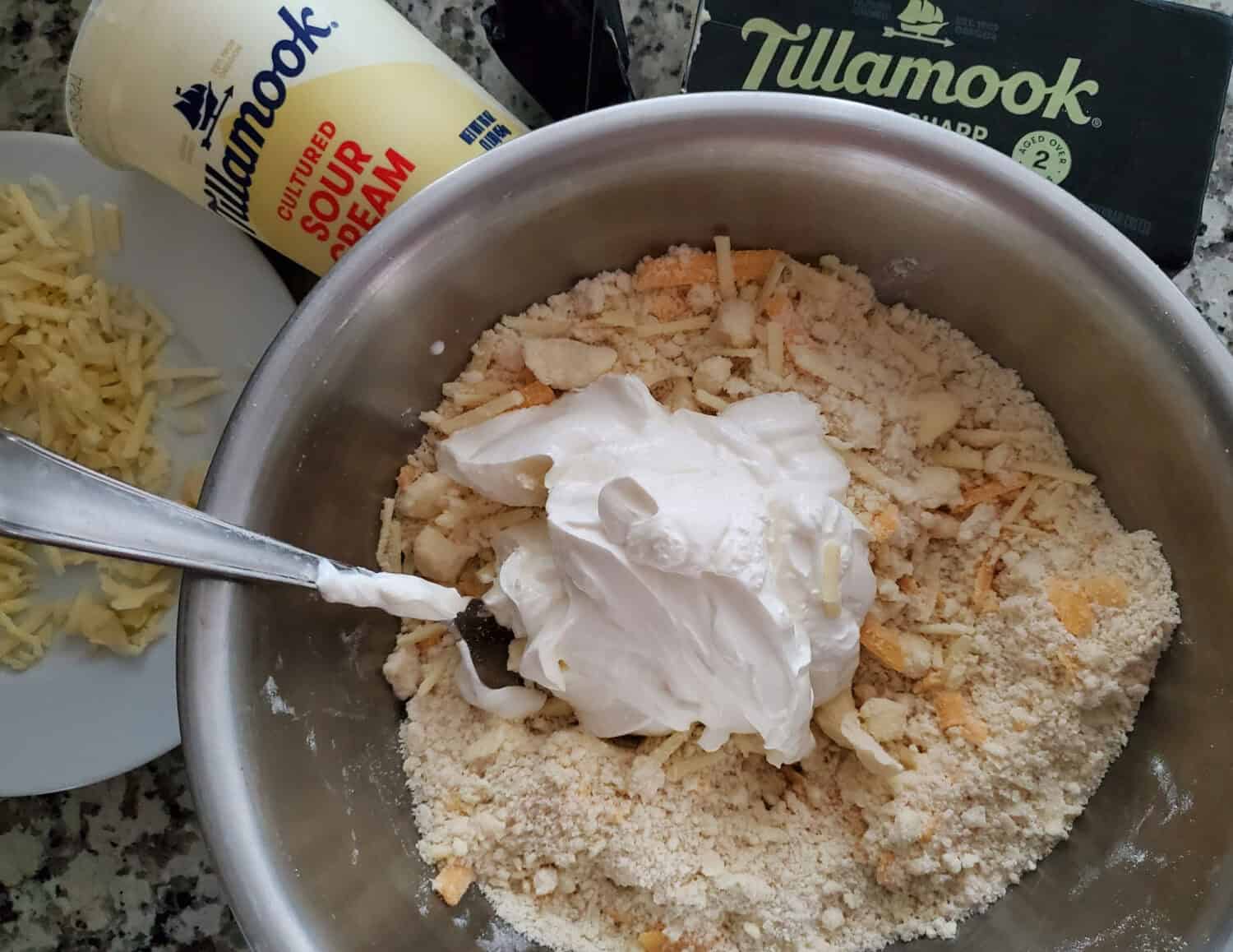 Stir in the sour cream just until the dough pulls together. The sour cream makes this a soft yet firm decadent dough. The dough is then rolled out onto a parchment lined baking sheet. Roll the dough to roughly a 11 to 12-inch circle, letting it overlap the long edge, as it will be folded over. Lift it onto baking sheet before adding fillings.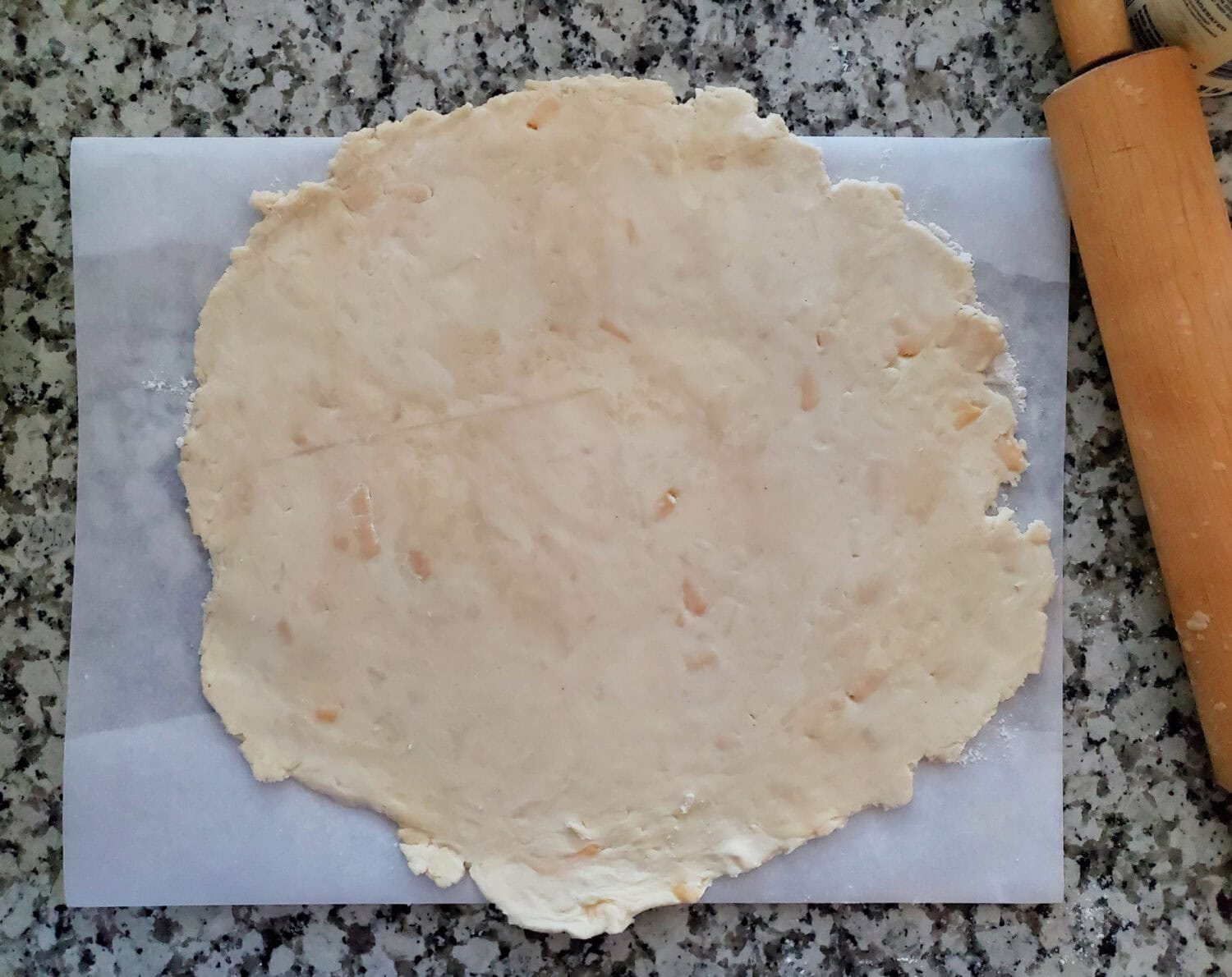 The filling is a combination of sour cream and Homemade Mascarpone Cheese with a dab of brown mustard.
Caramelized Onions Anyone?
Thinly slice a medium sweet Vidalia (or Walla Walla onions to you lucky NW folks).
Heat a large skillet over medium heat and add olive oil and butter.
Place the sliced ​​onions in the skillet and simmer about 9 minutes on each side.
I don't think you can "over" caramelize onions in my humble opinion. I only wish I had made more; they're that good.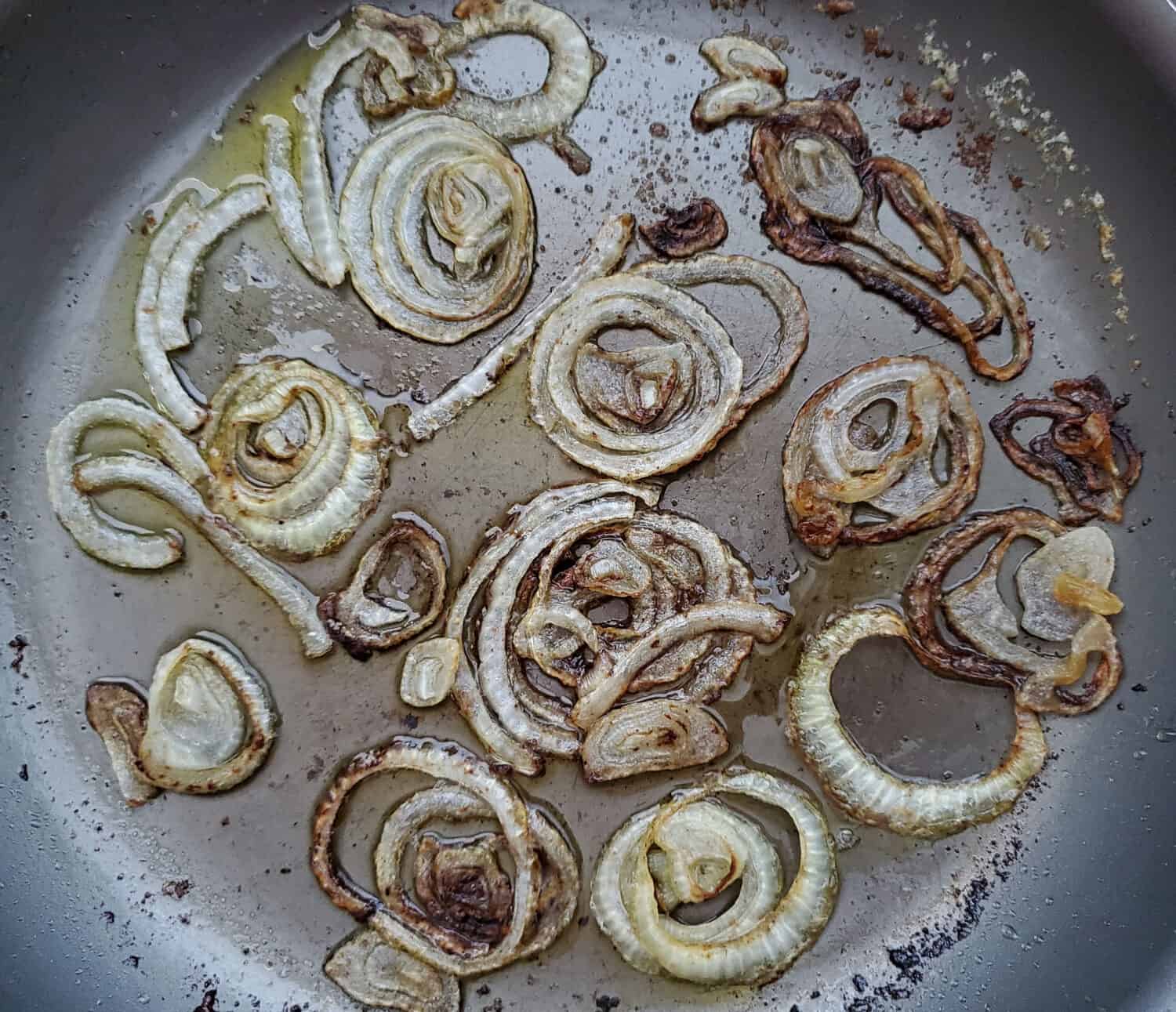 Making Broken Skin Apples: Game Changer
Hold the apple upright with one hand and a dinner fork in the other.
Run the tines of the fork through the apple skin, cross-hatch style, breaking the surface.
For those of you who don't like apple skins in baked goods, broken skin apples may change your mind. The process is so fast, easy, and eliminates extra precious time peeling apples. You can then core and slice the apples any way you want. The skins will shrink and curl as they are baked with all that flavor. I may never peel apples again.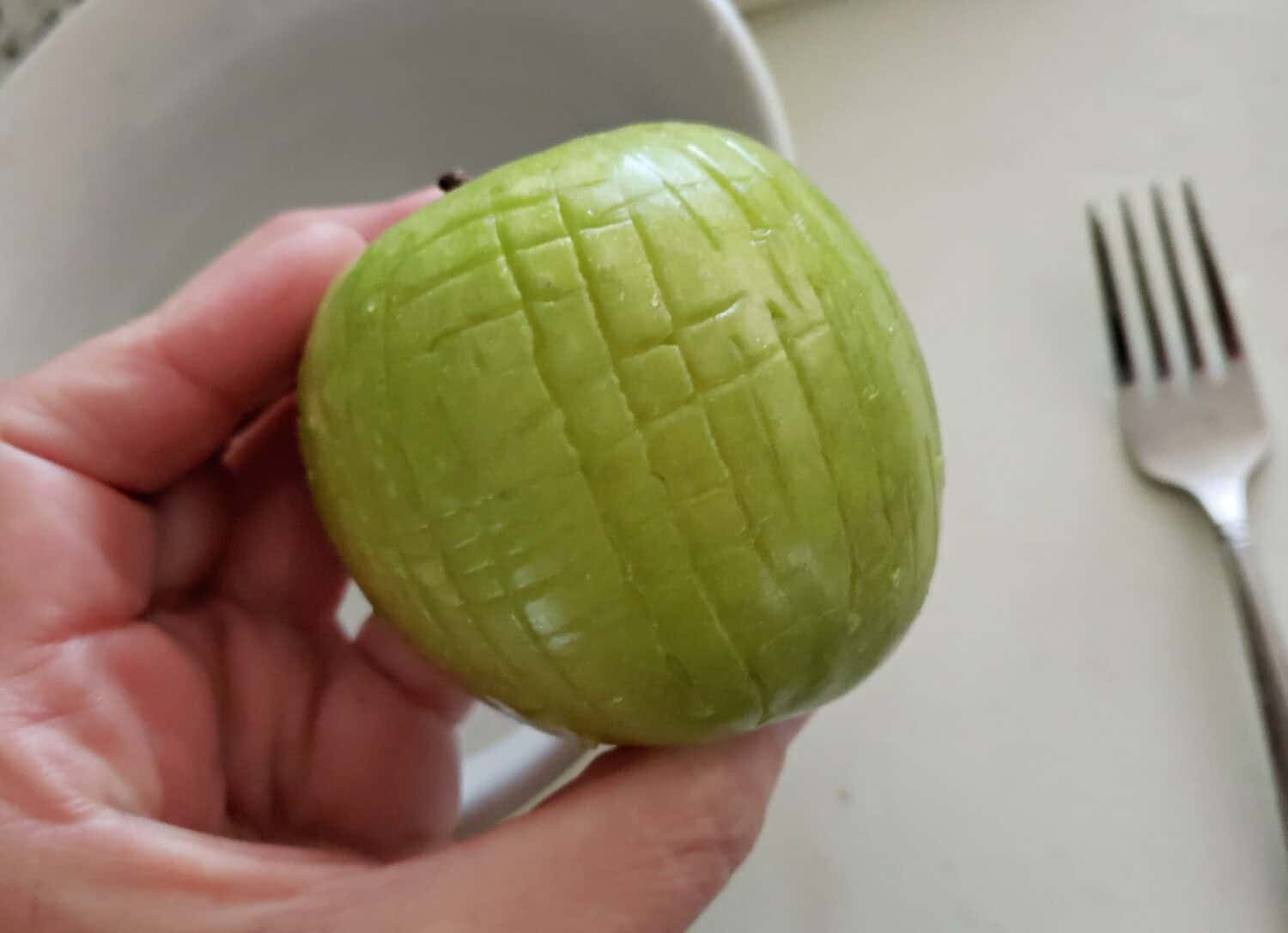 Assemble your galette as below: mascarpone/sour cream mixture, sliced ​​apples, herbs, and caramelized onions. Fold over the edges of the galette and top with more sharp white cheddar.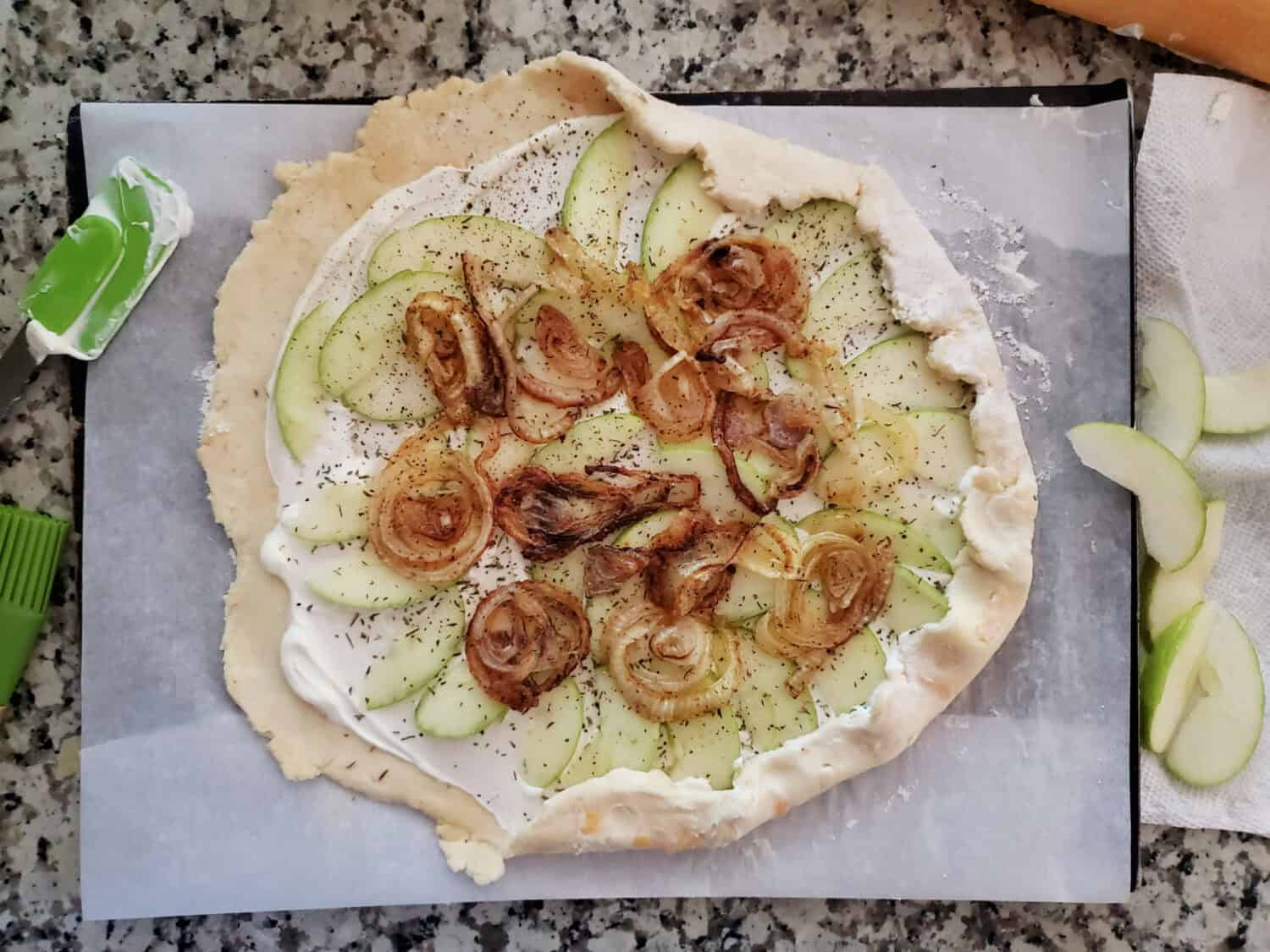 Place in oven at 375 F and bake for 30 minutes.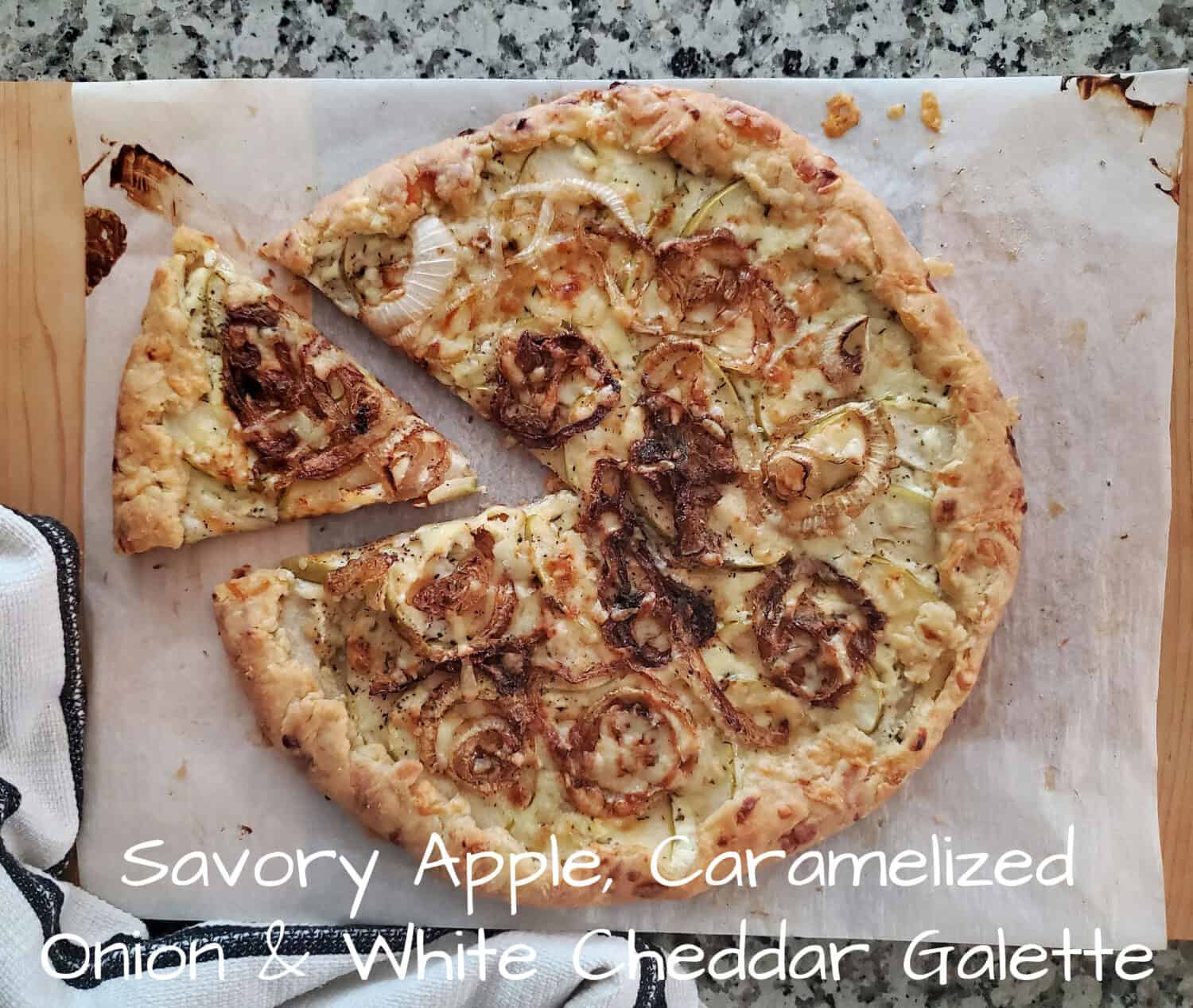 This has moved up the charts as my favorite savory tart aka galette. The sharp white cheddar pairs beautifully with the tart apples and sweet caraemlized onions. I only wished I had made two!
Savory Apple, Caramelized Onions, and Sharp White Cheddar Galette
Perfect balance of tartness, natural sweetness, and kick of sharp cheddar.
Servings: 8 slices
Author: Portlandia Pie Lady
Savory Galette Crust
1-1/4

cups

all purpose (or gluten free) flour

1/2

test

baking powder

1/2

cup

butter

1/2

cup

shredded, sharp white Tillamook cheddar cheese

1/2

cup

shredded, medium Tillamook cheddar cheese (for color)

1/2

cup

Tellamook sour cream
Galette Toppings-Filling
1/3

cup

Tellamook sour cream

1/3

cup

mascarpone cheese room temp (you may substitute cream cheese)

1-1/2

tests

brown deli mustard

1

tart

granny smith apple (cross hatch skins, core, slice thin)

1

medium

size sweet Vidalia or Walla Walla onion

2

s tablespoon

butter

3

s tablespoon

olive oil

1/2

test

dry thyme leaves

1/2

test

dry oregano leaves

2/3

cup

shredded sharp white Tillamook cheddar cheese
Galette Crust
Place flour of choice and baking powder into a large bowl and stir throughly.

Cut butter into dry ingredients with a large fork until crumbly.

Stir in the shredded cheddar cheeses

Add sour cream and mix just until it forms a ball.

Roll out dough to an 11 to 12-inch circle on a parchment lined baking sheet.
Toppings & Assembly
Preheat oven to 375 F.

Caramelized Onions: Place butter and olive oil in a large skillet over medium heat. When butter has melted place the sliced ​​onions in skillet. Let cook about 9 to 10 minutes on each side. Remove from heat when done and leave in skillet.

While the onions cook, used the tines of a fork and cross-hatch the apple to break the skin on entire apple. Core, slice, and place in bowl of about 4 cups cold water with 1 teaspoon salt to prevent oxidization.

In separate bowl stir the sour cream and mascarpone cheese together until well combined.

Spread the sour cream-mascarpone mixture on the dough to within 1 to 1-1/2 inches from edge.

Drain the apples on paper toweling and place onto the sour cream layer.

Sprinkle on thyme and oregano.

Use a spatula and place caramelized onions on apples. Fold over the edges of the galette (some of the apple slices will be covered up.

Sprinkle on the white cheddar cheese and bake 30 minutes @ 375 F. Let cool 5 minutes before serving. Best when warm, but also great straight from fridge (if you have any leftovers).