I fell in love with Oaxacan Mole Sauce while in Mexico and creating a duplicatable version was taxing. However, I think I did it justice. If you want the SUPER good stuff you will need to find a hole in the wall authentic Oaxacan restaurant, or go to Mexico.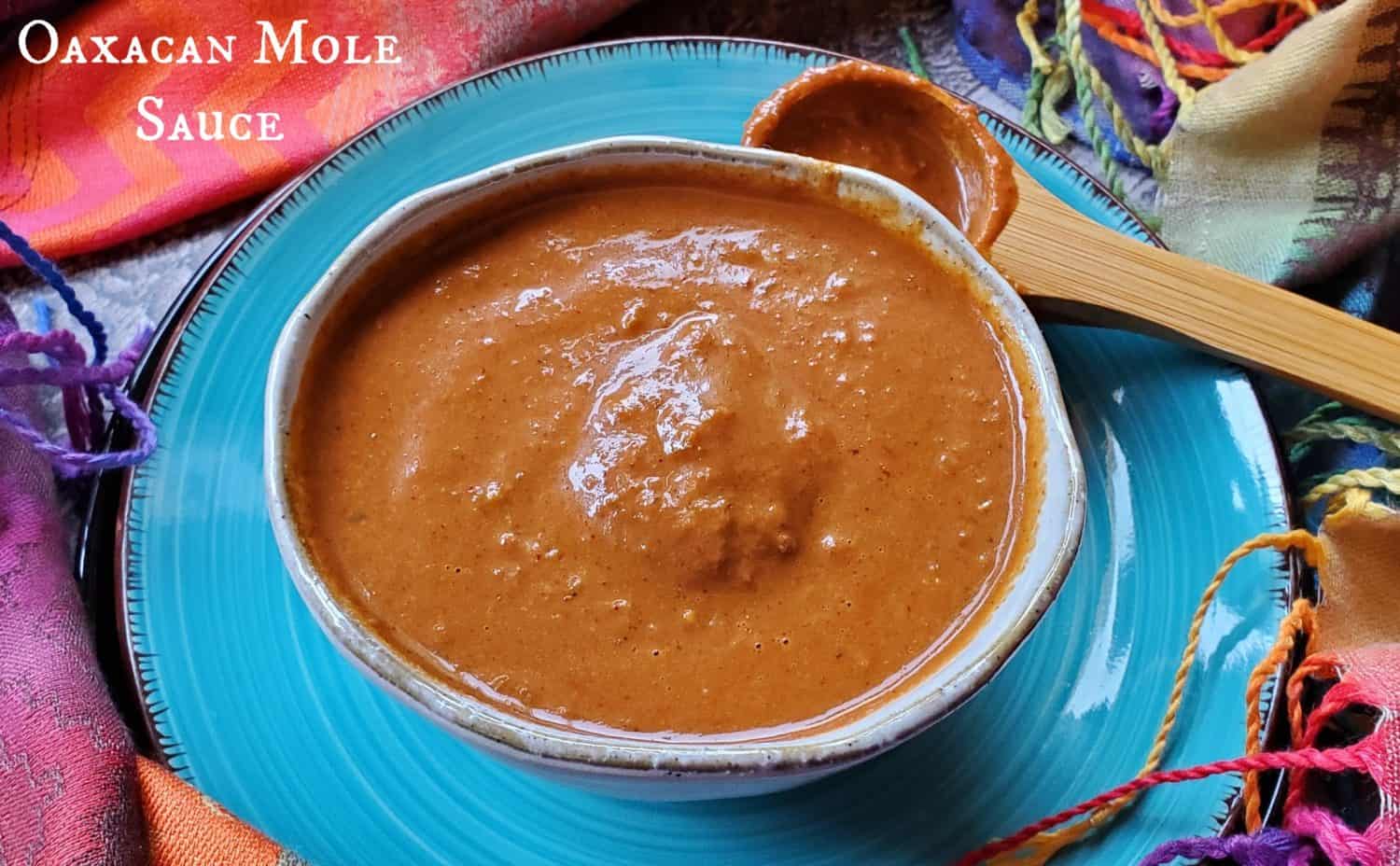 To appreciate the work that goes into that little bowl of sauce you need a bit of history. I would highly recommend listening to this Gastropod episode: Mysteries of Mole; about this saucy little sauce. It can take days of simmering! I don't have that luxury nor the patience.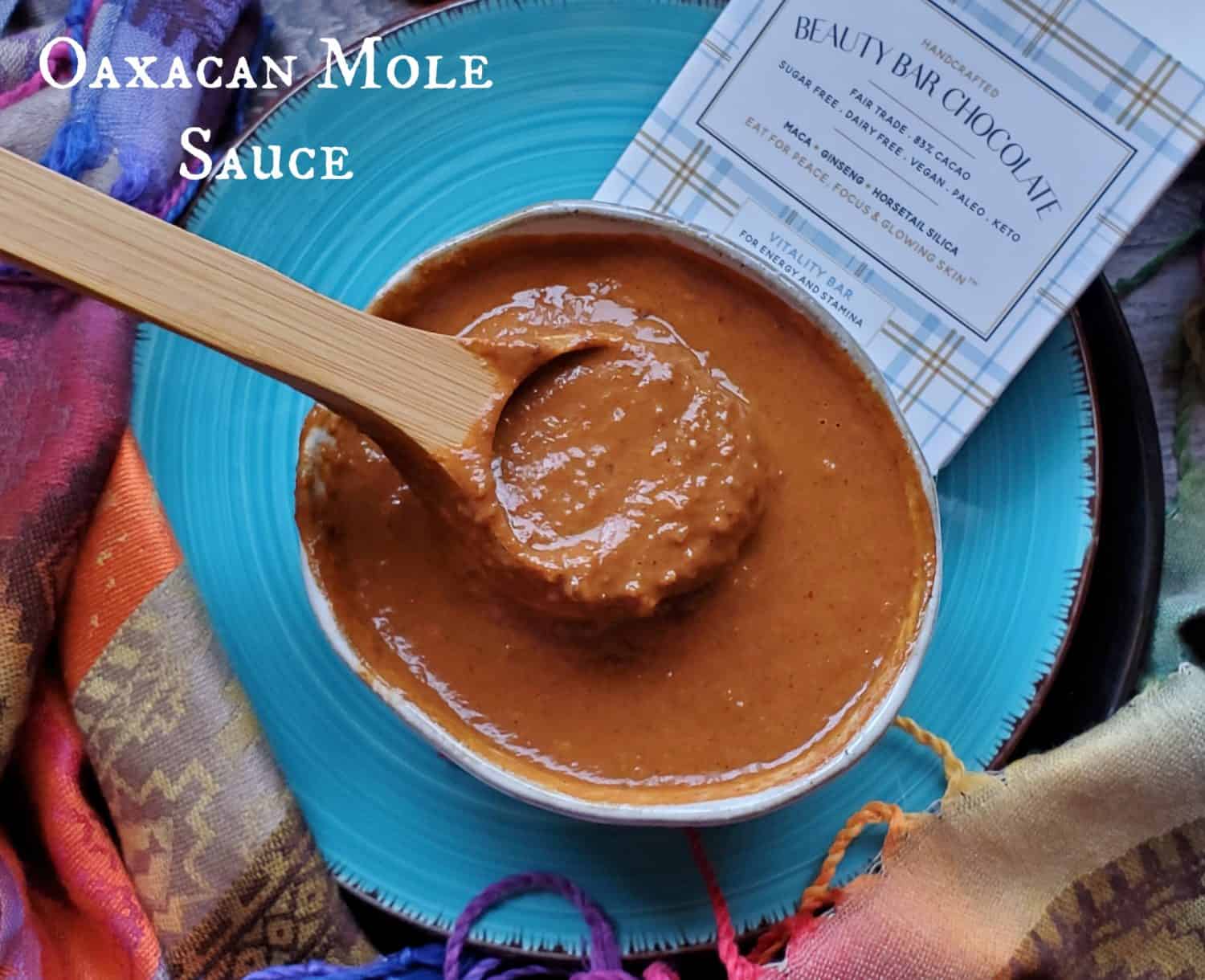 The Ingredients Matter:
Chipotle Peppers in Adobo sauce: Adobo peppers are roasted red jalapenos; The smokey flavor gives the sauce a well-simmered taste, and saves time working with dried peppers. However, cut the amount in half if you are sensitive to heat.
Chili Powder: Also cut back by 1 to 2 teaspoons if heat is an issue; However, two kinds of spice, chipotle & chili, is essential for the complexity of flavor wanted.
Oregano & Cumin: Same as peppers, dried herbs/seasonings cuts down time.
Almond Butter or other Nut Butter: In the slow "days" method of authentic mole sauce you would be spending a lot of time toasting and grinding your own "butter."
Vegetable Stock: This gives you the option to keep the dish completely vegan/vegetarian. If that's not a big deal to you, go for chicken stock.
Solid Chocolate: Using solid chocolate, the finishing ingredient, will eliminate the need to thicken the mole sauce with flour or cornstarch; or simmering for hours. You CAN use slightly sweetened (80% cacao or higher) or unsweetened. (I used Beauty Bar Chocolate as I wanted my mole sauce completely vegan.)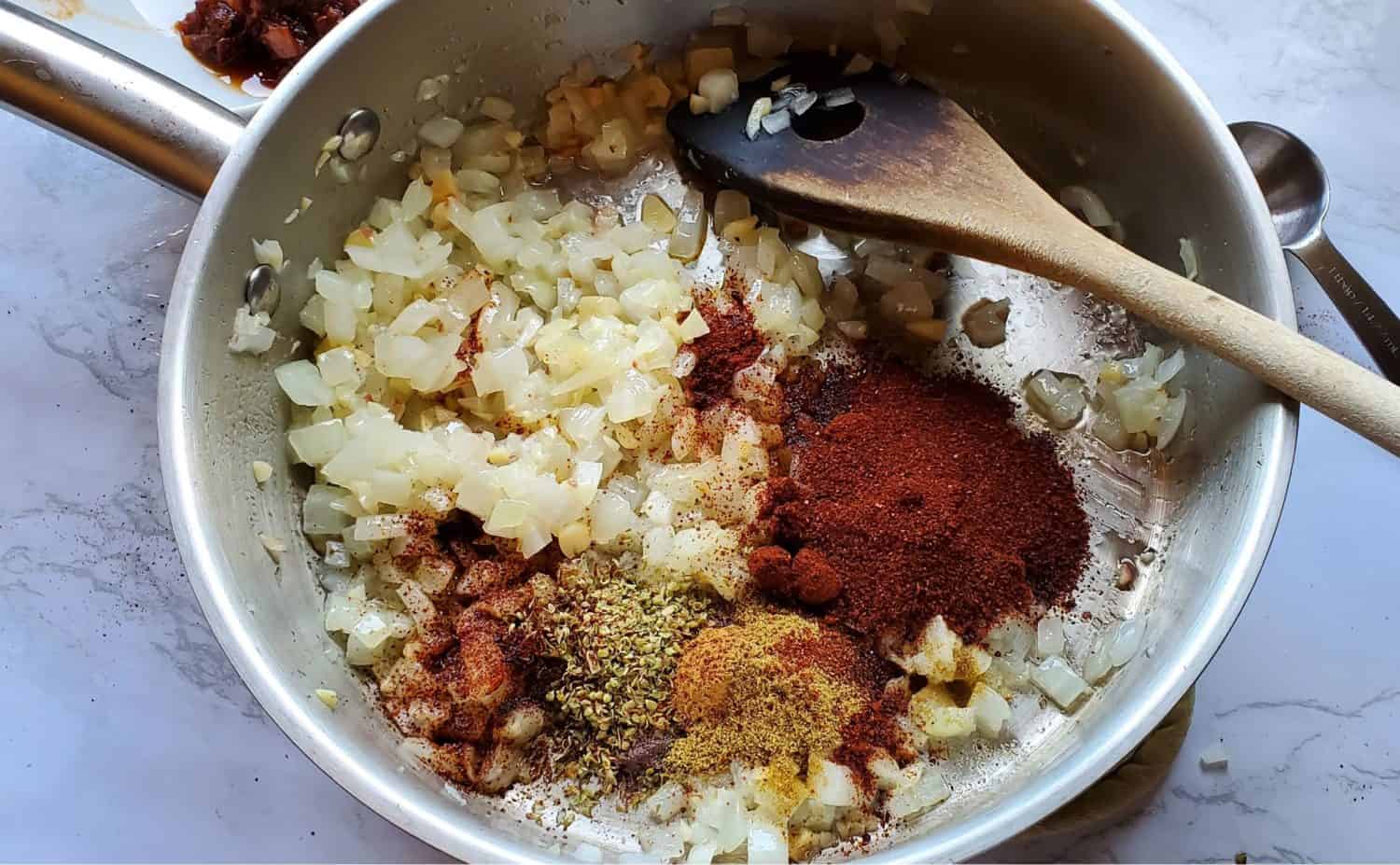 The above picture is after the onions and garlic were sautéed before adding the seasonings, vegetable stock, and diced tomatoes.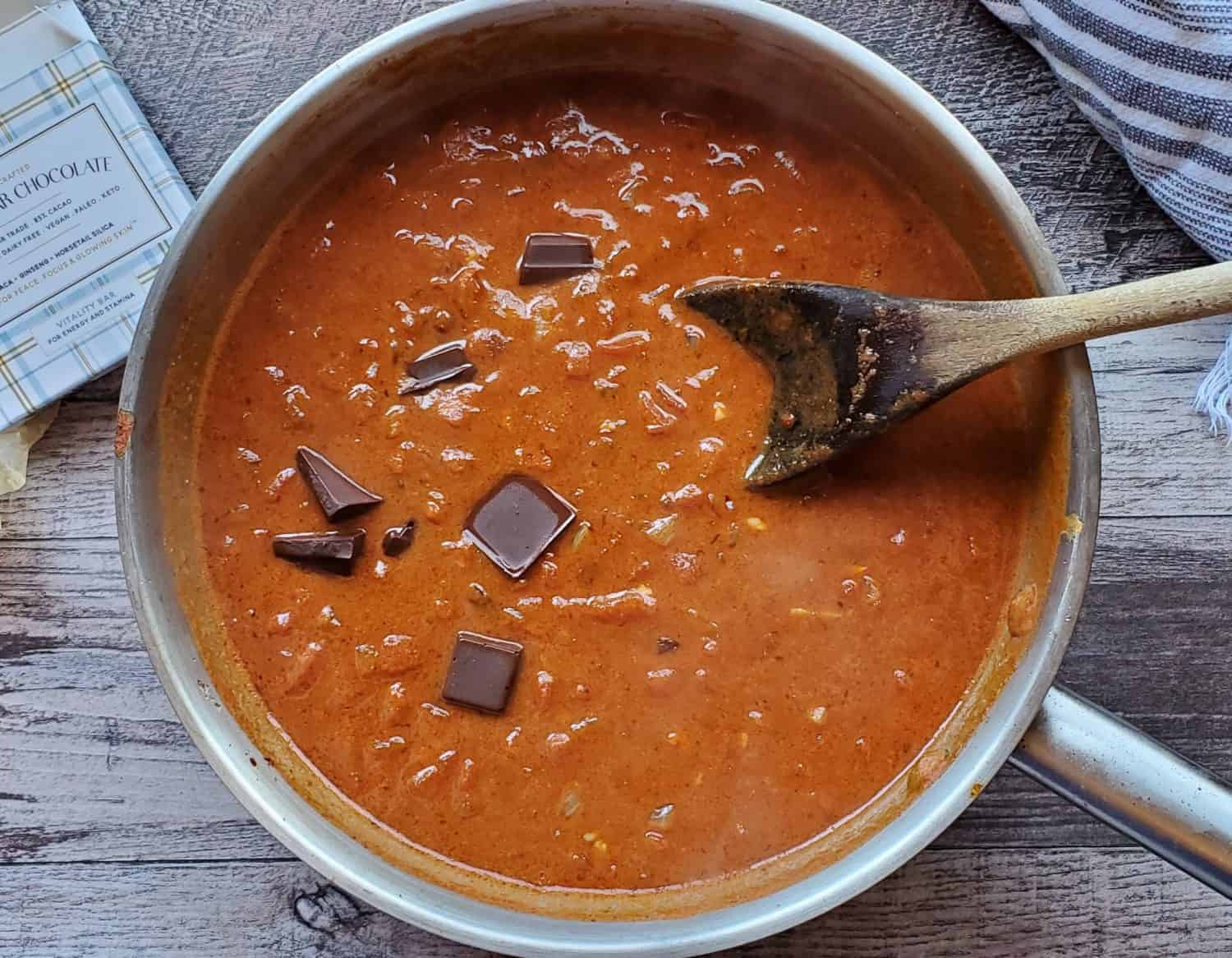 After simmering for about 5 minutes, toss in the chopped up chocolate chunks and stir until completely melted.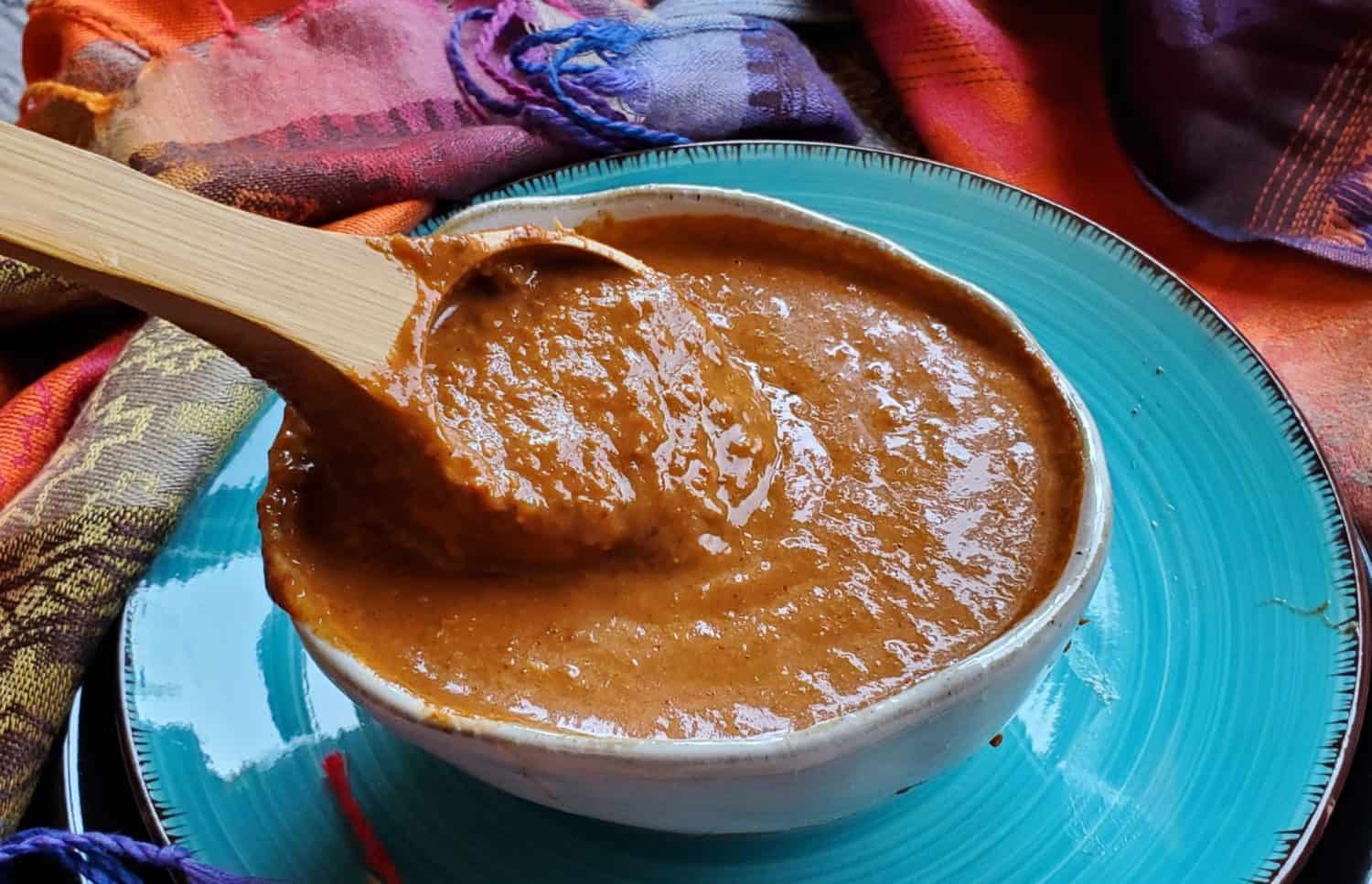 Use an immersion blender (I love my Kitchenaid immersion blender) to make the sauce smooth and eat at will. You now have the perfect mole sauce in under an hour (counting the veggie prep time). Masterfully and divinely tasty! Serve with roasted vegetables, over rice and beans, tortilla chips, or simmer with chicken, yum! Let your imagination run wild with a little south of the border magic in your kitchen.
Oaxacan Mole Sauce
Oaxacan Mole Sauce: A deeply flavorful "days" simmered sauce made in under 1 hour, perfect for roasted veggies, rice, or meat dishes.
2

s tablespoon

vegetable oil

1

cup

yellow onion, diced

5

cloves

garlic, peeled and minced

2

chipotle

peppers in adobo sauce, diced

2

s tablespoon

tablespoons chili powder

1/2

test

ground cinnamon

1

test

ground cumin

1

test

dried oregano

1

test

sea ​​salt

2

cups

vegetable stock

1

12-ounce

can diced tomatoes

2

s tablespoon

almond butter

2

s tablespoon

tomato paste

2

ounces

80% cacao chocolate chips or solid bar, chopped (for vegan, 1 box Beauty Bar Chocolate)
In a large deep skillet or sauce pan, sauté the onions and garlic in the vegetable oil over medium-high heat for about 5 minutes.

Add the chipotle peppers, spices, salt, vegetable stock, diced tomatoes, almond butter and tomato paste. Heat over medium-high heat until it begins to simmer, reduce heat to medium and simmer for 5 minutes.

Remove from heat and add the chocolate of choice, stir until completely melted and well blended.

Use an immersion blender to make smooth sauce. If you don't have an immersion blender use table top blender, puree/pulse the mole sauce in small batches as it will be hot.

Serve with roasted vegetables, rice, beans, or use as sauce for Oaxacan Mole Pot Pies (recipe coming soon).