When you crave some Mississippi Mud Pie, but the whole pie is too much for one person…say hello to Mini Mississippi Mud Pies!! Not only do you get to enjoy the throws of chocolatey marshmallow gooeyness, you can throw a couple in the freezer. You know, for those late night snacks you eat by the light of your freezer when the world is asleep, but you're not.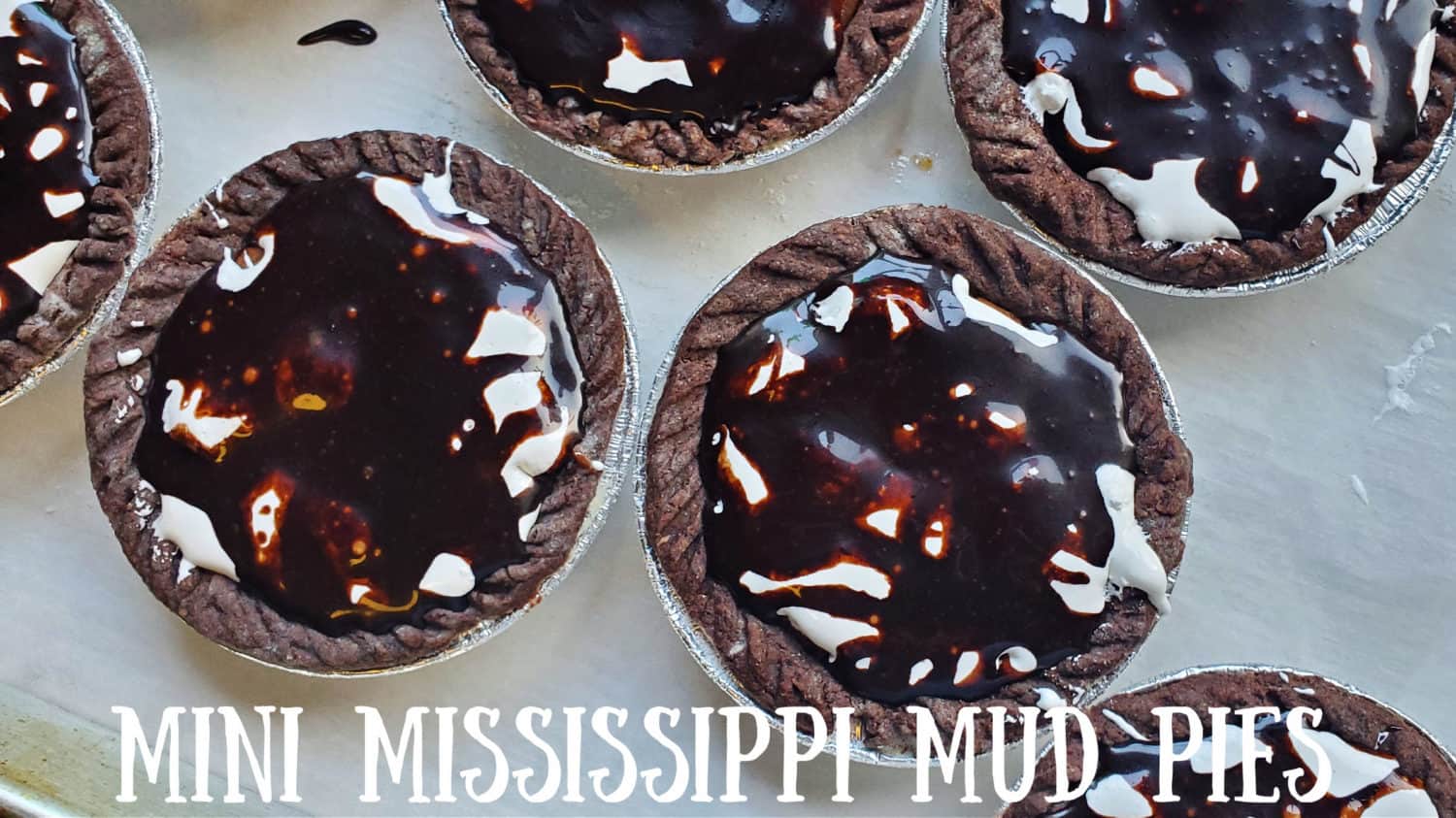 Mini Mississippi Mud Pies are the exact same fabulous recipe divided into 7 individual single serving tins.
Start by rolling out the chocolate pie crust using a 5-inch round cookie cutter.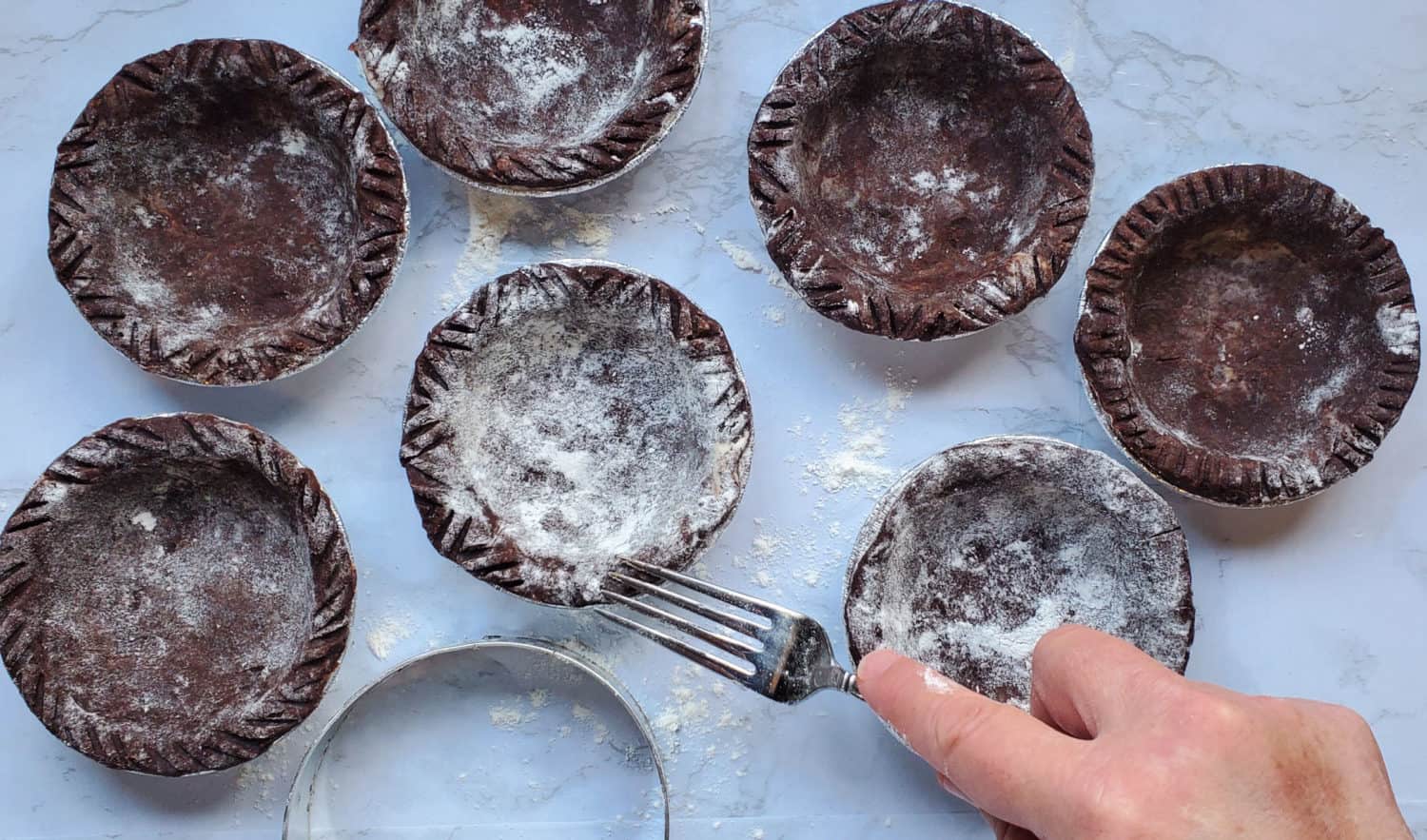 Gently press the cut dough round into the mini tin. Use a fork to crimp the edges in any pattern you like.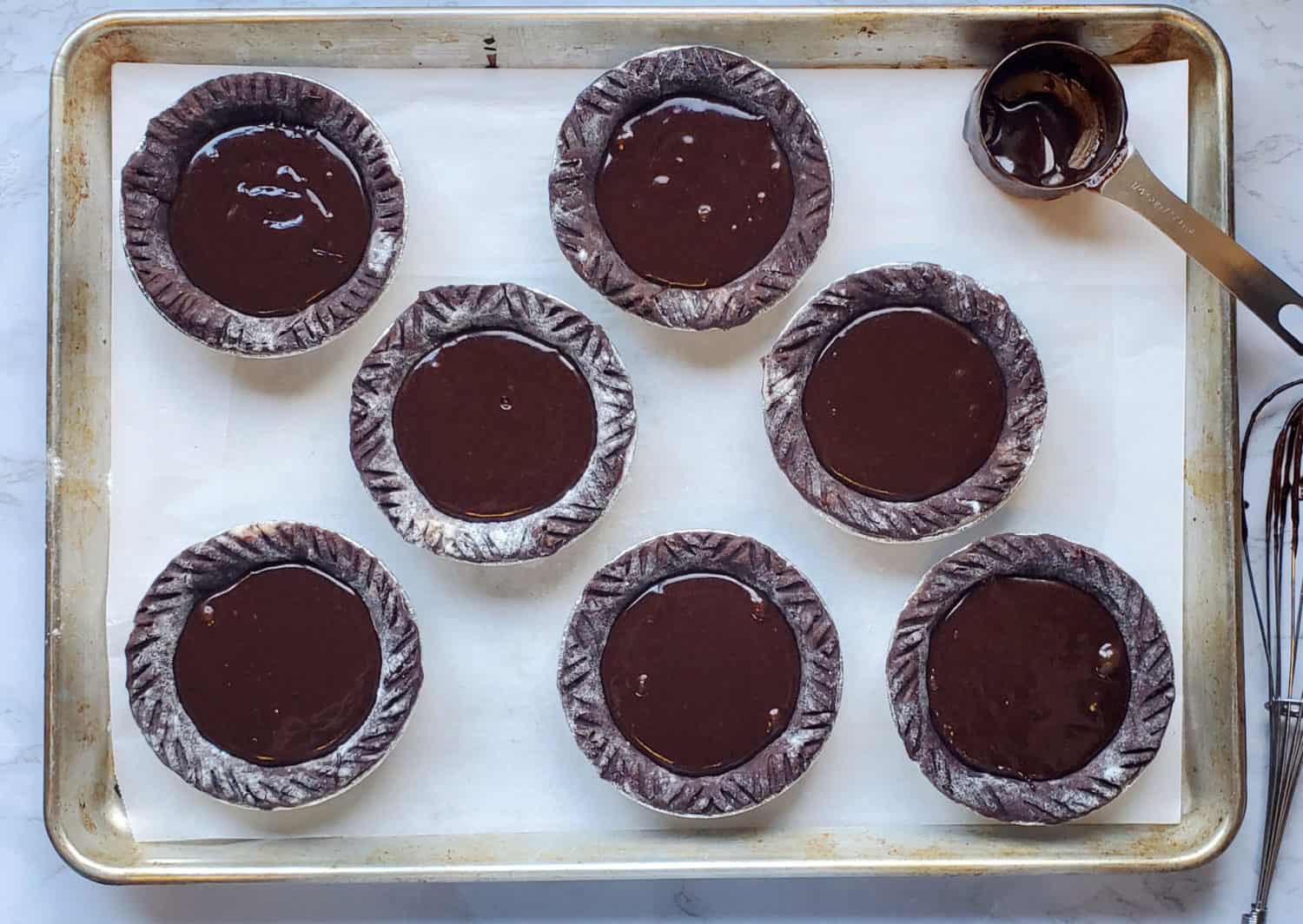 Scoop a full 1/4 cup of batter filling into each prepared pie dough lined tin. If you're lucky there will be enough for an extra taste at the end.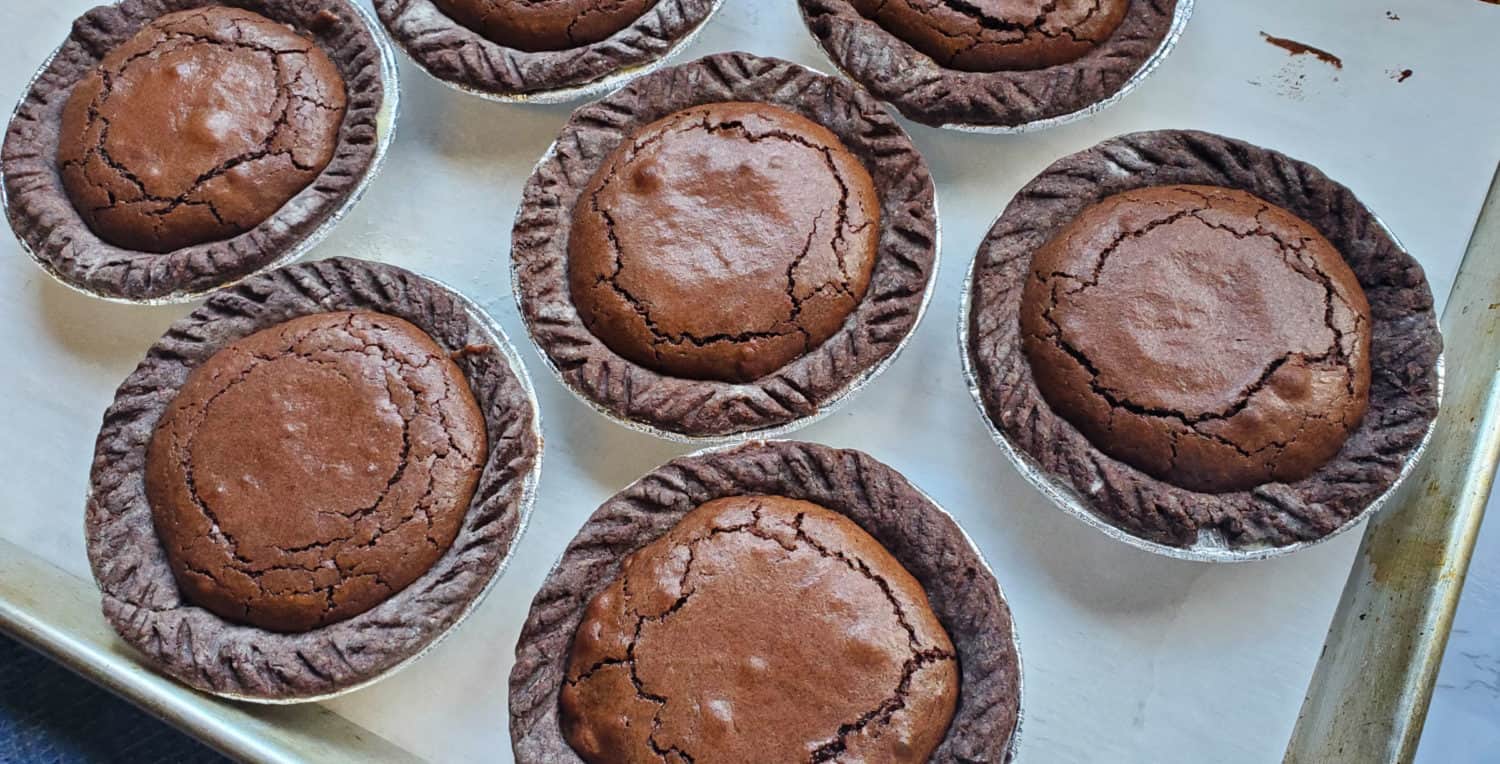 Bake these little, yet mighty, mini pies for 30 minutes. The tops will be cracked and puffed, but will relax and flatten as they are cool with the toppings.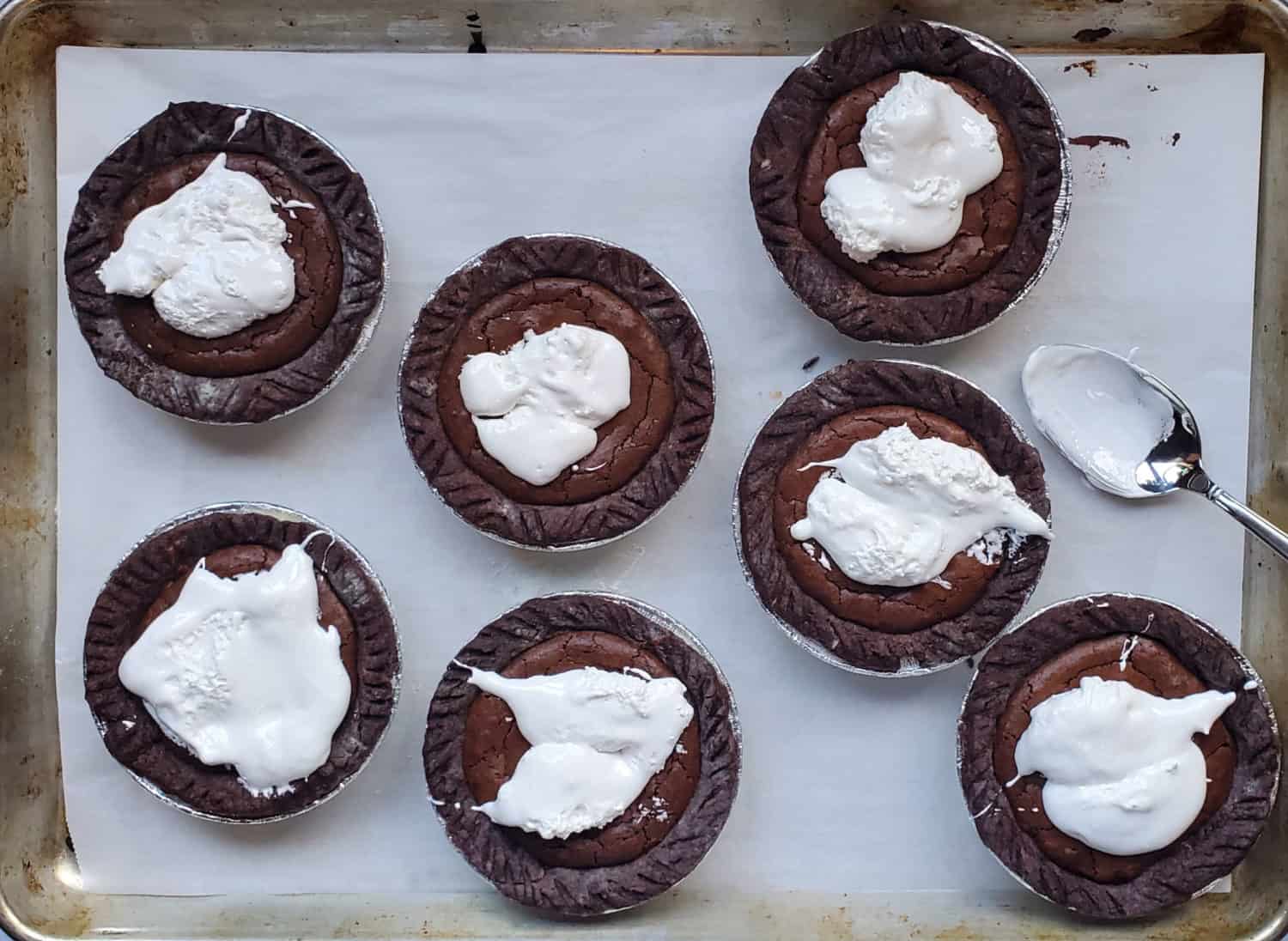 While the pies are still warm scoop a generous generous amount of marshmallow cream on top. And yes, you will need to use your fingers. No licking until they are done!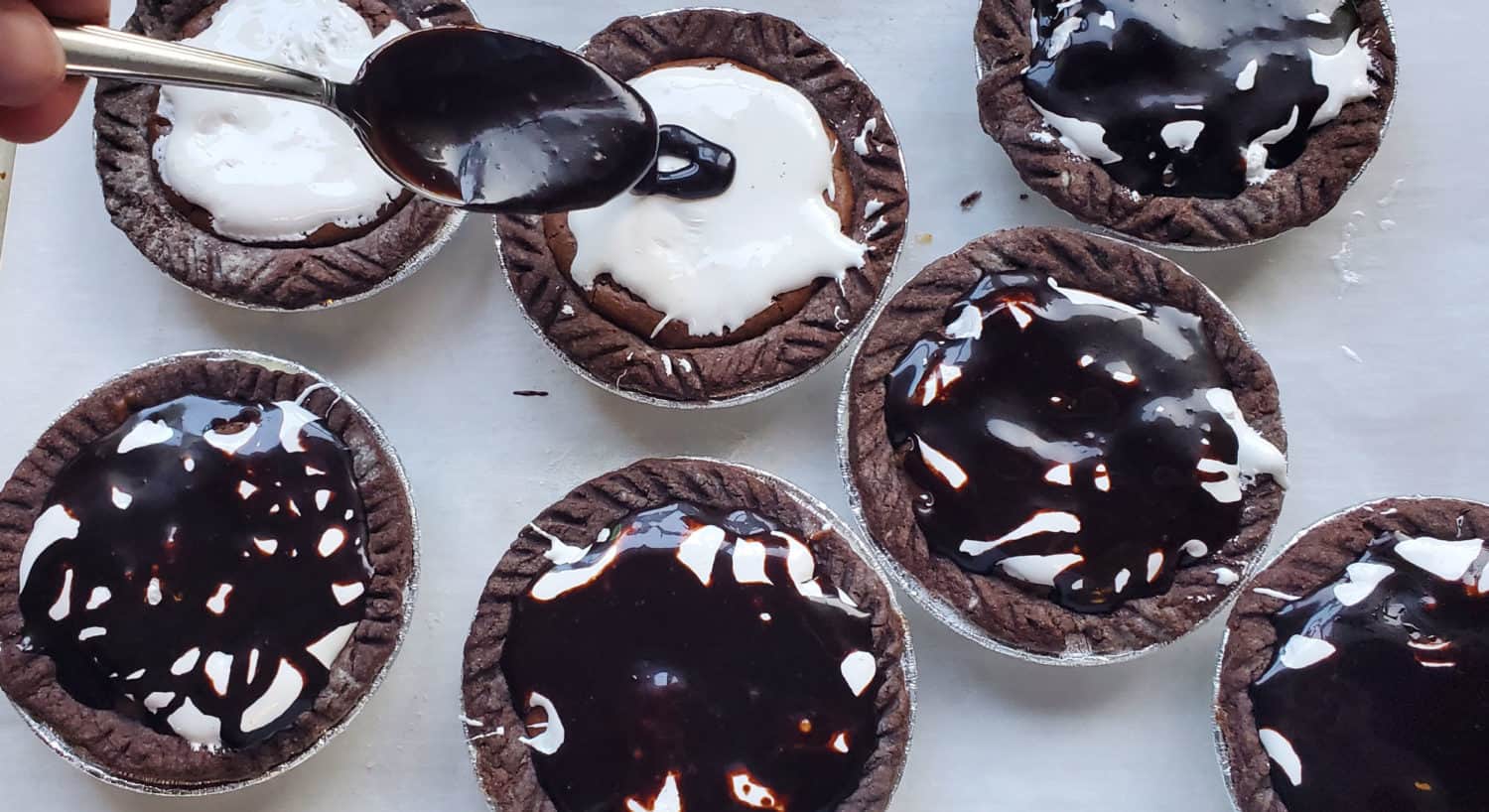 The last step is icing these bad boys. Swirl on about 1 tablespoon; it will spread out as the mini pies continue to cool .
Now, if you really want to enjoy an entire pie with all the same beautiful luscious goo, click on Mississippi Mud Pie (see below).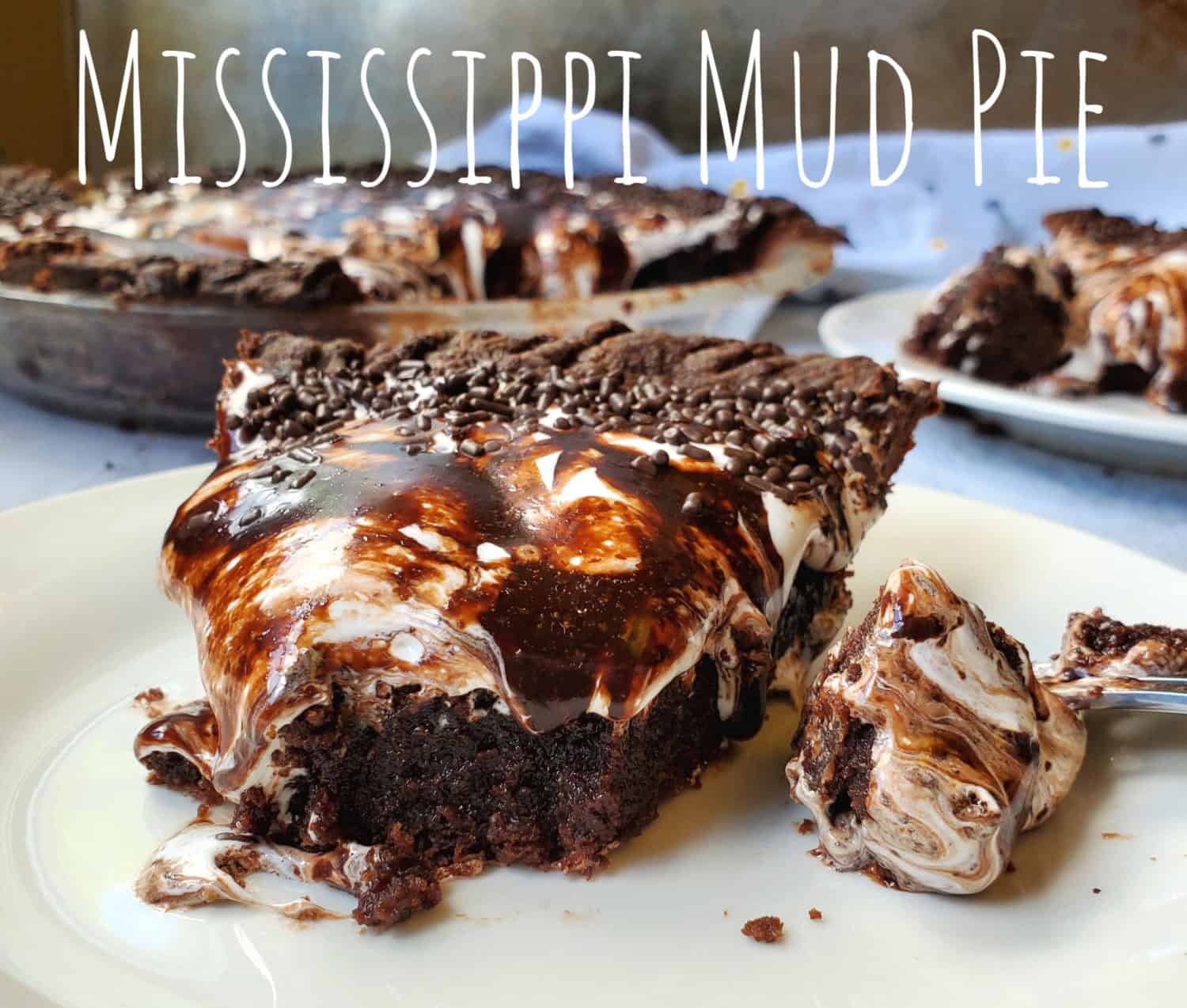 Get ready to dive into bubbly marshmallow cream; like a muddy swamp of chocolate contraband.
Mini Mississippi Mud Pies
Servings: 7 Mini Pies
Chocolate Filling
4

ounces

bitter sweet chocolate (2/3 cups baking chips)

1/2

cup

butter

1

cup

pure cane granulated sugar

1/2

cup

all-purpose flour (or gluten free 1 to 1 flour)

2

large

eggs

2

s tablespoon

unsweetened cocoa powder

1

test

vanilla extract
Marshmallow Layer
1/2

jar

marshmallow cream (7 oz. jar)
Chocolate Icing Layer
1/2

cup

pure cane powdered sugar

2

s tablespoon

unsweetened cocoa powder

1

.

milk

3

s tablespoon

butter

1/2

test

vanilla
Grandma's Chocolate Pie Crust
1

cup

all purpose flour, plus extra for dusting

(may substitute with gluten free flour)

1/4

cup

unsweetened cocoa powder

3/4

cup

butter, room temp (if cold cut into pieces)

1/4

cup

sugar

1/4

cup

cold water
Chocolate Pie Crust – 7 mini crusts
In a large bowl, mix the flour, unsweetened cocoa, and sugar together in mixing bowl.

With a large fork, cut in the butter until crumbly and pea-sized and smaller pieces.

Pour in the cold water all at once, mix just until dough ball forms.

On a floured surface, roll out dough to about 1/4 inch thickness and cut 7 (seven) 4-1/2 to 5-inch round pie dough discs. Place in mini tins, gently press bottoms and sides.

Crimp the edges with a fork. Set aside for filling.
Pie Filling & Assembly
Preheat to 350 degrees F.

In a saucepan over medium-high heat, the chocolate chips and butter, just until barely melted. Remove from heat stir into sugar, flour & cocoa powder until well-combined. Whisk in the eggs thoroughly and stir in vanilla.

Pour filling into the prepared crust and bake for 35-40 minutes. Middle may still be soft but will firm up a bit after it cools for a few minutes (about 15 to 20 minutes).Stir the marshmallow fluff in the jar to help with spooning it out.

Carefully, while the mini pies are still warm, spoon marshmallow fluff over top. Let the fluff get melty for a couple of minutes and carefully spread to the edges. (Don't be afraid to use your fingers.)

For the second layer, in a saucepan over medium high heat, stir together powder sugar, cocoa, milk, butter and vanilla, just until it starts to steam/simmer, whisking to ensure no lumps. Remove from heat and carefully spoon over marshmallow fluff layer.

Let pie cool, serve a little warm or at room temperature.