Step-by-Step Guide on how to cook Instant Pot Cabbage! Tender-crisp Garlic Buttered Cabbage packed with flavors and nutrients. Quick and easy way to make this tasty, budget-friendly, healthy vegetable side dish.
Instant Pot Cabbage
Cabbage comes in various colors including green, purple, red, and white.
Did You Know? Cabbage is a cruciferous vegetable like kale & broccoli. They're nutrient-powerhouses!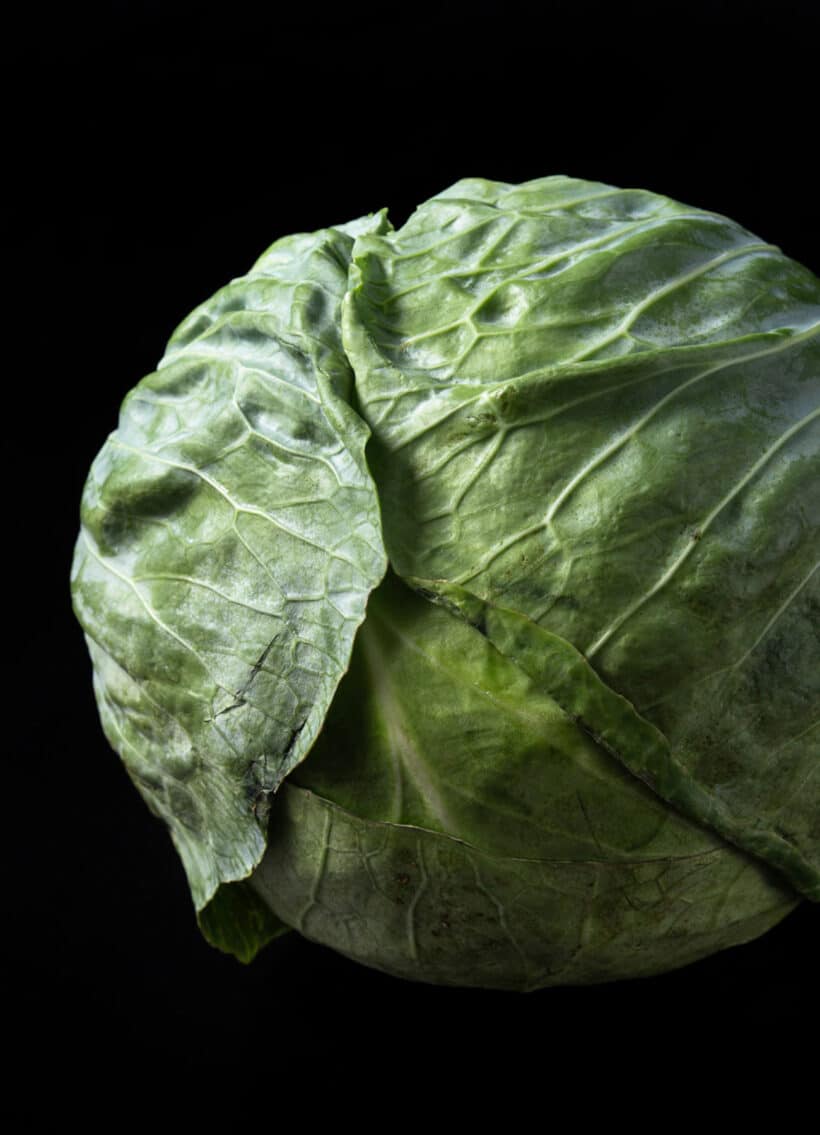 They're packed with vitamins & minerals like vitamin C, vitamin K, magnesium, folate, and calcium.
It also contains powerful antioxidants, high in fiber, anti-inflammatory nutrients. Great for heart health, and helps digestion.
We love cooking side dishes like cabbage in Instant Pot because it helps free our hands and stove space for cooking main dishes. If not already in a second Instant Pot. hehe~
Other Cabbage Recipes:
Can I freeze this Instant Pot Cabbage?
You can freeze this Instant Pot Buttered Cabbage. Just keep in mind it'll lose some of the Vitamin C when reheating the cabbage.
Step-by-Step Guide: How to Cook Cabbage in Instant Pot
What you need for cooking Cabbage in Instant Pot: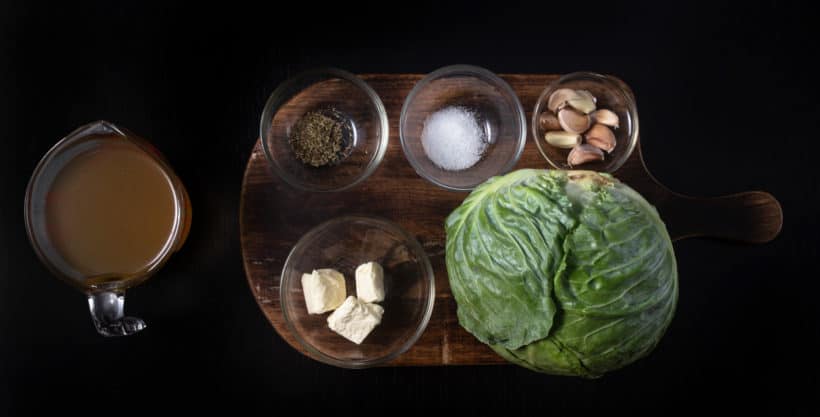 Unsalted Chicken Stock: If you want to make it vegan, substitute it with vegetable stock.
Unsalted Butter: If you want to make it dairy-free or vegan, substitute it with olive oil.
Amy + Jacky's Tips! We prefer using unsalted ingredients to develop recipes because we can better control the flavors of the dish.
Different brands' salted products have varying sodium levels. So if you're using salted ingredients, be sure to taste and adjust accordingly.
Tools for Instant Pot Cabbage
Step 1
Cut Cabbage
First, remove the outer leaves and cut the cabbage into 8 wedges.
Then, rinse the cabbage under cold water to remove any dirt.
Step 2
Pressure Cook Cabbage
First, add 3 tbsp (45g) unsalted butter, 8 garlic cloves, ½ tsp (0.7g) dried thyme, and 1 tsp (6.5g) fine salt to the Instant Pot.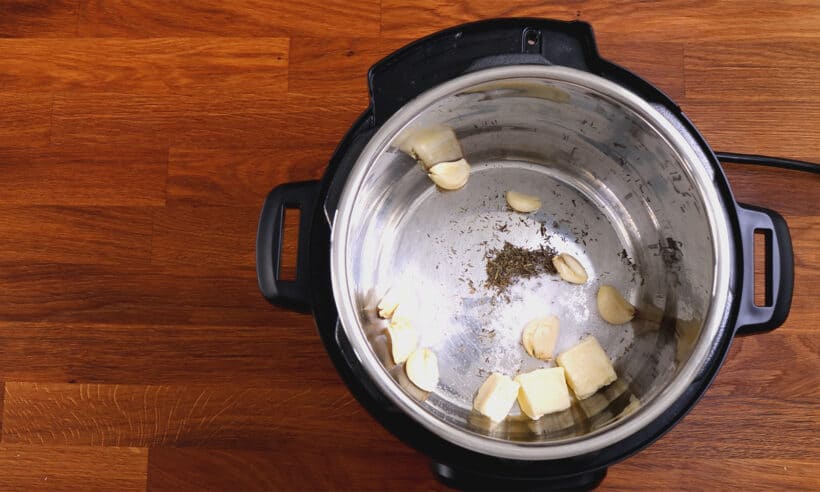 Pour in 2 cups (500ml) unsalted chicken stock, then give it a quick mix.
Now, add cabbage wedges in Instant Pot. Make sure they're all partially submerged in the cooking liquid.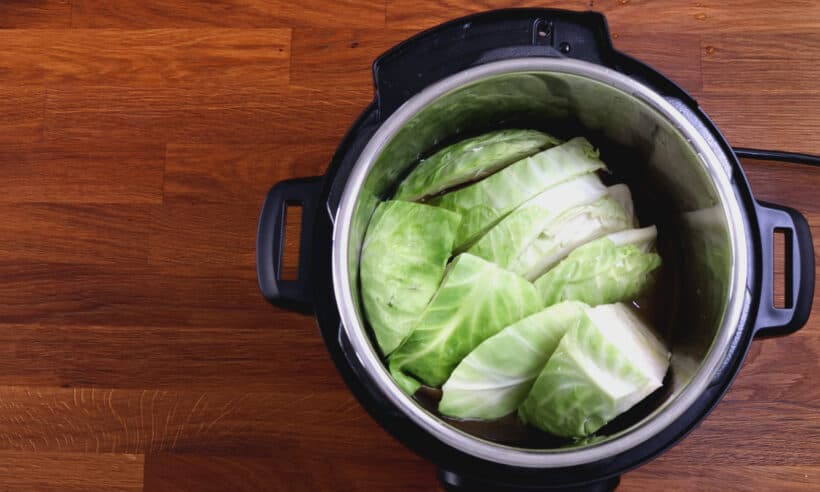 With Venting Knob in Venting Position, close the lid, then turn Venting Knob to Sealing Position.
How Long to Cook Cabbage in Instant Pot
Pressure Cook at High Pressure

3 minutes (tender with some crisp)

to

6 minutes (tender),

then Quick Release
Amy + Jacky's Tip! The best pressure cooking time depends on your cabbage's size & how tender you'd like it to be. You can test and adjust accordingly.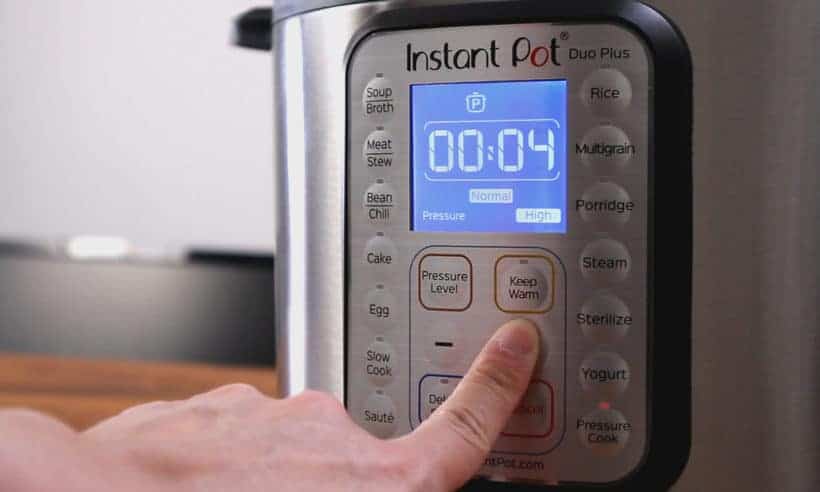 After pressure cooking is done, immediately & carefully turn Venting Knob to Venting Position to release the pressure.
When Floating Valve drops, open the lid carefully.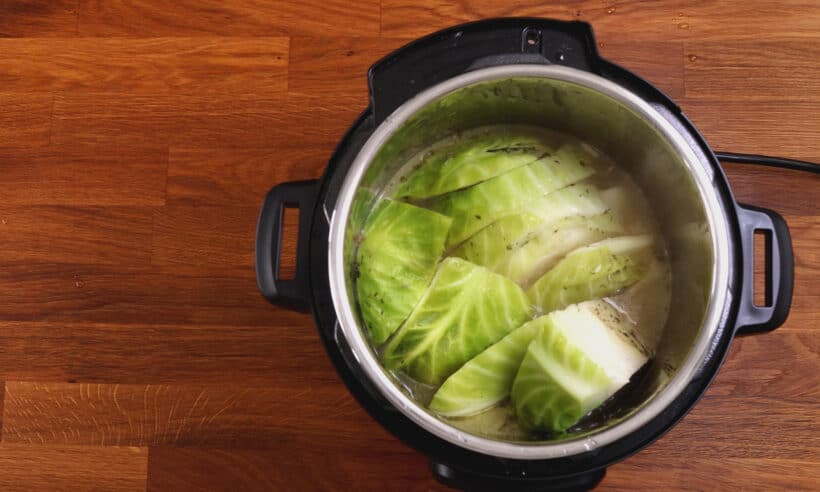 Step 3
Serve Buttered Cabbage
Finally, taste the cabbage and ensure they're fully cooked.
Add more seasoning if necessary.
Amy + Jacky's Tip! If you want more tender cabbage, cook cabbage in Instant Pot some more with the "Saute" function.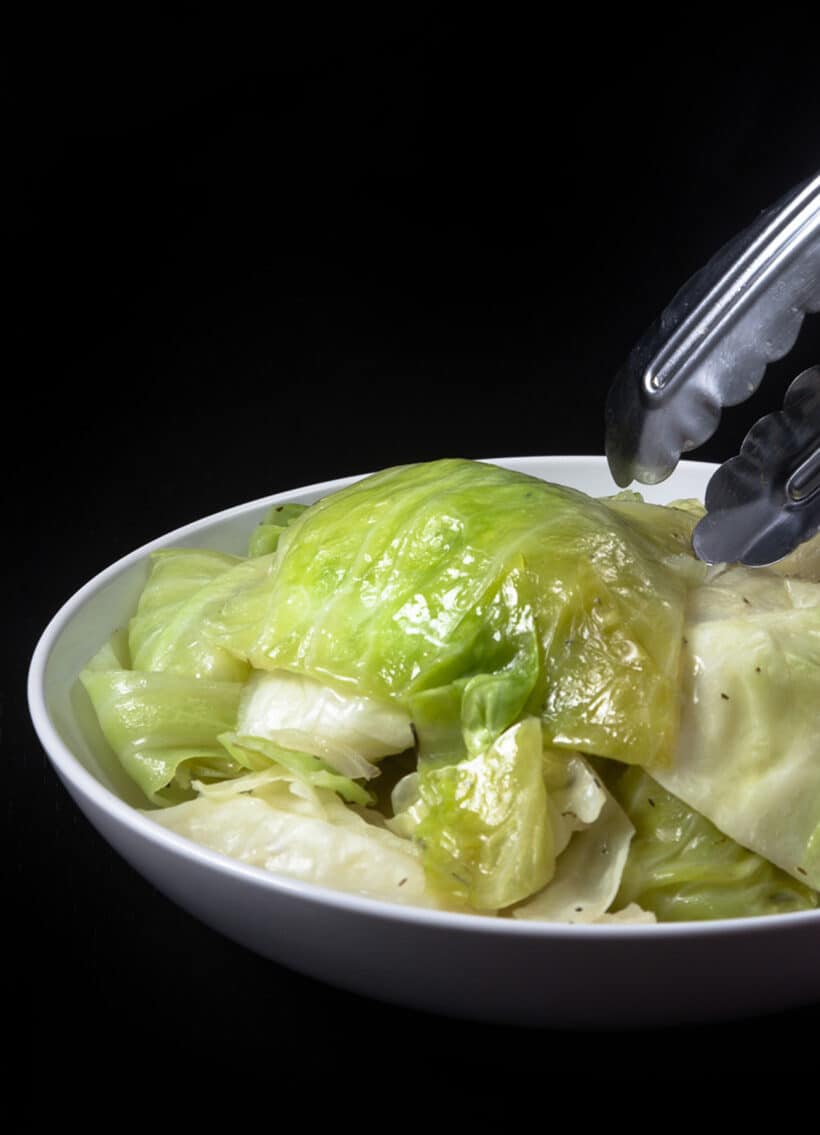 What to Serve with Cabbage
This easy & tasty Instant Pot Buttered Cabbage is a very versatile side dish. It's great with a wide variety of main dishes including chicken, beef, pork, seafood, or rice dishes.
Here are some tasty ideas for you:
Chicken Recipes: Honey Garlic Chicken, Chicken Marsala, Chicken Cacciatore, Chicken Biryani
Beef Recipes: HK Tomato Beef, Mississippi Pot Roast, HK Garlic Beef
Pork Recipes: Instant Pot Pork Chops, Instant Pot Pork Shoulder, Chinese Sticky Rice, Pork Adobo
Enjoy these Easy, Garlicky, Buttered Cabbage!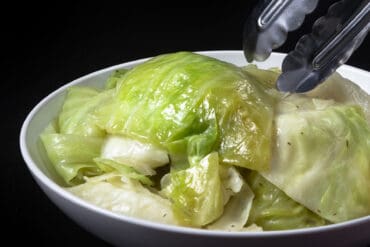 ♥ Share this Recipe so We can create more yummy recipes for you. Thank you 🙂
How Long to Cook Cabbage in Instant Pot: The best pressure cooking time depends on your cabbage's size & how tender you'd like it to be. Test and adjust accordingly.
Rate Amy + Jacky's Recipe: If you've tried our recipe, don't forget to rate the recipe in the Comments section. Thank you!
Calories: 178kcal | Carbohydrates: 20g | Protein: 6g | Fat: 10g | Saturated Fat: 6g | Cholesterol: 25mg | Sodium: 468mg | Potassium: 598mg | Fiber: 8g | Sugar: 10g | Vitamin A: 588IU | Vitamin C: 112mg | Calcium: 134mg | Iron: 2mg
Some Useful Tips & Resources
50+ Instant Pot Recipes
All Our Pressure Cooker Recipes
*Disclosure: We are an Amazon Influencer/Amazon Associate. This means that if you decide to purchase items or services on Amazon through our links on Pressure Cook Recipes to Amazon, Amazon will send a small commission to us at no additional costs to you. Thank you!