Hummingbird Pie, a southern classic? It may be, but it's really a tropical and dried fruit pie delight. Sweetened with just a little brown sugar, cinnamon, nutmeg, and a coconut brown sugar and pecan crumble. And, like it's carrot cake cousin, served up with cream cheese whipped cream. Regardless of its origin, it is a tropical fruit lovers deep dish dream pie.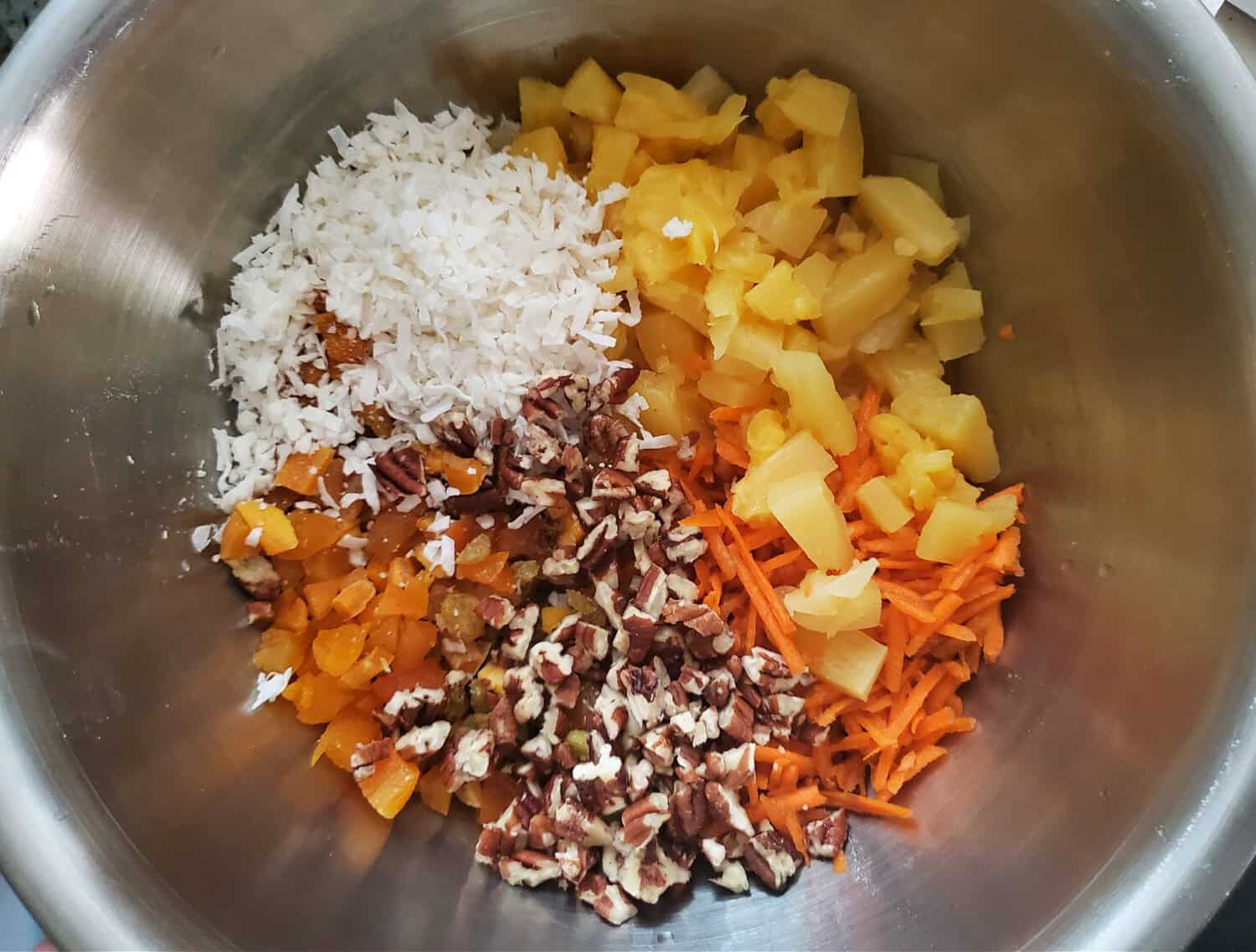 The filling is made up of dried apricots and mangos, pineapple, coconut, carrot and pecans. Brown sugar and cornstarch is tossed to thicken the filling as all of the flavors mingle while baking. (For gluten free, simply use Bob's Red Mill gluten free 1 to 1 flour for the crust and crumble topping.)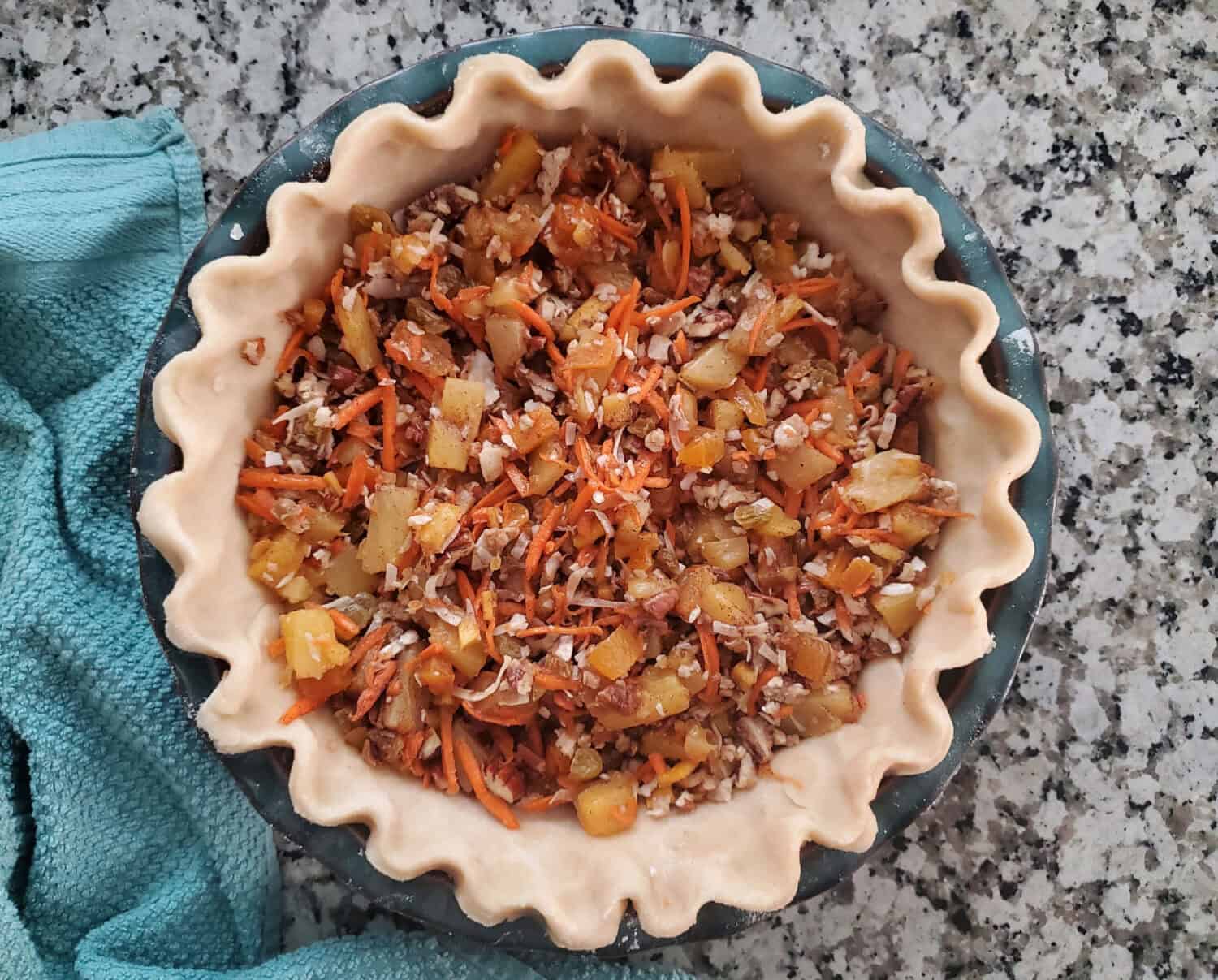 Add the crumble topping and bake @ 375 for 45 minutes.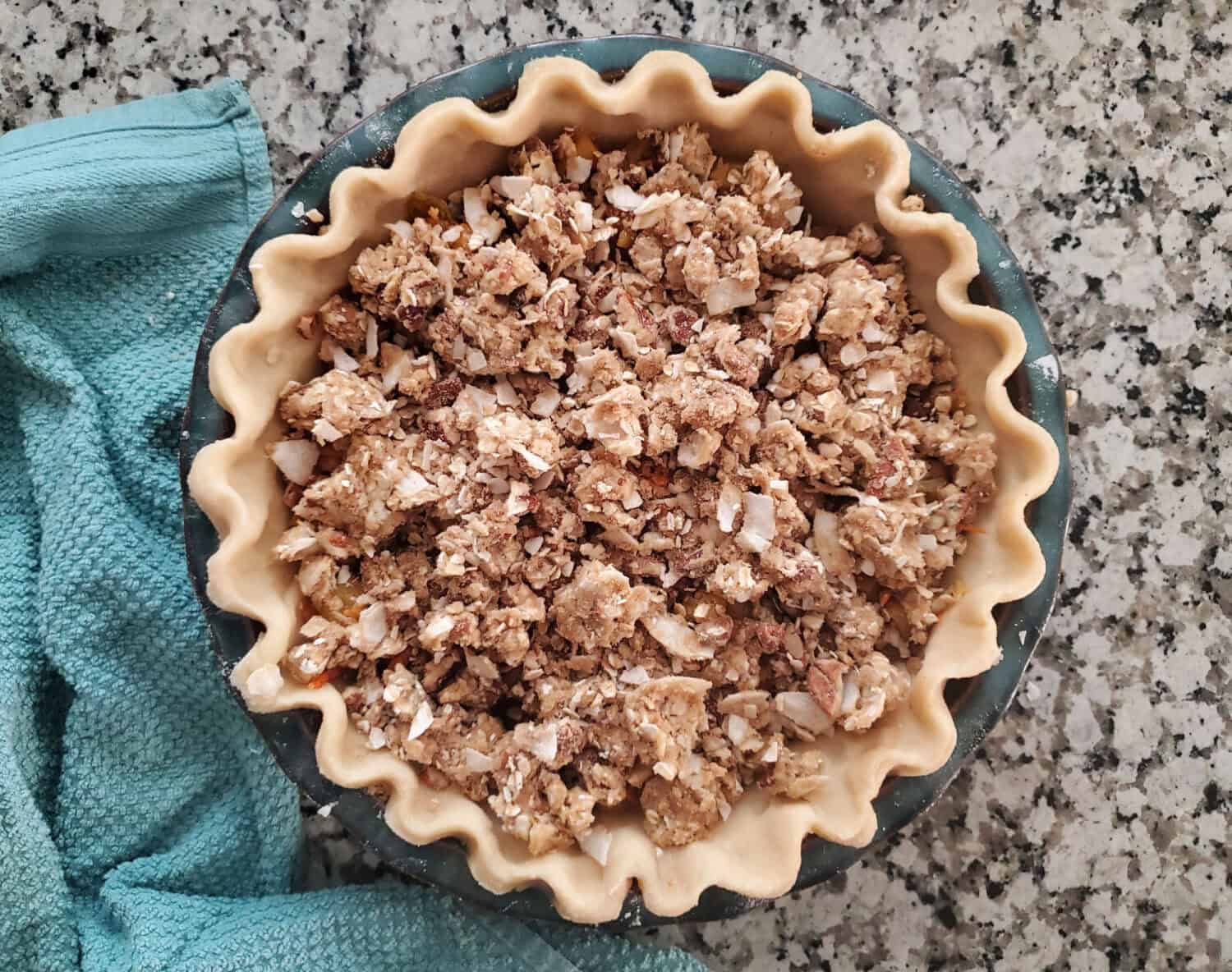 And the finished pie emerges from the oven with spices and fruit wafting through the air.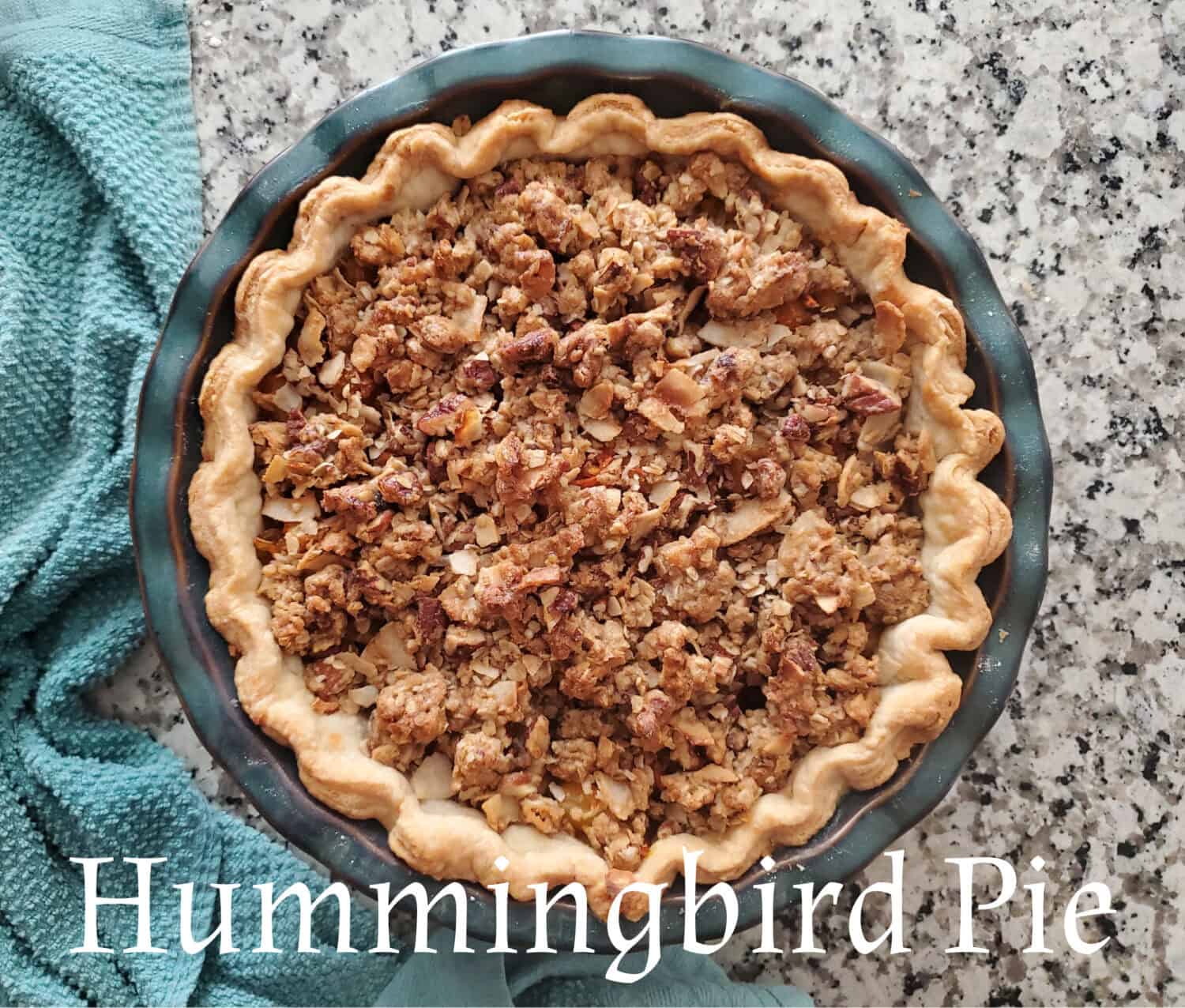 As mentioned above, this is a deep dish pie. A 9-inch deep dish or regular 10-inch pie plate is perfect. I happen to have one of the coolest pie plates from a very good friend (realtor of the century). Isn't it great to have a favorite baking dish; I hope you have one?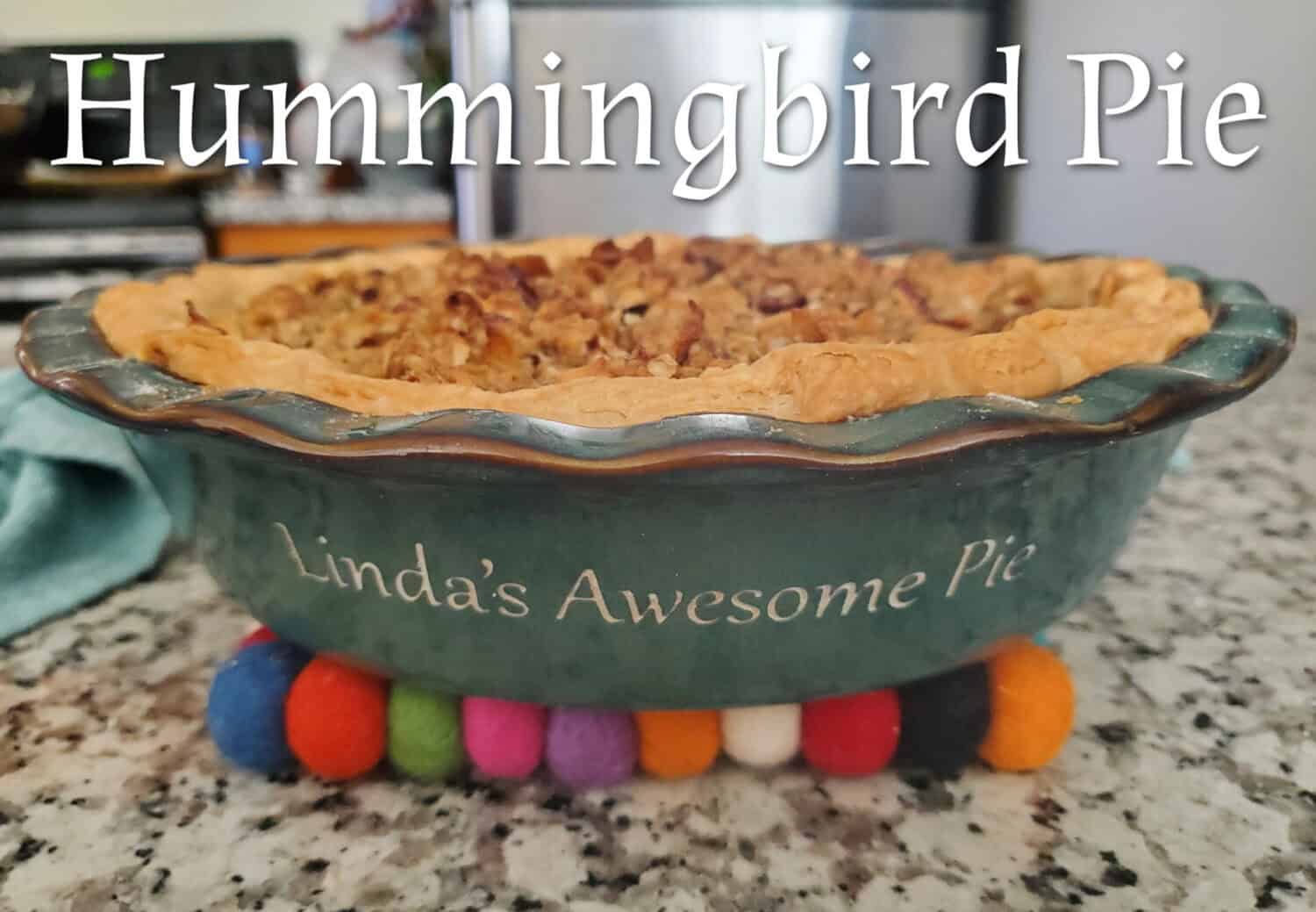 However, any pie plate you have is super cool, because it's yours and Hummingbird Pie with shower you with a tasty tropical love. The cream cheese whipped cream is a must, in my book, it's a finishing touch of flavor that brings the whole pie together.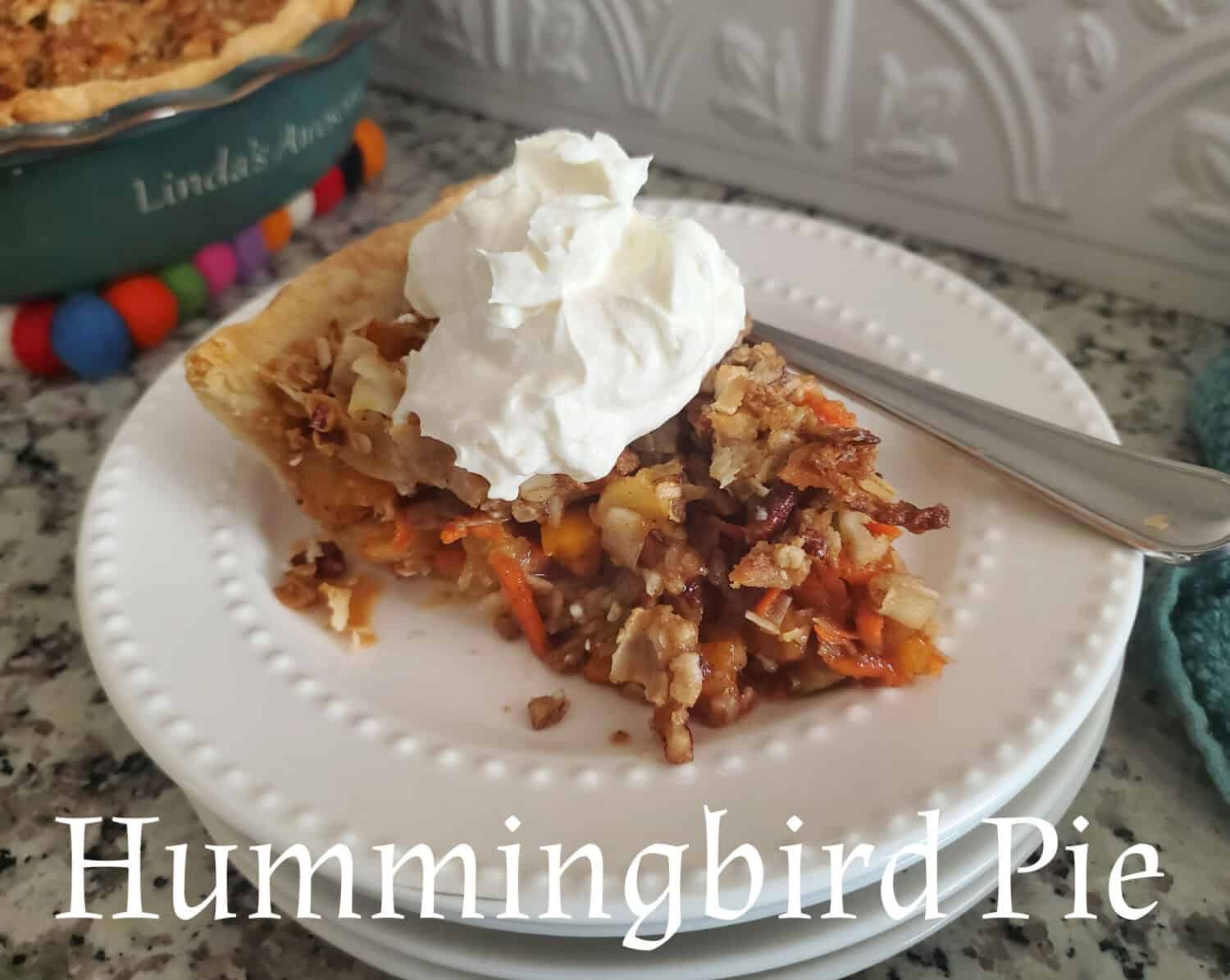 Hummingbird Pie
Hummingbird Pie: Tropical fruit, spices, pecans, lightly sweetened with a brown sugar, coconut-pecan crumble, and cream cheese whipped cream.
Servings: 10
Author: Portlandia Pie Lady
Grandma's Pie Crust
1

cup

all-purpose flour (or gluten free flour)

1/2

cup

butter or shortening

1/8

test

baking powder

1

respond

sugar

1/2

test

salt

1/4

cup

very cold water
Hummingbird Fruit Filling
2

cups

pineapple tidbits or crushed pineapple

1/4

cup

chopped dried apricots

1/4

cup

choppped dried mango

1/2

cup

golden raisins, chopped

1/4

cup

grated carrot

1/4

cup

sweetened flaked coconut

1/4

cup

chopped pecans

2

s tablespoon

lemon juice

2

tests

vanilla

1/2

cup

brown sugar

1

test

cinnamon

1/4

test

nutmeg

2

s tablespoon

cornstarch

Dash

of

salt
Coconut-Pecan Crumble Topping
1/2

cup

sweetened flaked coconut

1/4

cup

all-purpose flour

1/4

cup

quick or old-fashioned oats

1/2

cup

chopped pecans

1/3

cup

brown sugar

6

s tablespoon

butter, softened
Cream Cheese Whipped Cream
4

ounces

cream cheese, room temperature (half of 8-ounce brick)

1

cup

heavy whipping cream

1/4

cup

powder sugar

1

test

vanilla
Grandma's Pie Crust – Single 9-inch or 10-inch pie crust
In a large bowl, mix all of the dry ingredients together.

With a large fork cut in the butter (or shortening) until crumbly.

Pour in cold water all at once and give it few good stirs to form a dough ball. On a heavily floured surface roll out dough and place in a 9-inch or 10-inch pie plate. Set aside for filling.
Pie Filling and Assembly
Preheat oven to 375 F.

In a large bowl stir the prepared fruit, pecans, brown sugar, cornstarch, spices, lemon juice, and vanilla. Set aside.

Prepare the crumble topping. In a large bowl, use a fork to stir together all crumble topping ingredients, except butter.

Cut the butter into the dry ingredients until crumbly.

Place the prepared fruit filling into pie crust, top with crumble topping, and bake 45 minutes at 375 F. Remove from oven and let cool.

Prepare the cream cheese whipped topping while the pie cools. Place cream cheese in a large bowl and using an electric mixer beat cream cheese until creamy. Add the heavy cream, powdered sugar, and vanilla.

Beat cream on high speed until fairly stiff peaks form. Garnish individual cooled slices of pie with whipped topping.