I know this phrase is over used, but 'tis the season for Eggnog Pie & Gingerbread Crust. The perfect creamy luscious eggnog custard baked in a flaky buttery spiced gingerbread crust.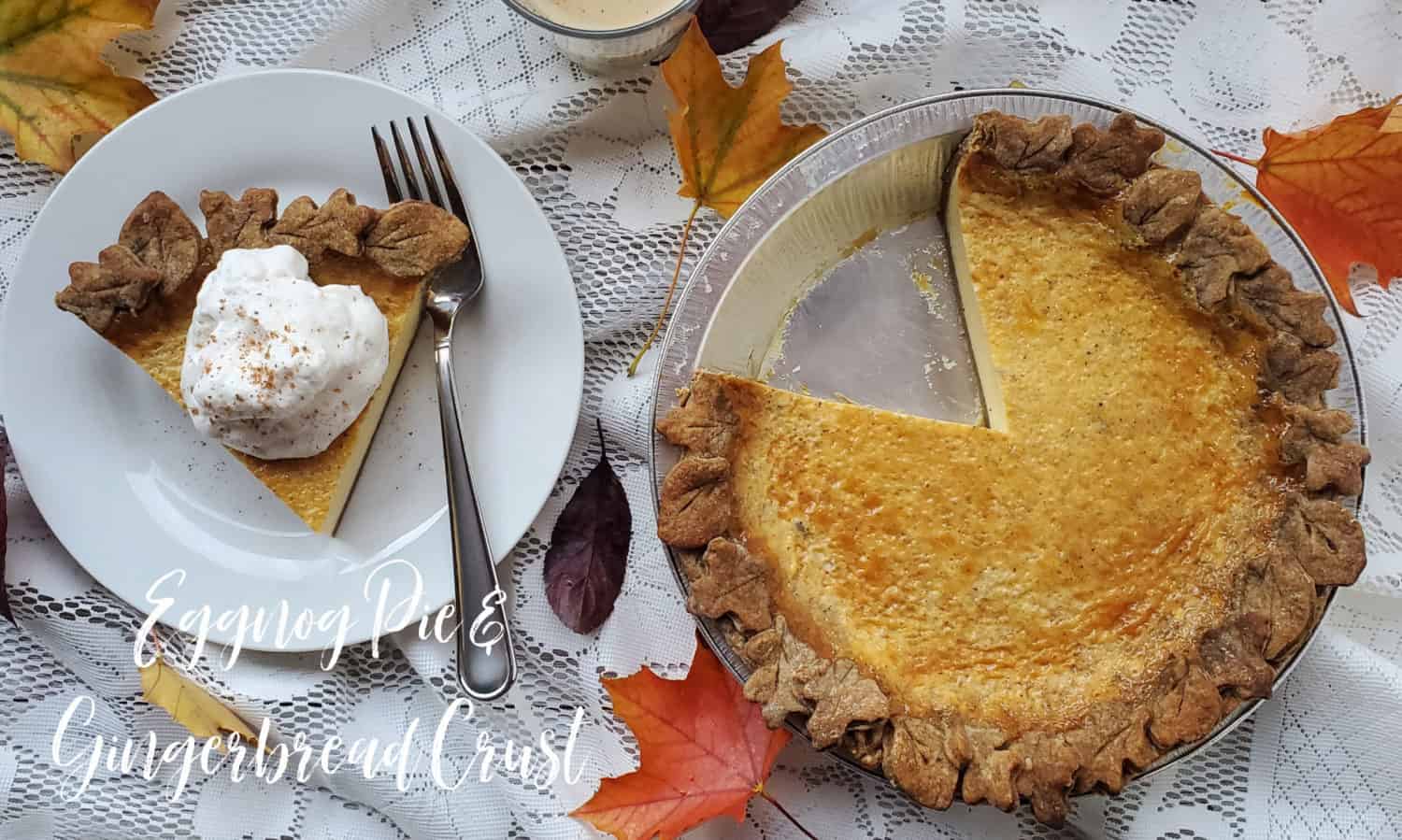 The gingerbread crust is my signature pie crust recipe with molasses, ginger, and butter. It's easy to work with and there's plenty of dough to adorn the edges with leaf cutouts. I used a small knife to quickly make some indentations to add a tiny bit of depth to the leaves as they baked.
To answer the burning question for you gluten free folks; Yes, this is very easy to adapt to gluten free. You can make my Gluten Free Flour Mix or Bob's Red Mill 1 to 1 gluten free flour. FYI: I have been making my GF flour for years and Bob's Red Mill ingredients are identical, should I give him a call?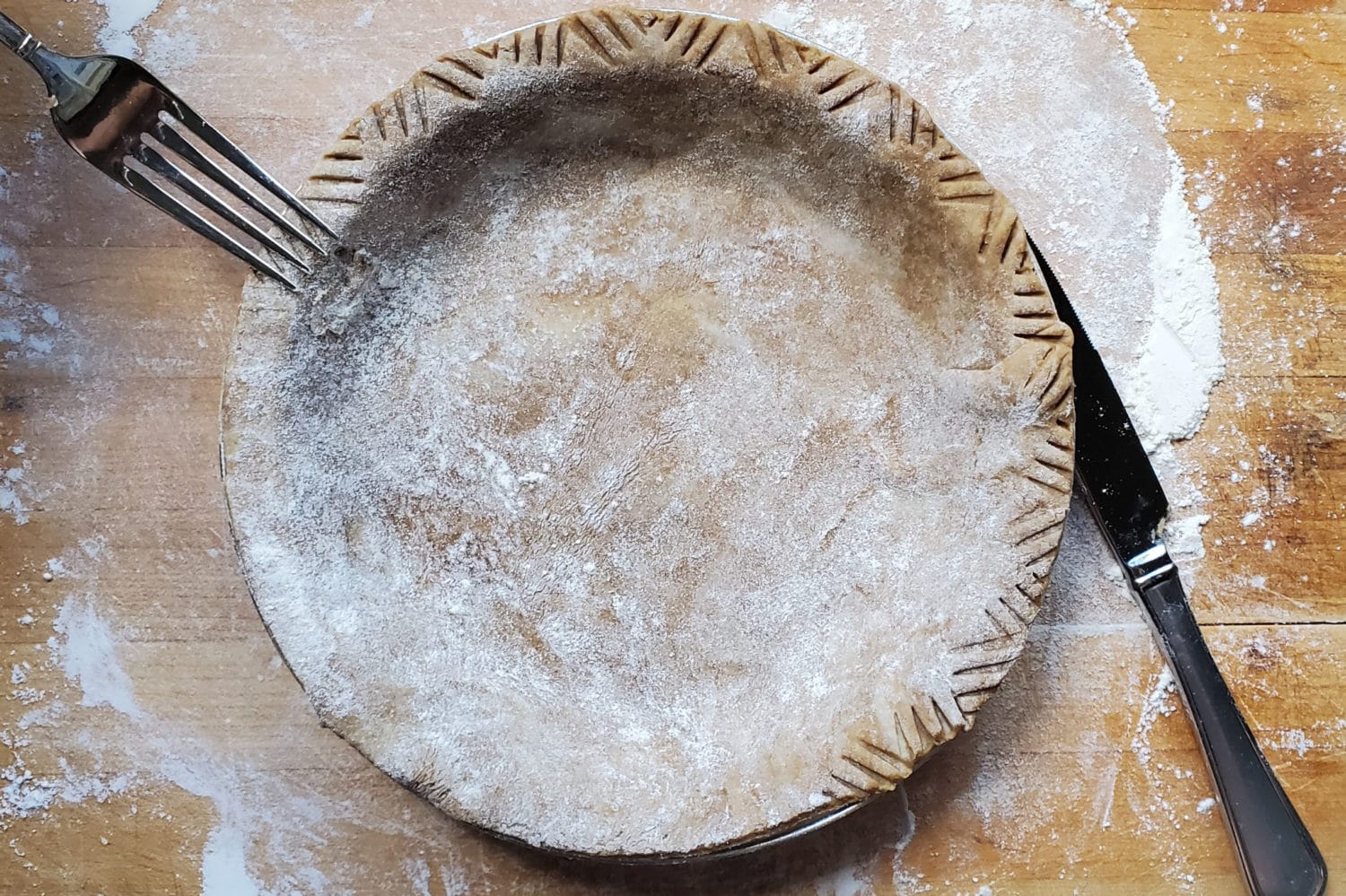 And aren't those cut outs just adorable?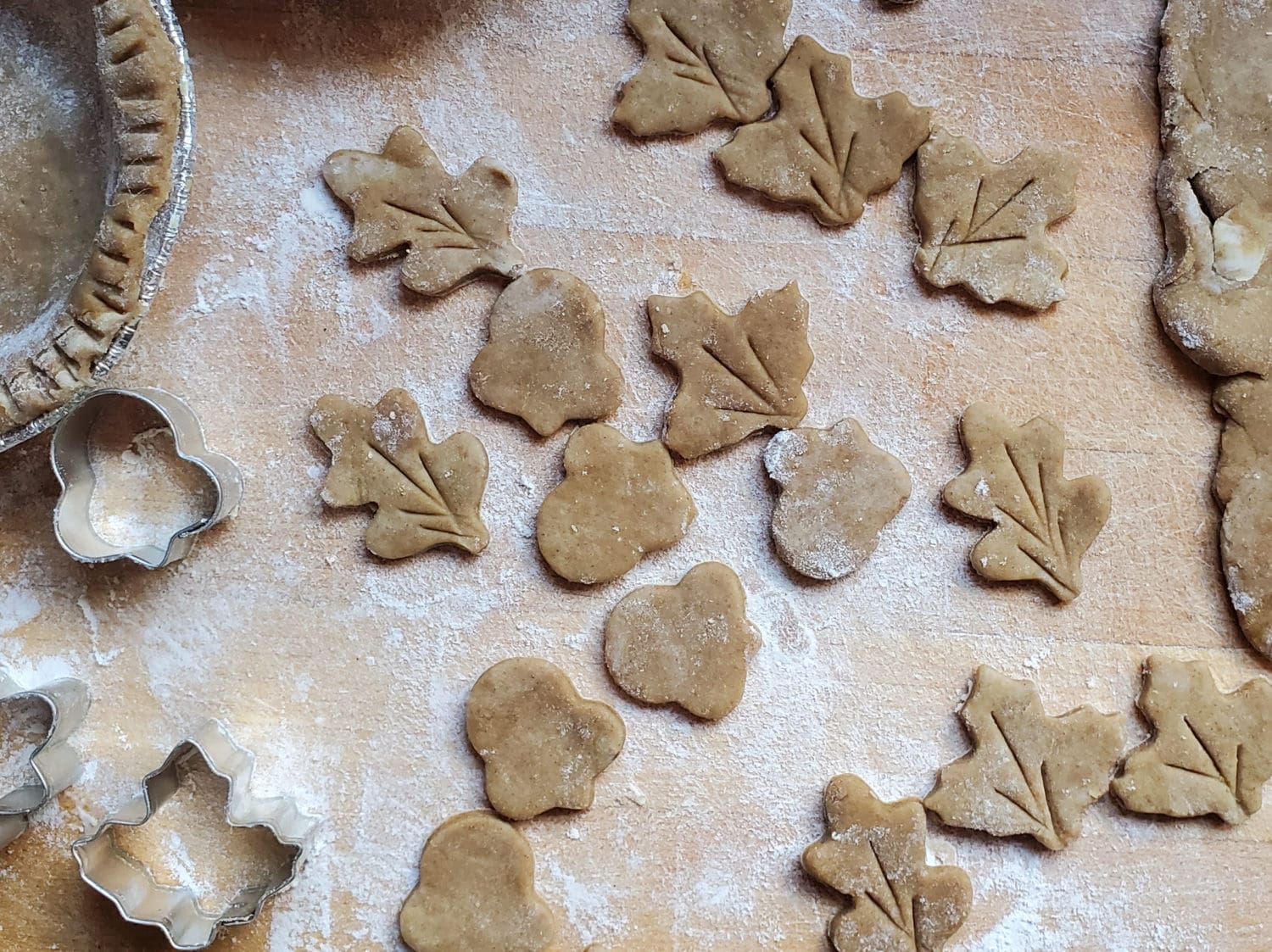 The filling is simply eggnog, more eggs, nutmeg and rum. Rum extract can be substituted for the rum, if you don't keep it in the house. However, regardless of rum, it's not a boozy pie; the alcohol dissipates as it bakes. It's all about the flavor you are wanting to achieve. I feel that the rum or rum extract are must.
I used my hand-held KitchenAid Mixer for the filling, quick & easy.
Pour the eggnog filling into the prepared pie shell. This is when you can layer on the leaf cutourts or leave the crust as is. Either way, this will be tasty, delicious; and look gorgeous. Bake at 350 F for 45 minutes.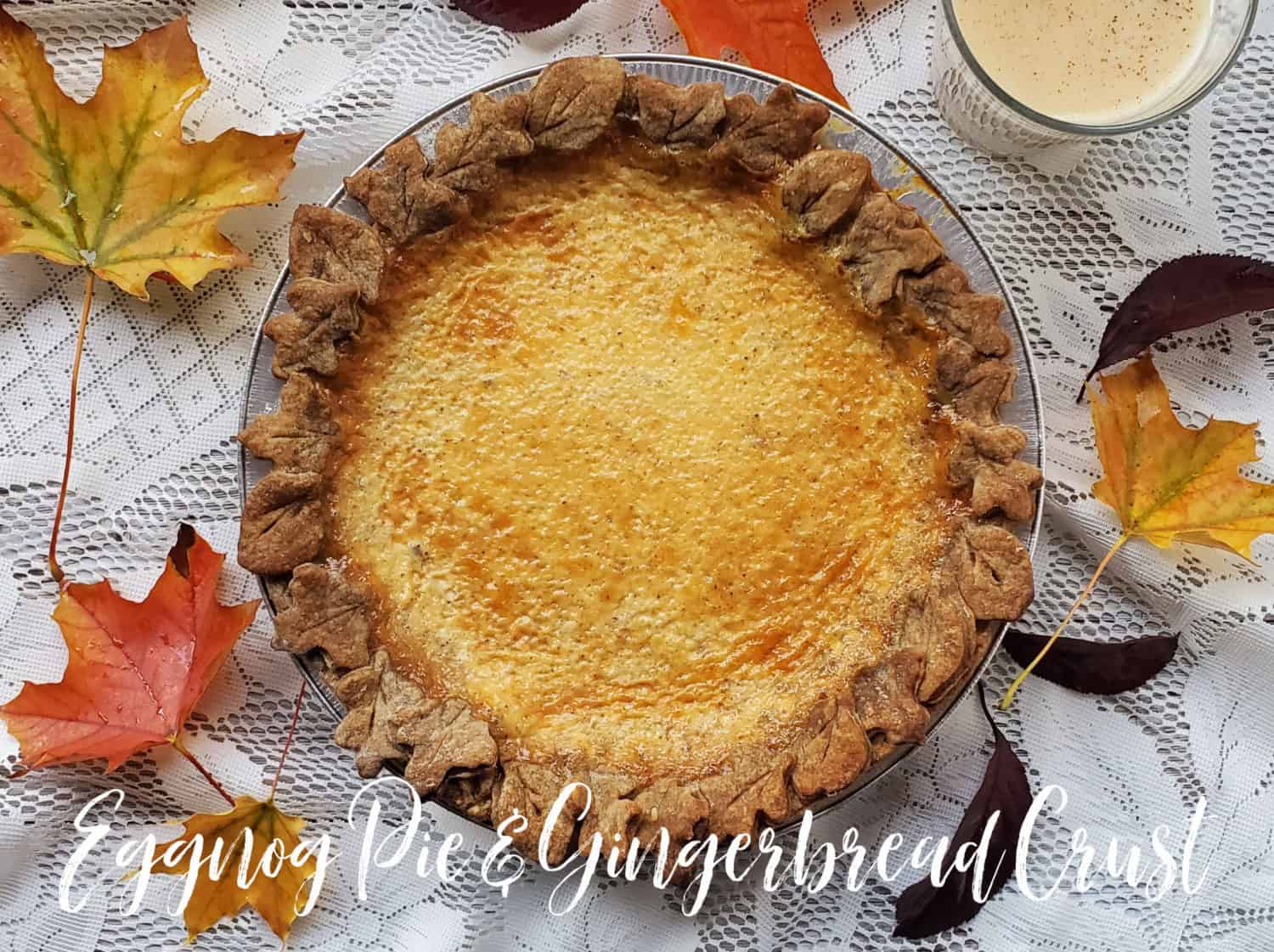 BAM! Look at that thing of beauty! It is yearning to be served at your table this holiday season. Set the pie on a baking rack to cool for a few minutes and then refrigerate for 3 to 4 hours before serving. Add a dollop or two of whipped cream with a dusting of nutmeg & your holiday pie is ready to serve.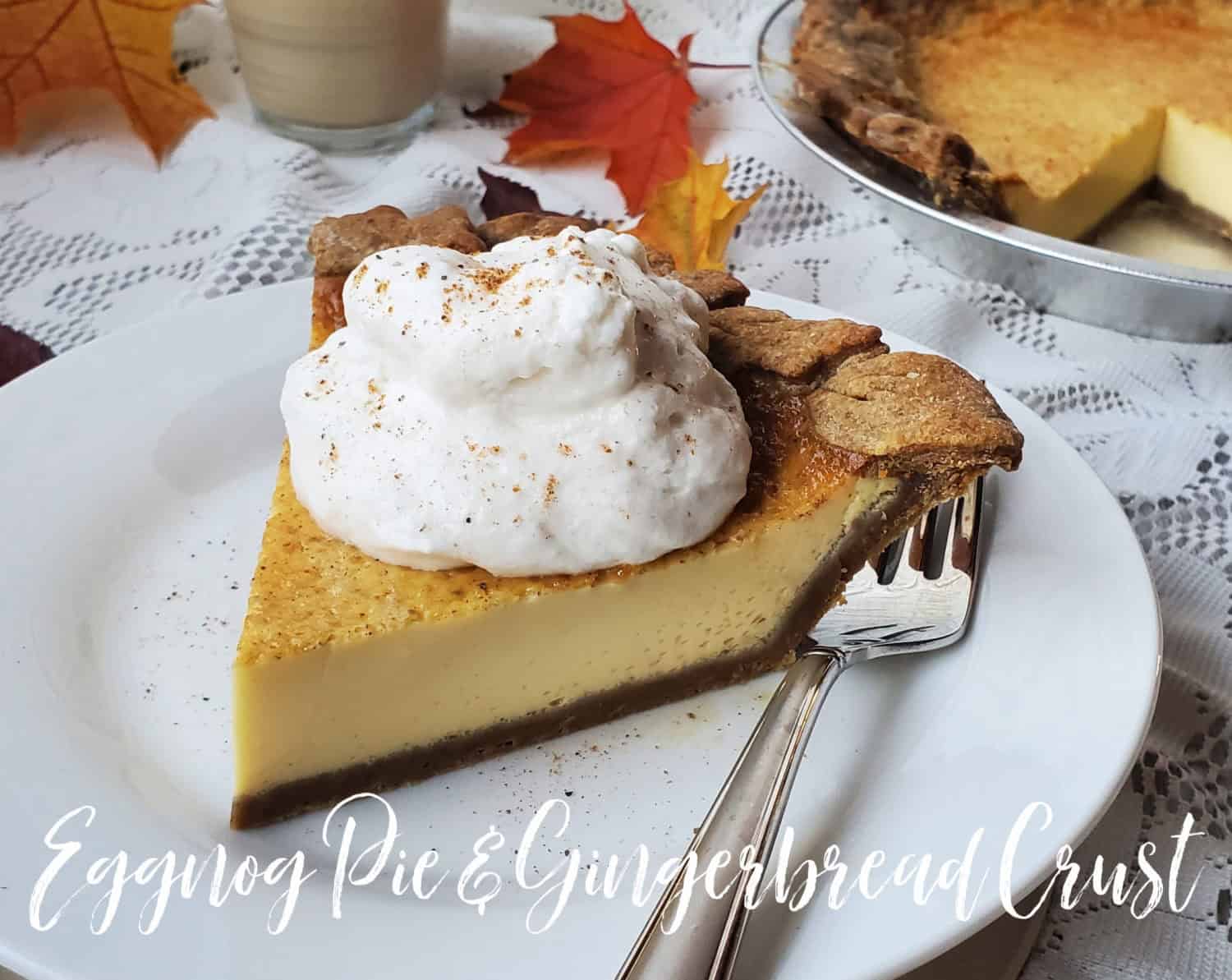 Enjoy pie peeps! May your baking days bring you joy; we could all use it. Right? Right on!
Eggnog Pie & Gingerbread Crust
Creamy eggnog, nutmeg and rum, baked in a flakey gingerbread crust adorned with leaf cutouts; holidays rule!
Servings: 12 servings
Author: Portlandia Pie Lady
Eggnog Custard Filling
3

large

eggs

1/3

cup

granulated sugar

2-1/2

cups

prepared eggnog

3

s tablespoon

rum (or 2 teaspoons rum extract)

1

test

pure vanilla extract

Dash

of

salt

1/4

test

nutmeg (plus additional for garnishing)

1

unbaked

gingerbread pie crust
Gingerbread Pie Crust – for one 9-inch single crust and cutouts
1-1/4

cups

all purpose flour (or gluten free flour)

2

s tablespoon

brown sugar

1

test

ginger

1

test

cinnamon

1/8

test

baking powder

1/2

cup

(4 ounces) cold butter, cut into pieces

3

s tablespoon

spray

3

s tablespoon

water

non-stick

cooking

spray
Gingerbread Pie Crust
Coat a 9-inch pie plate with shorteningor non-stick cooking spray. (The molasses can make the pie crust stick to the plate if not coated.)

Mix dry ingredients together. Cut in the butter with a fork until crumbly.

Mix the water and molasses together and pour into dry ingredients all at once, stirring with a fork just until it forms a dough ball. You will see little pieces of butter, which is what you want for a flaky crust.

On a floured surface roll out dough, place in coated pie plate, crimp edges.

There is enough dough if you want tomake some cut outs for edges. If you do, place cutouts on the edge of dough after you add the filling.
Eggnog Filling
Preheat oven to 350 F.

In a large bowl use a hand mixer to beat the eggs and sugar together until fully incorporated.

Add the eggnog, rum, vanilla, salt and nutmeg. Beat an additional 1 to 2 minutes to fully mix the filling.

Pour eggnog mixture into prepared gingerbread crust. If you are adding leaf cut outs, layer them on now.

Bake pie for 55 to 60 minutes. When there is 20 minutes left on the timer, loosely cover crust with foil or crust shield. The molasses and brown sugar can burn towards the end. Do NOT remove pie from oven though, form the foil first so the oven is open very long.

When done, the center of the pie will wobble, but not be runny or wet. A toothpick or knife in the center should come out fairly clean.

Place on wire rack on counter to cool and then store in refrigerator. Serve cold with whipped cream and