This post may contain affiliate links. For more information, read my disclosure policy.
Caramel Apple Slab Pie is the best fall dessert for serving a crowd! It's a sheet pan pie recipe with a homemade pie crust and spiced apple filling. It's easy to slice and serve – don't forget the vanilla ice cream to go with it!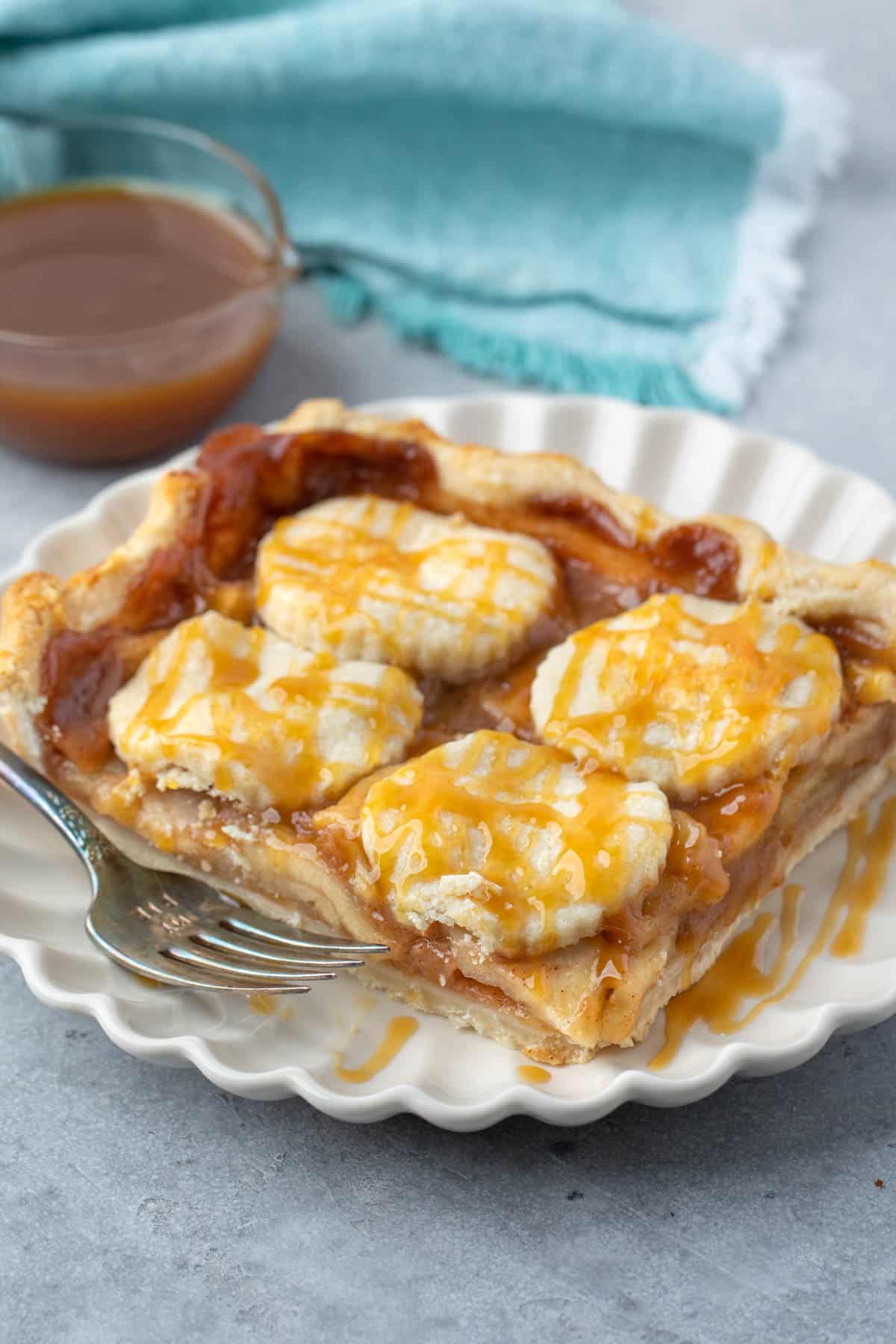 Table of Contents

Homemade Caramel Apple Slab Pie
Ingredients in Caramel Apple Slab Pie
How to Make Apple Slab Pie
Recipe Swap
Other Apple Recipes
Caramel Apple Sheet Pan Pie Recipe
Homemade Caramel Apple Slab Pie
I just love slab pies! They are the best way to make a pie for a crowd and are so easy to make. This apple caramel slab pie combines two fall favorites: fresh apples and caramel sauce baked in a flaky pie crust.
Why You'll Love This Recipe
This caramel apple sheet pan pie tastes like a caramel apple pie but is served up super-sized for a crowd.
It's so easy to make from scratch, or you can use refrigerated pie dough to make it. Either way works!
You can top the pie with crust cut-outs as I do, or you can top it with a crunchy sweet crumble topping. Both ways are amazing.
If you're looking for an easy dessert for a potluck, holiday meal, or party, look no further than this caramel apple slab pie. You're going to love it!
Ingredients in Caramel Apple Slab Pie
Unsalted butter
Sliced ​​Granny Smith apples
Lemon juice
Granulated sugar
Cornstarch
Ground cinnamon
Caramel sauce – you can use a grocery store caramel or my homemade caramel recipe
All butter pie crust: 3 times the regular recipe (3 crusts)
Egg wash
Sanding sugar – optional
How to Make Apple Slab Pie
Melt the butter in a large skillet. Add the apples and cook while stirring until the apples start to soften.
Add the lemon, sugar, cornstarch, cinnamon, and caramel sauce to the pan. Stir to coat the apples evenly. Bring the mixture to a boil for two minutes, and then take the pan off the heat. Let the filling cool to room temperature.
Spray a jelly roll pan with cooking spray and preheat the oven to 425°F.
Divide the pie dough into three equal parts. Roll two parts together to make a 12×17" rectangle. Place the dough on the prepared sheet pan with some dough hanging over the edges of the pan.
Roll out the last part of the dough to a 12" circle. Use a cookie cutter to cut out shapes, rerolling the dough as needed to use it all up.
Spread the apple filling on top of the crust in the pan. Arrange the cutout pie dough pieces on top of the filling. Brush the tops with egg wash and sprinkle sanding sugar over the top.
Bake the slab pie for 35 to 45 minutes or until the filling is bubbling and the crust on top is lightly golden brown.
Let the pie cool so the filling can thicken before slicing and serving it.
Storing and Freezing
You can store the pie loosely covered in the refrigerator for up to three days. Or you can freeze it for up to three months.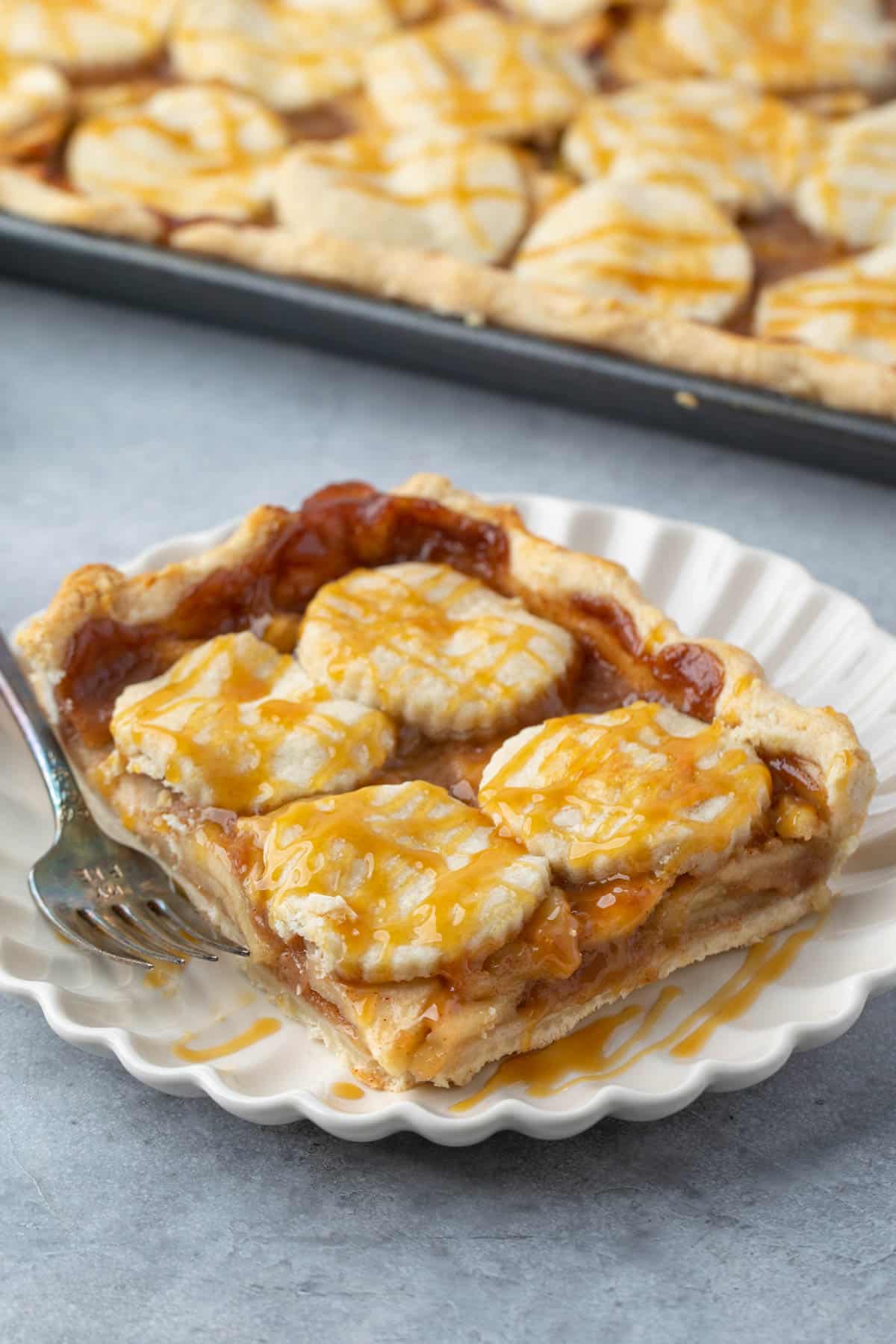 Recipe Swap
Use refrigated pie crusts instead – you'll need 2 boxes (3 crusts) of refrigerated ones. I recommend Pillsbury brand.
FAQs
Can I use store-bought crust?
Yes, you can use refrigerated dough for this recipe. You will need four crusts, so plan to buy two boxes of dough.
Can I use pie filling?
I don't recommend using pie filling for this recipe.
Can I make caramel from scratch?
Yes, homemade caramel sauce is fantastic in this pie! You can use regular homemade sauce or try salted caramel to make a salted caramel apple slab pie.
How to make sure your crust is done?
The crust is done when it's golden brown with no doughy spots.
Can I use a crumble topping?
Yes, a crumble topping is so good! If you are making the caramel apple pie from scratch, you will only need two batches of the slab pie dough. Instead of topping the pie with crust, sprinkle the crumble topping over the top.
This caramel apple slab pie will be the hit of the holidays, potluck, or party! There won't be a slice left, so don't forget to save a piece for you – Enjoy!
Other Apple Recipes
Have You Made This Recipe?
Leave a rating by clicking the stars below!
Prep Time 45 minutes
Cook Time 45 minutes
Chill Time 2 hours
Total Time 3 hours 30 minutes
Filling:
2

s tablespoon

unsalted butter

3

pounds

Granny Smith Apples

about 8 apples

1

respond

lemon juice

¾

cup (150 g)

granulated sugar

¼

cup (32 g)

cornstarch

2

tests

ground cinnamon

¾

cup

caramel sauce

plus more for serving
Make the Filling:
Peel, core and slice apples approximately ¼-inch thick.

Melt butter in a very large skillet. Add apples and cook, stirring often, until the apples just start to soften, about 7-9 minutes.

Add the lemon juice, sugar, cornstarch, cinnamon and caramel sauce. Stir to coat and cook until the mixture boils, then cook for 2 additional minutes. Remove from heat and let cool to room temperature (or at least 2 hours).
Make the Crust:
Preheat oven to 425°F. Spray a 10×15-inch jelly roll pan with nonstick cooking spray.

Make pie crust and divide into 3 portions. Set one portion aside and roll the remaining two into a rectangle that's approximately 12×17-inches. Place in prepared pan, leaving some hanging over the edges of the pan.

Roll out the third section of the pie dough to a 12-inch circle. Cut shapes with cookie cutters, re-rolling dough as needed to use it all. (Pie pictured was made using a 2 ½ -inch round cookie cutter.)

Add the filling to the pie. Top with pie crust shapes. Brush with egg wash and sprinkle with sanding sugar.

Bake 35-45 minutes, or until filling is bubbly and top is light golden. Cool completely before slicing. Pie will thicken as it cooks and then more as it cools.

Serve with additional caramel sauce and/or ice cream.

Store pie in refrigerator for up to 3 days or freeze for up to 3 months.
Semi-Homemade Hack: Use refrigerated pie crusts to speed up the process! If using refrigerated, they come in packs of 2 and you'll need 2 packages (3 crusts).
Serving: 1serving | Calories: 302kcal | Carbohydrates: 51g | Protein: 3g | Fat: 11g | Saturated Fat: 4g | Polyunsaturated Fat: 1g | Monnounsaturated Fat: 5g | Trans Fat: 0.1g | Cholesterol: 4mg | Sodium: 179mg | Potassium: 140mg | Fiber: 3g | Sugar: 28g | Vitamin A: 107IU | Vitamin C: 5mg | Calcium: 21mg | Iron: 1mg
Nutritional information not guaranteed to be accurate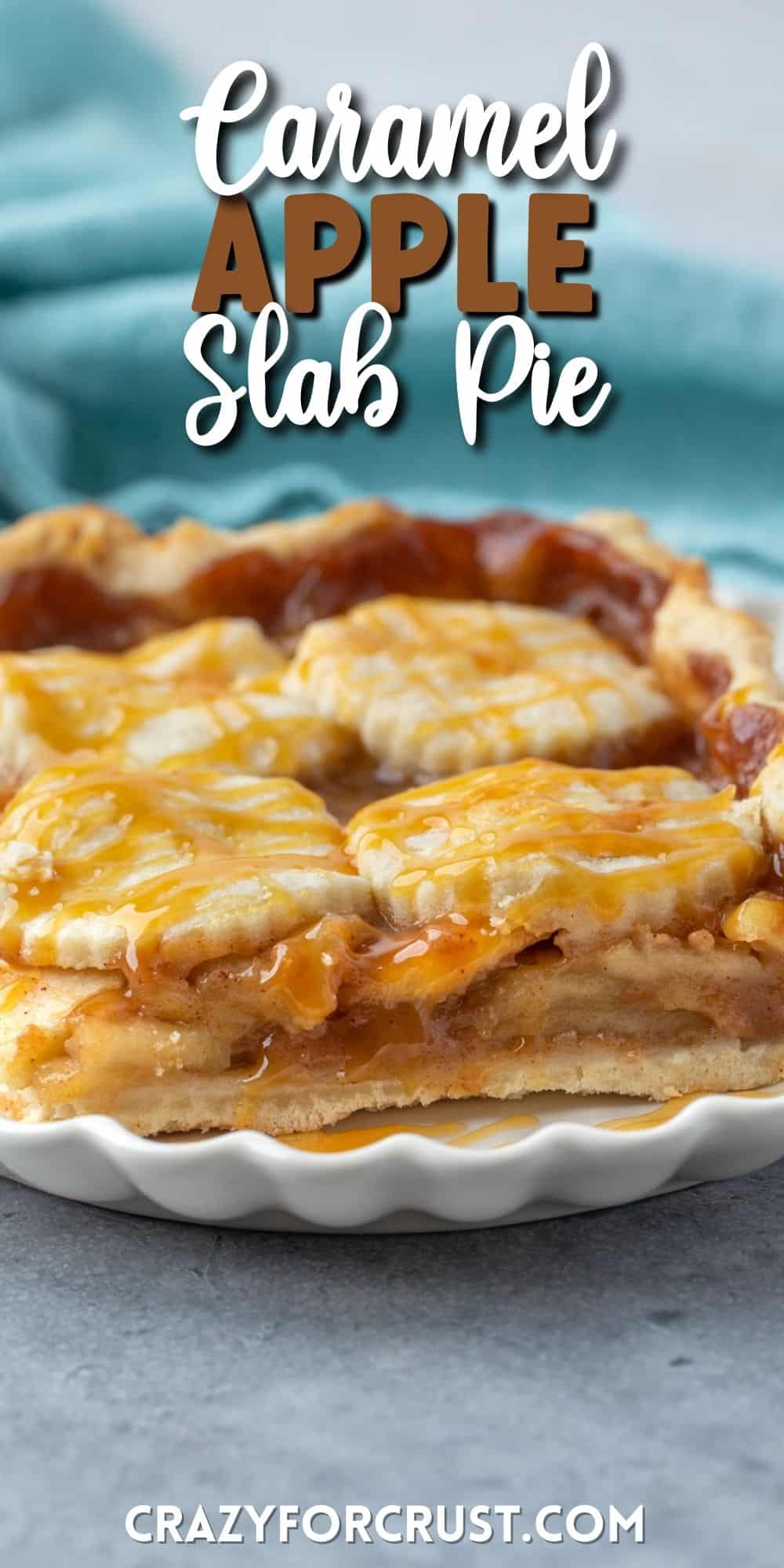 Caramel Apple Slab Pie is an easy apple pie recipe for a crowd – made in a sheet pan this from scratch apple pie is full of caramel and is perfect for fall.