Is blueberry the new strawberry with Blueberry Rhubarb pie? Maybe, maybe not but not only is it downright delicious, it's a nice switch of up berries (unless you are a staunch Classic Strawberry Rhubarb pie lover). And, to satiate my desire for a fruity pie with a sweet cornmeal topping; Blueberry Rhubarb is perfect! The superb flavor combination, a gorgeous color contrast; it's the whole package.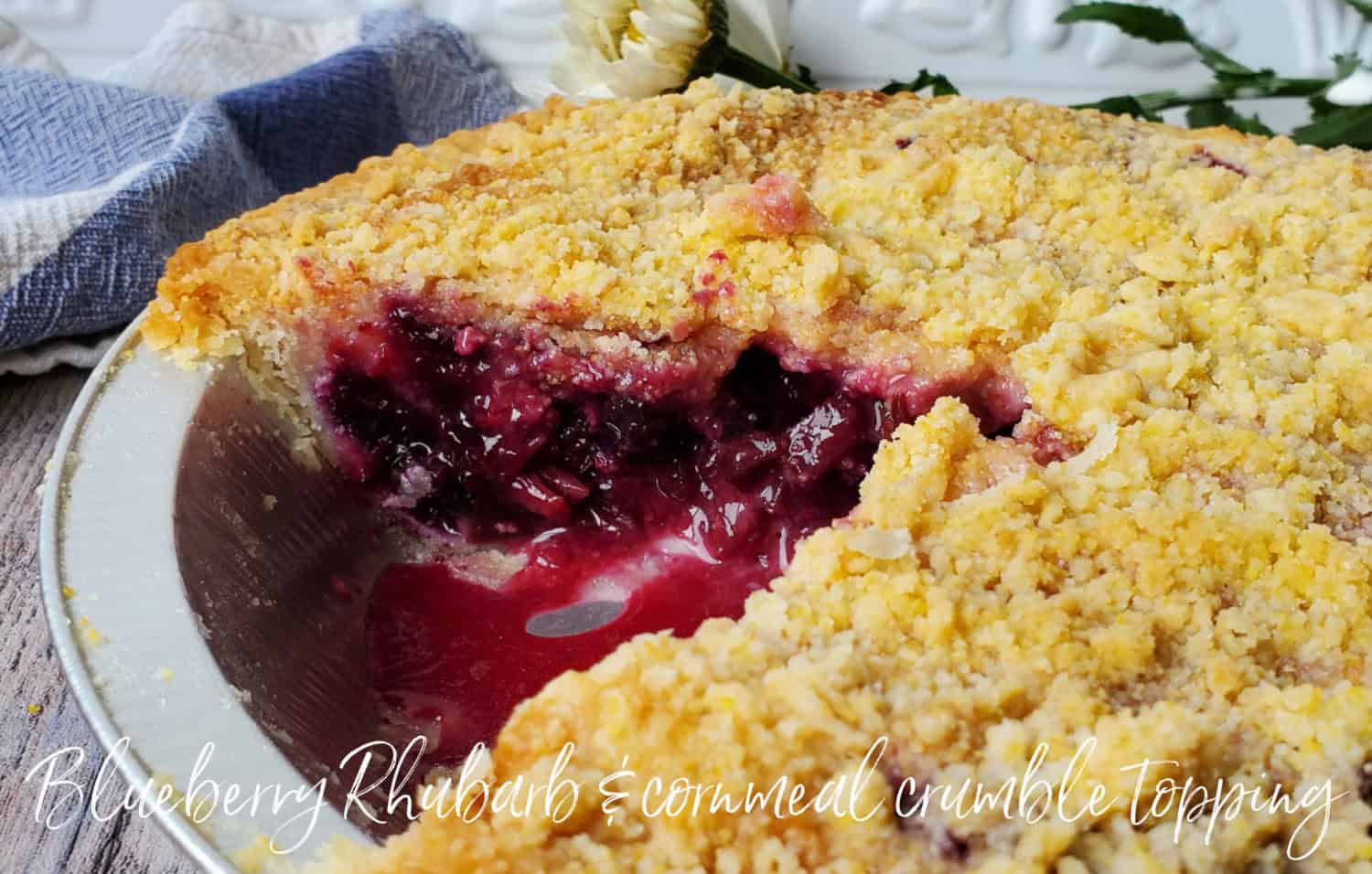 Friends and friends of friends always share their rhubarb (unless their new puppy likes to trample it). But, at this time of year you can find rhubarb at farmer's markets and grocery stories; it's everywhere.
And to let you gluten free folks know, yes, this is a very easy pie to adapt to gluten free. All you have to do is swap out gluten free flour for crust and topping. I love Bob's Red Mill and when I make my own Gluten Free Flour Mix, I use his products too.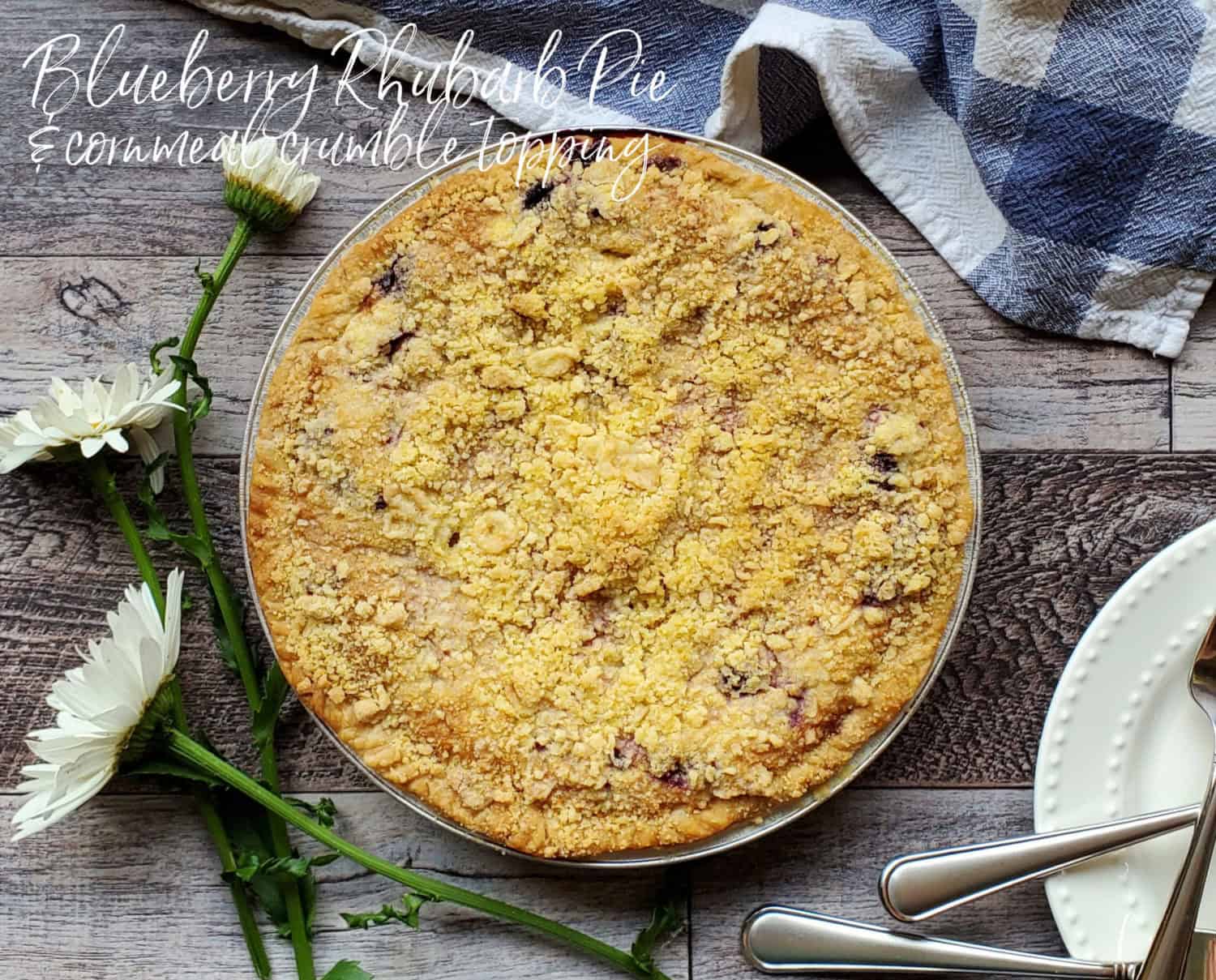 The bottom crust is my good ol' Grandma's Pie Crust. The topping is simply cornmeal, flour, sugar & butter. Easy peasy. As much as I love double crusts, I do love crumb toppings more than I admit. For the filling, in a large bowl toss the blueberries, chopped rhubarb, sugar, cornstarch, vanilla and lemon zest with a dash of salt. Pour into the prepared bottom crust. Add the crumble topping (which will seem like a lot, but it bakes down). Bake at 375F for 75 minutes (yes, 1 hour & 15 minutes). If the pie is not bubbly, bake another 10 to 15 minutes. I baked my pie for a total of 75 minutes and then forgot about timer for an additional 5 minutes. The result? perfection; Nothing burned, it was not over baked, and except for slicing while super hot, not runny.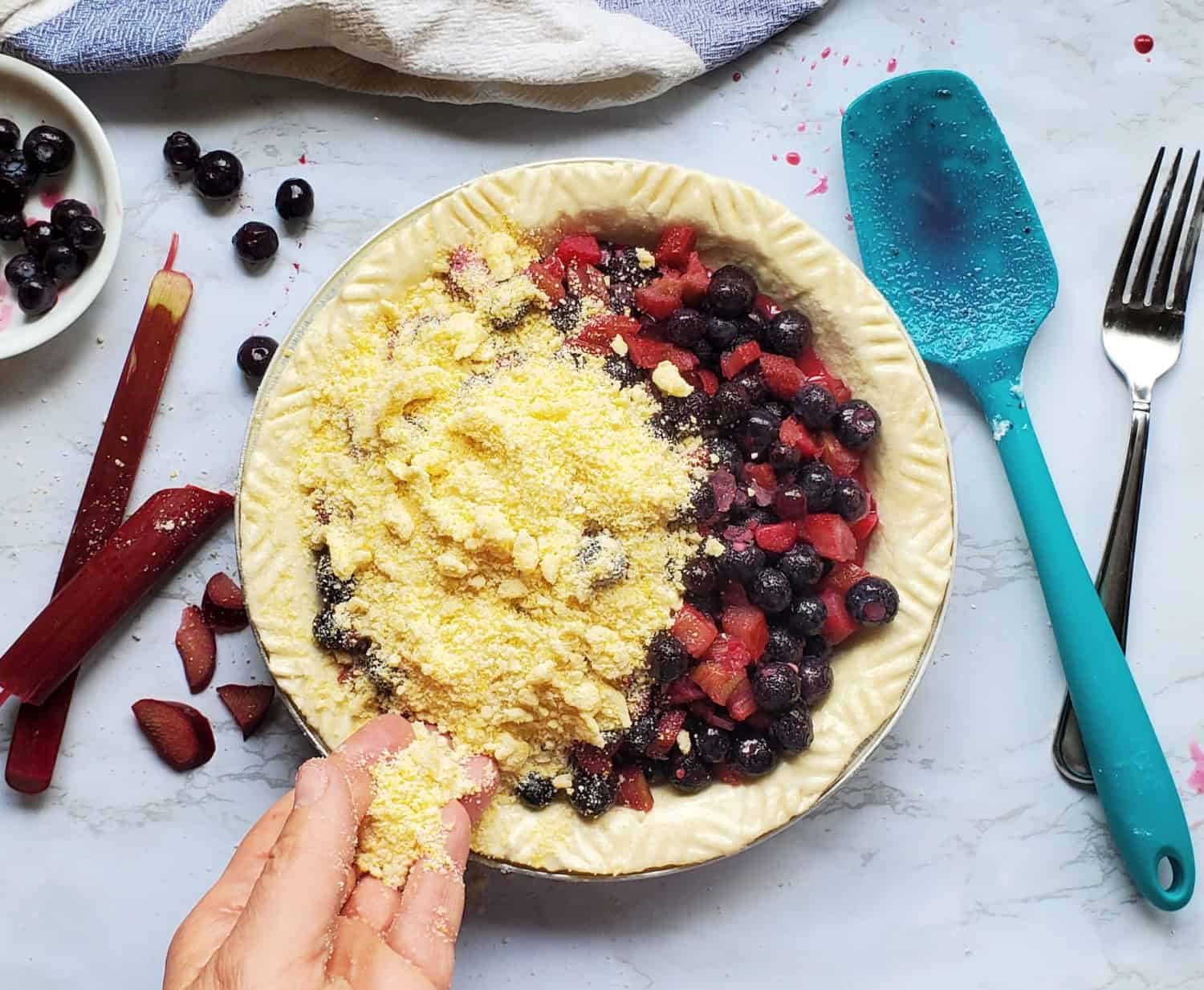 I had my Blueberry Rhubarb pie taste tested at a friend's high school graduation family picnic. The graduate and graduate's uncle gave it a winning thumbs up and added their own critique, which I was pleased was all positive. Talk about a perfect day, good food, free pie critique, and fabulous time with friends. Blueberry Rhubarb celebrated the day in style as it was devoured. (Thank you Ellie & Herbie & Kara!)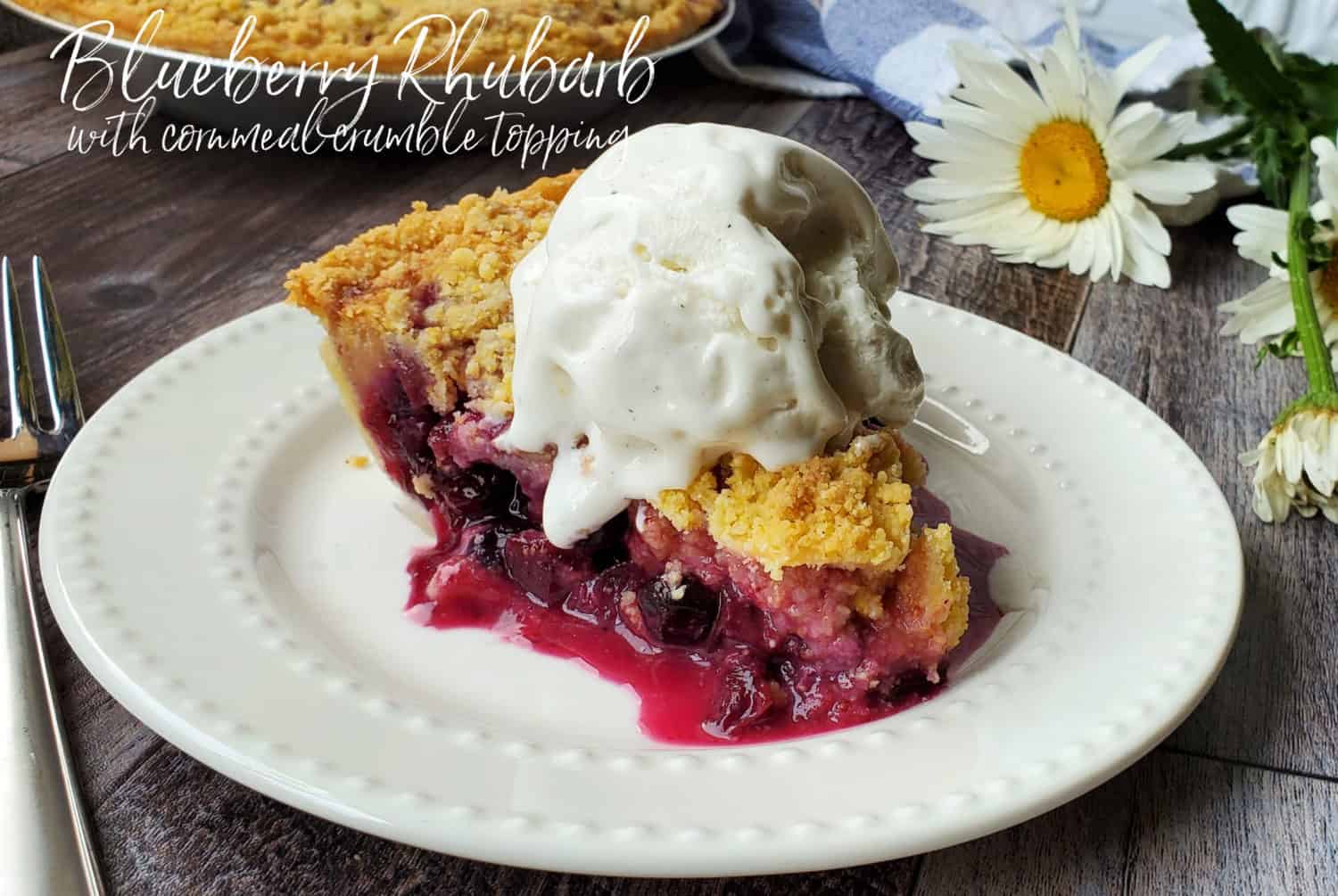 Now, your biggest decision of the day is a slice of this fruity goodness a la mode or straight from the pie? Don't you wish that was the only big decision to make every day? Sigh. I think once in awhile my answer to that question is yes. I mean, really, who makes one decision a day? So, with great anticipation to the next gathering, I will happily be bringing pie.
Blueberry Rhubarb Pie with Cornmeal Crumble Topping
Blueberry Rhubarb Pie & sweet cornmeal crumble topping: sweet blueberries & tart rhubarb with lemon zest and vanilla.
Servings: 12
Author: Portlandia Pie Lady
Blueberry Rhubarb Filling
3

cups

fresh or frozen blueberries

2-1/2

cups

chopped rhubarb

3/4

cup

sugar

1/3

cup

Clear jel or cornstarch

Zest

of

half a lemon

Juice

of

half a lemon

2

spoons

vanilla

dash

of

salt

1

unbaked

9-inch pie crust (recipe below)
Grandma's Pie Crust for single crust (9-inch pie plate)
1

cup

all-purpose flour

(or gluten free flour)

1/2

test

salt

1

.

sugar

pinch

of

baking powder

1/2

cup

vegetable shortening or butter

1/4

cup

cold water
Cornmeal Crumble Topping
1/2

cup

cornmeal

2/3

cup

all-purpose flour

(or gluten free flour)

1/2

cup

granulated sugar

6

s tablespoon

butter

dash

of

salt
Grandma's Pie Crust
In a large bowl stir together all dry ingredients. Using a large serving fork (or pastry cutter) cut in the shortening until crumbly & pea size.

Add the cold water all at once, stir just until combined (a few stirs is all it should take).

On a heavily floured surface, roll out dough and place in a 9-inch pie plate. Cut and crimp edges by hand or fork.

Set aside for filling.
Filling, Crumble Topping & Assembly
Preheat oven to 375 F.

Toss the rhubarb, blueberries, sugar, starch, zest and juice of lemon, and vanilla into a large bowl and mix well.

Pour out into prepared bottom crust.

In a separate bowl make the cornmeal crumble topping: Stir the dry ingredients together. Use a fork to cut in the butter until crumbly.

Sprinkle the cornmeal topping on top of filling.

Bake at 375 F for 75 minutes. The pie should be bubbling when removing from oven. If not, bake another 10 minutes.
For gluten free pie crust, if the crust tears, simple press it back together, do not re-roll. Re-rolling will make a pie crust less flakey.
If you are vegan, for the topping I would suggest using Earth Balance vegan butter spread. It is actually very firm and I have found it works the best as a butter substitute.